Jeffree Star has become one of the biggest names in the world of makeup artistry with his own makeup brands now. He must be making a huge amount of money.
Jeffree Star makes approximately $20 million USD a year. While he started his career out as a singer and even released a song that featured Nicki Minaj, he abruptly left the industry bankrupt and used his remaining savings to start a cosmetics company. He promoted his company via Youtube tutorials and amassed his fortune.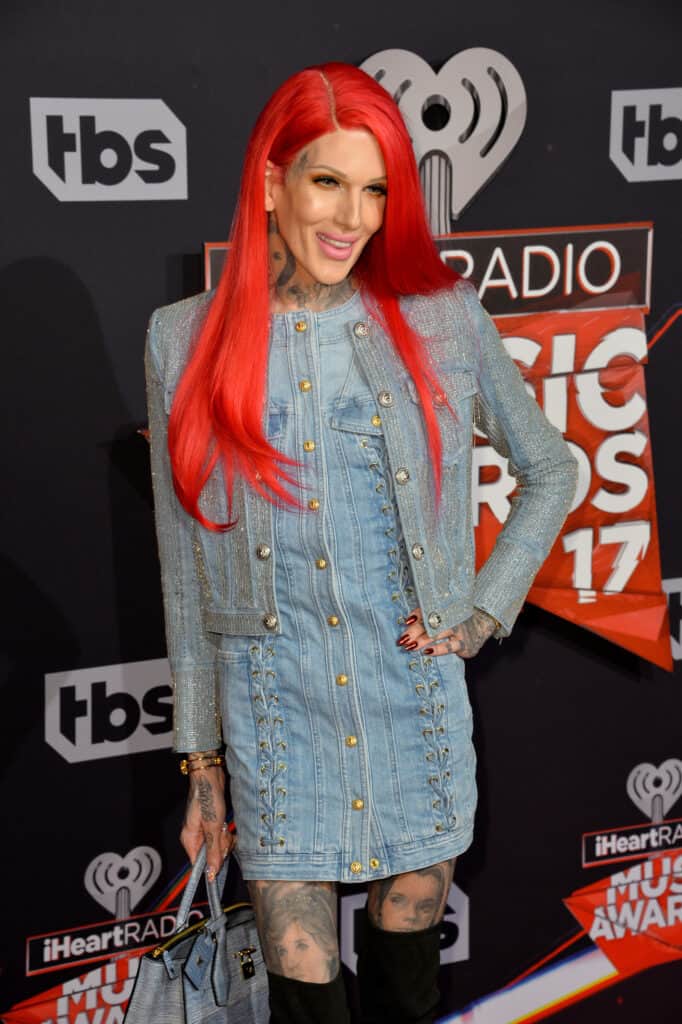 You can read more below about Jeffree Star's venture in the music industry, his founding of Jeffree Star Cosmetics, and what he spends his money on.
Jeffree Star's Musical Career
Right out of high school, Star moved to Los Angeles and worked as a makeup artist, model, and worked on music gigs. He would even use a fake ID to attend celebrity parties.
Like a lot of artists who were discovered in the 2000s, Star had a MySpace page where he would post his music and fashion makeovers. At the height of his MySpace career, he was one of the top independent artists on the site.
Through his popularity on the site, he made a lot of celebrity connections and soon launched a career as a solo artist in electronica and pop music genres. He released an EP titled Beauty Killer in 2009 that made it to the 122 positions of the Billboard 200.
On that album was the song 'Lollipop Dreams' which featured the now wildly successful rapper, Nicki Minaj, before she gained her own fame. Star was even signed to the record label Convikt Muzik, which was owned by Akon.
Then in 2013 before he could release his second EP, Jeffree Star abruptly left the music industry claiming it was due to the legal trouble Akon was now in. This must have been a difficult decision for him because he was virtually bankrupt.
So how did he go from a music career left in shambles to be worth $20 million a year?
Founding Jeffree Star Cosmetics
Right after he announced that his music career had come to an end, Jeffree Star collected every bit of cash that he could to funnel it all into launching his own brand of cosmetics. The brand was called Jeffree Star Cosmetics.
In November of 2013, Star released his very first products. It was a collection of three different lipsticks.
His new brand found success in the loyal followers that he had built up over the years. It also found new success in the many people who found his Youtube makeup tutorials helpful in their own makeup artistry.
In the years since his launch of the company, he has launched new lines that include eye shadow, concealer, setting powder, highlighter, eyeliner, lip liner, gloss, makeup accessories, and fashion products. All of the products he sells are vegan and cruelty-free.
You can watch the below Youtube video documentary, created by Jeffree Star's friend Shane Dawson, which goes over the entire process of a makeup launch at Jeffree Star Cosmetics.
He was able to totally reinvent his platforms and use them to go from bankruptcy in the music industry to have a wildly successful career in the makeup industry.
It has been reported that his companies gross annual earnings are around $100 million. Star takes approximately $20 million a year as his salary, however, some of his annual earnings are from other income streams like his Youtube channel.
What Star Spends His Money On
With $20 million a year in earnings, Jeffree Star is able to live a pretty cushy life. First of all, he currently owns two houses.
He has his mansion in the Hidden Hills gated community in Calabasas, California that is worth $14.6 million. As Dirt reported, his mansion boasts eight bedrooms, 13 bathrooms, a two-story gym, a sauna, a spa, and a movie theatre.
In December of 2020, Star also purchased a 70-acre ranch in Wyoming worth $1.1 million. He bought the ranch as a place to focus on writing his autobiography.
The ranch is a lot less luxe than his Hidden Hills mansion. However, it still boasts six bedrooms and 6,000-square-feet of living space in the main house.
Jeffree Star also has an insane car collection. Within his car collection, he has a Tesla X, a BMW i8, a McLaren 570S, a Lamborghini Huracán, a BMW Z4, an Astin Martin Vantage, a Rolls Royce Wraith, a Lamborghini Urus, and a Jeep Rubicon Wrangler.
He really knows how to spend his earnings.