Vin Diesel's net worth is insanely high for an actor at $225 million. As an action star, he gets paid the big bucks to appear in films.
Vin Diesel makes anywhere from $100,000 to over $50 million per role. It was rumored that the star made a $54 million paycheck for voicing Groot in Guardians of the Galaxy Pt. 2. However, that number was never confirmed. He has made the bulk of his income off of his roles in the Fast and Furious franchise.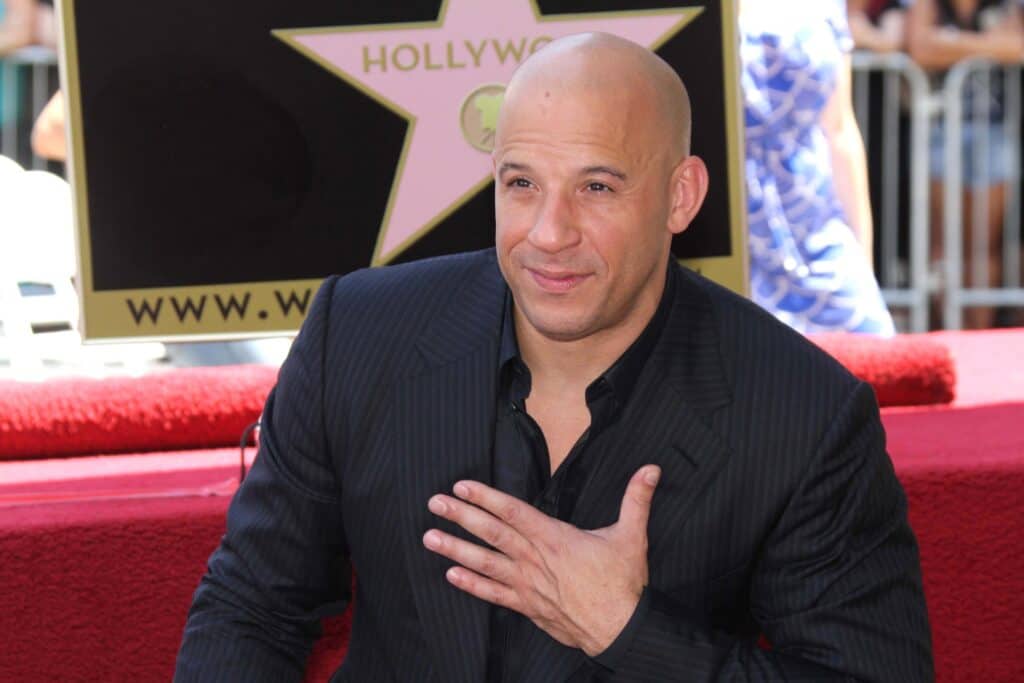 Scroll down to read more about how much Vin Diesel has made from the Fast and Furious franchise and how he spends his net income.
Vin Diesel's F&F Income
While his salary hasn't been reported for every Fast & Furious movie, it was for a few of the films. His salary for the two films really helps to shed light on how far he has come with his earnings too.
In the franchise, Vin Diesel plays the main character, bad boy, and car junkie, Dominic Torretto. In the very first film, he appeared alongside Michelle Rodriguez, Jordana Brewster, and Paul Walker.
The group of four appeared in almost every sequel to the films until Walker's death in 2013. Over time, the franchise has grown to include other characters who are consistently in the films.
Those other stars include Dwayne 'The Rock' Johnson, Jason Statham, Ludacris, Gal Gadot, Tyrese Gibson, Sung Kang, and Nathalie Emmanuel.
The very first film in the franchise was The Fast and the Furious. It followed undercover cop, Brian O'Connor (Paul Walker), as he tried to infiltrate a group of people suspected of highway robbery.
It shed light on the world of 'souping up' cheap import cars to race for papers, aka ownership of the vehicle. It was a movie for car enthusiasts and action lovers.
Vin Diesel's paycheck for that first installment in 2001 was a mere $1.5 million. This was still more than the $100,000 he got for his role in 1998s Saving Private Ryan, but far from how much he made for his later roles in Fast.
The Fast & Furious franchise moved forward with a sequel film that Vin Diesel did not appear in. It was called 2 Fast 2 Furious and followed Paul Walker's character.
Vin Diesel didn't appear because he was instead starring in The Chronicles of Riddick. Diesel did earn a paycheck of $11.5 million for the role of Riddick.
He only had a small cameo at the end of the third film The Fast and the Furious: Tokyo Drift. Diesel agreed to appear in the film if the studio gave him the rights to the Riddick character.
Finally, Vin Diesel reprised his role as Dominic Torretto in the fourth film Fast & Furious. His earnings for this film aren't known, however, her did make $15 million for 2011s Fast Five.
He also made $47 million off of Furious 7 which he produced and probably got backend earnings from. The 2018 Fate of the Furious earned Vin Diesel $20 million.
Watch the below video from The Richest to see how Vin Diesel reportedly blew half a billion dollars.
What Vin Diesel Spends His Money On
With a reported net worth of $225 million, Vin Diesel definitely has the money to spend on some fun stuff. So what exactly does he put his cash into?
First, it doesn't come as a shock to learn that Vin Diesel has amassed an impressive car collection. After all, he is the star of a car film franchise.
In his car collection, he has a 1993 Mazda RX-7, a 1994 Toyota Supra, a 1963 Chevrolet Corvette Stingray Grand Sport, a 1966 Pontiac Bonneville, a Rolls-Royce Sprinter Van, and a 2009 Subaru Impreza WRX STI to name a few.
He is also the proud owner of the same car the Dominic Torretto drives in a lot of the Fast films, a 1970 Dodge Charger R/T. His most expensive car is his 2014 Lykan HyperSport worth $3 million.
Second, his houses are another thing he spends money on. In 2000, he bought a Hollywood Hills house for just over $500,000 and then listed in it in 2016 for $1.4 million.
He now owns a house in Atlanta, Georgia that is worth $3.3 million that has seven bedrooms, a gym, a spa, and a wine cellar. He also has a two-story trailer that he has shipped to his filming locations; it's worth $1.1 million.