Vin Diesel is a filmmaker and one of the highest-grossing actors in the world who has enjoyed an incredible career spanning decades — so far. He's the ultimate 'guy's guy' who is known for looking good, but how about smelling good?
Vin Diesel is not a cologne kind of guy, he's more of a fan of scented after-shave creams. He's known to wear the eShave Shave Cream for Normal to Sensitive Skin in the fragrance cucumber.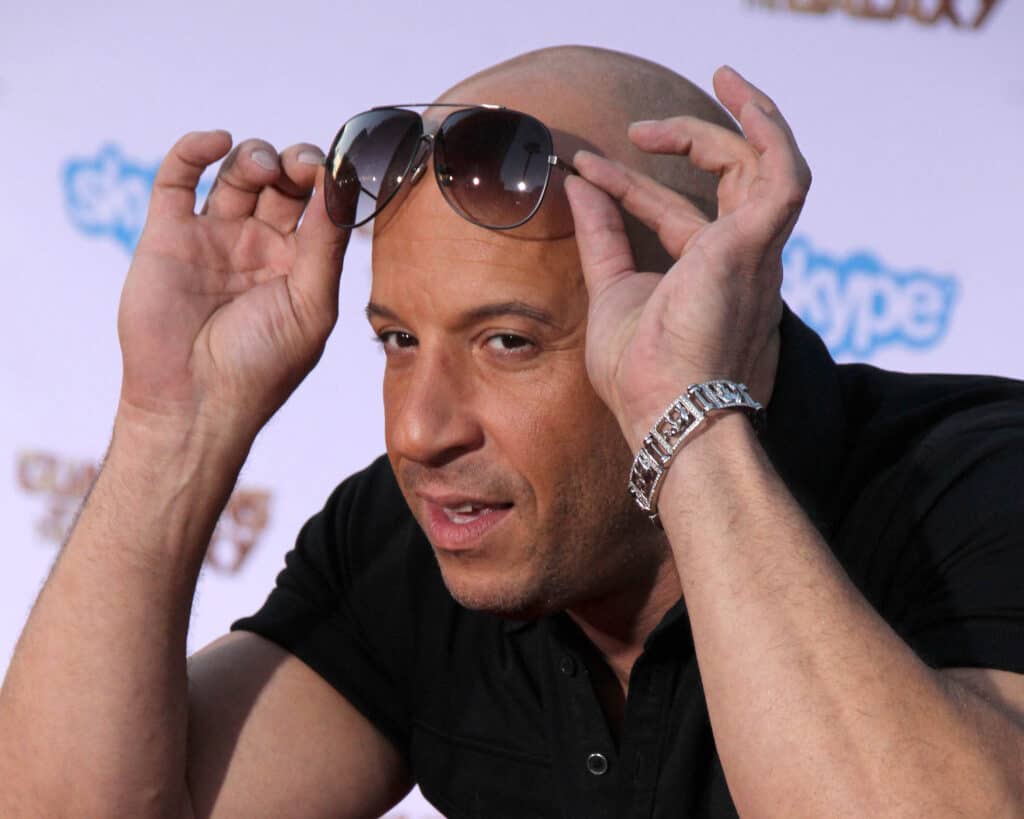 Want to find out what a whiff of Vin Diesel is likely to reveal? Then keep reading because today's article will fill you in on just this as well as who Vin really is, and — of course — what his head smells like.
Who is Vin Diesel?
Vin Diesel, or Mark Sinclair as he's known to his parents, was born on 18 July 1967 in Alameda County, California. His father was not around, and so his mother Delora Sherleen Vincent had her hands full with Vin — and his twin brother Paul!
Thankfully, Delora didn't have to raise Vin and Paul alone for too long as she met and married Irving H. Vincent. Irving was an acting instructor and the manager of a theater.
Surprisingly, Vin's entrance to the world of acting did not come about as a result of his stepfather's job at a theater. Rather, Vin, Paul, and a bunch of their friends broke into the Theater for the New City and planned to vandalize it.
When the group was busted, they weren't reprimanded but instead offered roles in an upcoming show. This decision led Vin in a very different life direction and he remained with the theater throughout his adolescence.
He studied creative writing at Hunter College and began screenwriting while a student at the institution. After a 1994 uncredited appearance in 'Awakenings', Vin tried his hand at filmmaking.
His first film, a short semi-autobiographical film called 'Multi-Facial', was a resounding success. Not only was the film — which was written, directed, and produced by Vin — picked up by MTV, but it caught the attention of one Steven Spielberg.
Steven would go on to offer Vin a role in his upcoming film, a little something called 'Saving Private Ryan'. You know the rest.
Vin Diesel's Cologne
You may think that Vin smells like an ultra-masculine combination of gasoline, sweat, and dad jokes, and you'd have good reason to think this, but you'd be wrong. Apparently, he smells very clean and fresh.
According to Celebrity Fragrance Guide, Vin's scent of choice comes from the eShave Cucumber Shave Cream for Normal to Sensitive Skin.
As you can imagine, this product mainly smells like fresh cucumber. But it also has a soft scent of Shea Butter, so Vin likely smells of a clean combination of those two olfactory profiles.
What Vin Diesel's Head Smells Like
Once upon a time, Vin Diesel had a head full of hair but he has been sporting a bald head since his late twenties. Vin was starting to go bald and so he picked up the razor.
He told Female First, "I'm losing my hair. You can see the patches. There are two ways to handle it — wait for the inevitable, or accept it at an early age and use it as part of your style. My advice? Cut it off before you have to."
Though he's not the only bald Hollywood actor — think Dwayne Johnson, Bruce Willis, Samuel L. Jackson, and Jason Statham — the world at large is somewhat obsessed with his baldness.
His fans are so obsessed with his shaven head that they even want to know what it smells like. Luckily for those fans, MTV's Josh Horowitz wanted to know too.
Josh asked Vin's 'The Last Witch Hunter' costars Elijah Wood and Rose Leslie what they imagined the actor's head feels and smells like before giving it a whiff himself.
Elijah said of Vin's head, "I reckon it's pretty smooth, and it's probably got a musky, a real manly — but with a hint of flowers."
When it was her turn to answer this important question Rose said, "In terms of odor? Crikey. Maybe it smells of something from nature, like from outside. Like trees or hedges or something."
Josh sums the smell up as "Magic and muscle cars" while Vin simply says "It smells pretty dang darn cool."