Jennifer Lopez looks amazing for someone who is over fifty; she literally doesn't look like she has aged in the past two decades. One of the things that we've all been told contributes to younger-looking skin is hydration, so how much water does J. Lo drink daily?
Jennifer Lopez's personal trainer has said that J. Lo drinks at least seven glasses of water a day. This is on par with the doctor recommended eight glasses a day. On top of drinking lots of water, Lopez has a strict workout routine and diet. Her diet excludes alcohol, caffeine, and processed foods.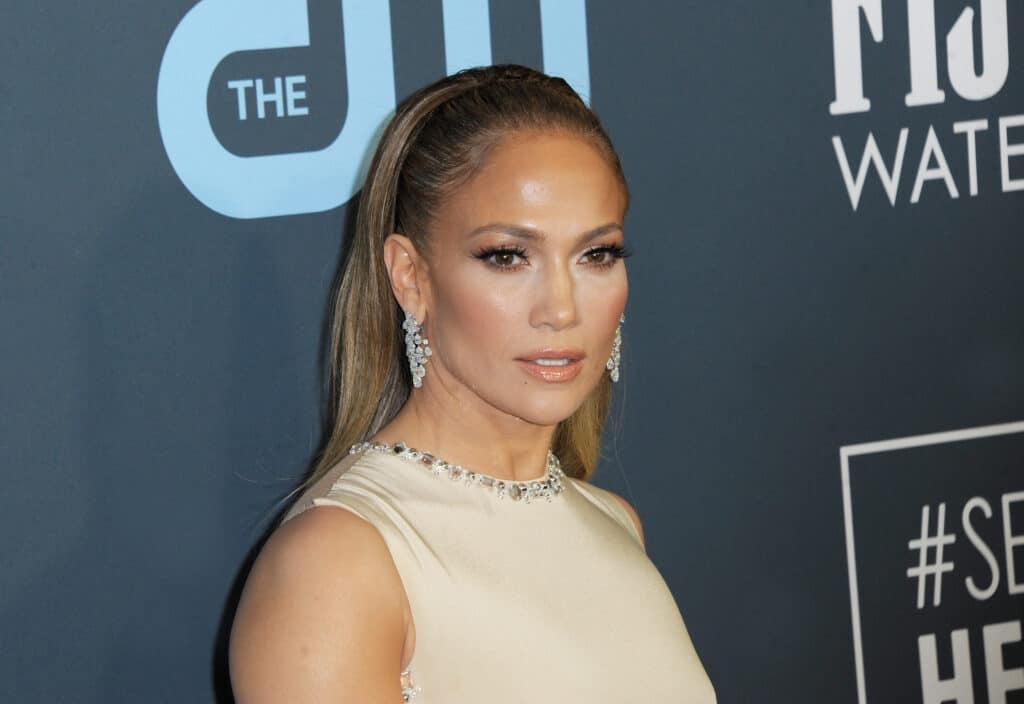 Scroll down to read more about the Love Don't Cost a Thing singer's exercise routine, diet, and if she has a secret to looking so young.
J. Lo's Fitness Routine
Have you seen just how ripped the star of Hustlers is? You can see her washboard abs as she twirls around the stripper pole in the movie.
Jennifer Lopez's body isn't just like that genetically either. The singer has a strict fitness routine that she doesn't ever skimp out on.
In this Harper's Bazaar article, they have a look at what exactly J. Lo does to stay in shape, and it is intense. One of her workouts is an at-home fitness circuit that features seeing how many loops she can do of a 400-meter sprint, push-ups, kettlebell swings, over the heads, and bent rows, all in 20 minutes.
Who would expect anything less from the woman who is partners with the famous baseball player, Alex Rodriguez?
On top of all of this, Lopez has told tabloids multiple times that working out is something that makes her happy. While she has always needed to stay in shape for her job as an on-stage and on-camera performer, she would probably still be working out a lot anyway.
In an interview with Hello!, she said that "I am 100 percent convinced that working out is part of what makes me so happy. Dance has always been a huge part of my life and taking the time to move my body and do something that's so good for me is key to my happiness."
And it's no secret that working out does make people happier. When you're physically active your brain releases endorphins and dopamine aka the happy drug.
While Jenny from the Block uses exercise to stay mentally and physically healthy, she also balances that with an impressively clean diet.
A Strict Clean Diet
It's becoming more and more widely known that you are what you eat and, well, you look like what you eat. So what exactly does Lopez eat to stay looking so young and fit?
First of all, she has said that she doesn't drink alcohol, smoke, or even drink caffeine. How does she live her life without coffee!
Maybe she is getting all of her energy from things like all of the fresh organic fruits and vegetables she eats or the nutrient-dense proteins. For example, she often starts her day with a protein-packed fruit smoothie.
From there, her trainer Dodd Romero has said she eats a lot of salads coupled with proteins like chicken, grass-fed beef, or salmon. At dinner time, Lopez likes to cook Peurto Rican meals that feature a lot of high nutrient veggies like Brussel sprouts, asparagus, and kale.
If you want to have a better look into Jennifer Lopez's diet and workout routine, you can follow the link below to a video from YouTuber Will Tennyson.
Jennifer Lopez's Secret to Looking Young
Now we know how the World of Dance judge eats and exercises, but does she have any secrets to looking so great? Try a consistent and unflagging skincare routine and drinking lots of water.
She has said many times that she drinks a lot of water throughout the day. One of her routines is to drink water and hydrate before she does a workout because it helps to give her more energy during.
J. Lo also notoriously walks around with what she calls her "blingy cup," a rhinestone covered Starbucks cup. People were wondering what she was drinking out of it and she revealed that it was, drum roll please, just water.
One other trick she has up her sleeve would be that she always washes her face after a workout. Then she moisturizes and puts on a little bit of sunscreen to keep her skin safe and her pores clean.
Maybe these aren't all secrets to looking young, but Jennifer Lopez has been consistent with all of these practices over the years. That's the real secret.