Andrew Yang is an Asian-American attorney by training, a businessman, an Internet sensation, and a political candidate. He was born on January 13, 1975 in New York City. He is best known for being a presidential candidate under the Democratic Party in 2020 and a New York City mayoral candidate in 2021.
Andrew Yang is married to Evelyn Yang, a stay-at-home mom and a former marketing executive at L'Oréal. The two have been married for over 10 years.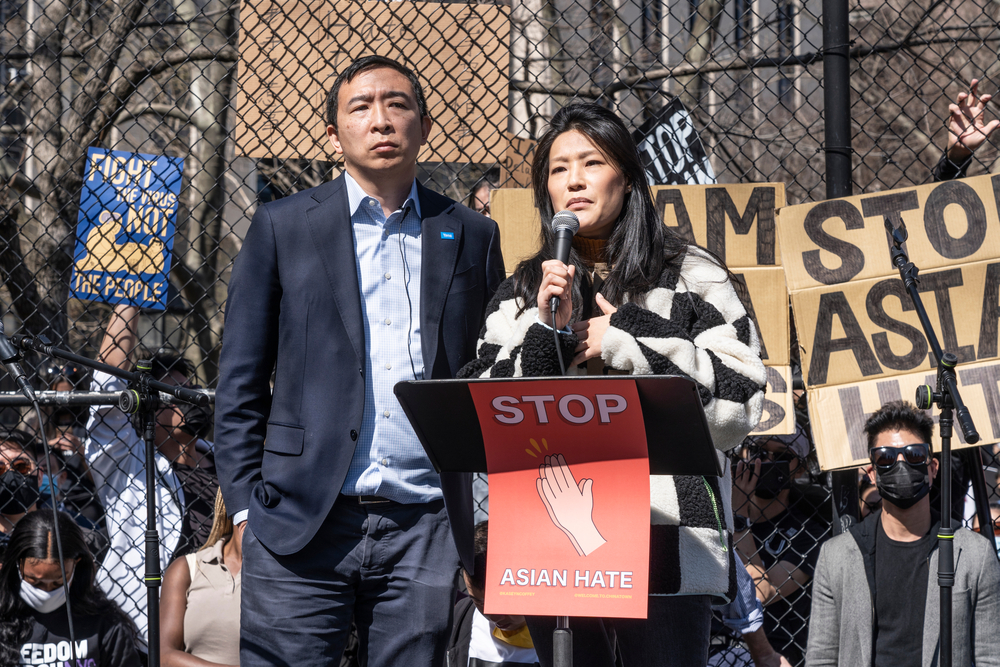 Read on to learn more about the Yangs' family life.
About Evelyn Yang
The full-time mother of two is six years younger than her husband, having been born on October 31, 1981. A well-educated lady, she studied for a degree in international studies at Columbia University and once went to Shanghai to join a study abroad.
Here, she met Eileen Lee, who would later be Andrew's second in command for Venture For America, a non-profit organization that helps struggling cities by recruiting college graduates and training them to be entrepreneurs.
Andew and Evelyn's Married Life
Evelyn and Andrew met at Columbia University while he was working at the test preparation company Manhattan GMAT.
Although he was not a student at the time, he met the love of his life on the university's campus. In several interviews, she fondly recalled that her future husband had "no game" when they first met. They had a tropical wedding in 2011, though it is reported that the pair received their marriage license in 2010.
Evelyn shared with Newsweek that she gave up being a full-time corporate executive to raise their children and identifies as spiritual rather than religious. Both Andrew and Evelyn oppose circumcision for males and are convinced the surgical procedure is unnecessary.
Their eldest son, Christopher, is on the autism spectrum and shares the same birthday as his mother. In an interview with Town & Country, the Yangs shared that they are teaching their kids the importance of politics and history as they raise them.
During a family trip for President's Day on February 19, 2019, they visited the Lincoln Memorial and told their kids that he was the best president because he was able to stop everyone from fighting. Andrew Yang explained that having a son with special needs is the new normal in America and even mentioned it during his 2019 debates. As parents, they are advocates of autism awareness and are prominent representatives of the Asian-American community in the United States.
Date Nights at the Movies
Despite his hectic schedule, the former NYC mayoral nominee finds time for his lovely wife and enjoys watching films like Crazy Rich Asians and Molly's Game and I. Evelyn fawns over her husband in many of her Instagram posts from time to time.
Surviving Sexual Assault
Evelyn Yang made headlines after speaking out about a traumatic experience in 2012 involving her obstetrician-gynecologist, Dr. Robert Hadden.
In a CNN interview, Evelyn claimed that the doctor sexually assaulted her while she was seven months pregnant with her first child. She also said she was ashamed to share her story with most of her family members, especially her parents.
At first, she didn't notice the doctor's odd behavior. However, as time progressed, he began to ask about sexual activities between her and her husband and inappropriately engaged in conversations that were not related to her reproductive health.
Evelyn disregarded these things and thought that changing doctors at the time was too overwhelming for a pregnant woman like her. After her son was born, she found out that Dr. Hadden had stopped his practice, and that other women were also allegedly assaulted.
Evelyn received a positive public response after speaking up about this experience. To this day, Andrew Yang remains proud of his wife for speaking up and hopes that more institutions protect women who are going through the same abuse. He said that she is his best friend and the bravest woman he knows, and that nobody deserved to be harmed and treated like they were.
In 2021, Evelyn authored a book called A Kids Book About Sexual Abuse. She said in an interview with ABC7 that it is "a book I wanted to read to them as a parent and as a survivor in order to inform them and also to protect them."
A Supportive Wife
Andrew Yang has often mentioned Evelyn in his campaigns during the 2020 presidential elections. Evelyn has stood by her husband's side throughout his campaigns and even stated in interviews that when he becomes a man on a mission, he is unstoppable and that she could do nothing more than be a supporting and loving wife to him.