Andrew Yang is an American entrepreneur and politician who rose to prominence through his 'universal basic income' idea which he voiced in the 2020 presidential campaign. He's as American as one can be, but did he ever make the ultimate sacrifice and serve his country?
Andrew Yang was never in the military, nor were his parents or grandparents, but he has a deep respect for those that have served. The innovative politician has spoken out about the military — and his proposed policies — on several occasions.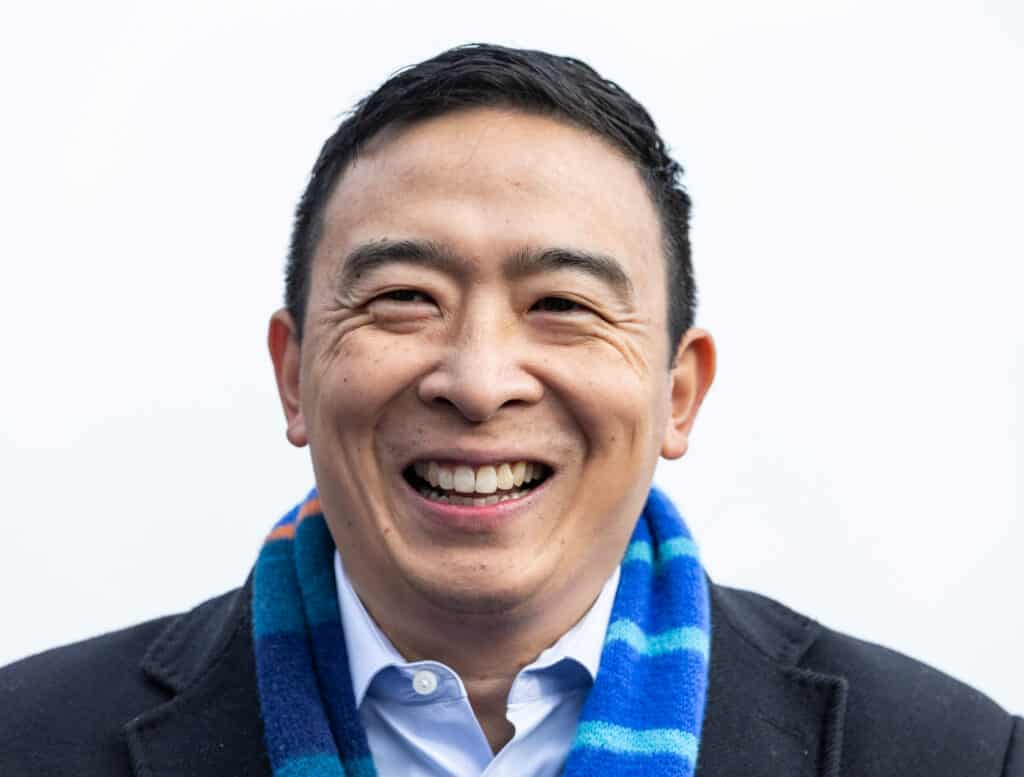 Let's take a closer look at who Andrew Yang is, and what his connection — and that of other 2020 presidential candidates — is to the United States military service.
Who is Andrew Yang?
On 13 January 1975, Kei Hsiung and Nancy Yang welcomed their second child to the world. Born in Schenectady, the child was a healthy baby boy whom they named Andrew.
Andrew grew up with an older brother named Lawrence, who is now a psychology professor at New York University, in the Westchester County area. Andrew was bullied for his race throughout his childhood.
In 1992, graduated from Phillips Exeter Academy and went straight to Brown University where he studied political science and economics for four years. In 1996, Andrew attended Columbia University's law school and graduated in 1999.
After graduating from law school, Andrew was a lawyer at Davis Polk & Wardwell' for a mere five months before realizing that law was not where his passion lay. He flung himself into entrepreneurship and spent the early 2000s opening startup after startup.
Andrew was so successful in the area of entrepreneurship that he was named the Presidential Ambassador for Global Entrepreneurship by the Obama administration.
Before long, Andrew was very well-known and respected within the business world, but he became a household name in 2019 when he was campaigning for the 2020 FEC elections. His idea to award all American citizens with a monthly basic income of USD $1,000 saw him gain massive popularity.
His exact net worth is unknown, The Wall Street Journal estimates that Andrew has a net worth of between USD $834,000 and USD $2.4 million. Andrew has been married to his wife Evelyn Ly since 2011, and the pair share two sons — one of whom is autistic.
What Connection Does Andrew Yang Have to the Military?
Andrew almost joined the military when he was around 20 years old, but after an eye-opening conversation with a recruiter, he determined that it was not the right move for him.
Despite not serving himself, Andrew is deeply respectful of those who have. Many of his plans and policies focus on the military and its active and former members.
A big part of Andrew's campaign was centered around improving services for veterans. His proposal is wide-ranging solutions including improving post-service employment opportunities for veterans, creating a mentorship program, expanding veterans' education and housing benefits, and more.
When it comes to active military members, Andrew has been vocal about the modernization of military spending. He said "We need to build a military designed for the challenges of 2020…We have massive needs here at home that our men and women of the military that can help us meet."
His most popular military-related policies are 'Controlled Substance Waivers for Veterans', 'Military Training: The Gold Standard', 'Every Vet Under a Roof', and 'Reverse Boot Camp'.
In addition, Andrew added his signature to the 'End the Forever Wars' pledge and has voiced the importance of forming an effective coalition with America's allies.
2020 Presidential Candidates Who Have Served
Contrary to popular belief, a person does not have to have served to be eligible for the presidential elections. The only requirements are that one must be a natural-born citizen, have lived in the country for a minimum of 14 years, and be over the age of 35 years old.
This misconception likely stems from the fact that almost every president has served in the military. As of 2021, only 16 presidents have had no prior military service.
Andrew is not the only candidate of the 2020 presidential elections that didn't serve. On the contrary, he's not even the only Democratic that hasn't!
In the 2020 elections, of the 18 major Democratic candidates. Only three of them served. These three are Tulsi Gabbard, Pete Buttigieg, and Joe Sestak.