Before 'Old Town Road', Billy Ray Cyrus was famous for playing his guitar and singing about his 'Achy Breaky Heart.'
Billy Ray Cyrus is left-handed. When he initially wanted to start a career as a musician, he ran into issues because his dominant hand is his left. He did manage to find a left-handed guitar and learned to play.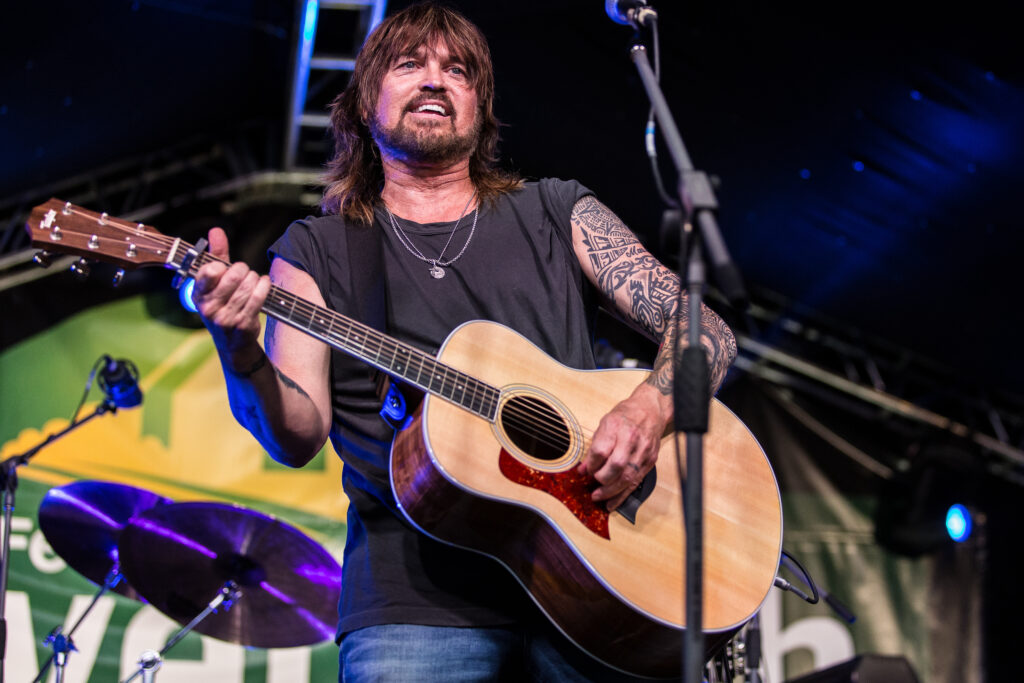 Scroll down to read more about how Billy Ray Cyrus learned guitar, and who some other famous left-handed guitarists are.
Billy Ray Plays a Leftie Guitar
Growing up in Kentucky, Billy Ray Cyrus was exposed to the gospel and bluegrass music of the south from a young age. His father was a politician who actually played guitar, but his dad was right-handed and he was a leftie.
This meant that he never learned to play guitar growing up even though he was constantly surrounded by his father playing guitar. At one point, he even attempted to learn how to play his father's guitar but he had too much trouble with the right-handed version.
It was while he was in college at Georgetown University that he attended a Neil Diamond concert. He was blown away and inspired by the music and a moment when Neil talked about faith and doing what you believe in.
The entire event made Cyrus realize that he was being called by God to be a musician. So he dropped out of college to pursue a career as a country musician. He gave himself only ten months to achieve the goal.
So it was that Billy Ray Cyrus really learned how to play left-handed guitar. He had already switched to the music program at Georgetown before dropping out which definitely helped his career and his ability as a guitarist.
He eventually became one of the most famous and influential left-handed guitarists in the world.
And, despite him being a lefty and his daughter, Miley Cyrus, being a righty, he still taught her how to play guitar on a right-handed guitar. Talk about talent.
It was through teaching his daughter to play that he then helped launch her career as a global pop star first through the Disney show Hannah Montana. If you remember, he also starred on the show as her father.
And, if he hadn't done that then Lil Nas X, who watched the show growing up, wouldn't have discovered him and helped to relaunch his music career through being featured on 'Old Town Road.'
You can watch Billy Ray Cyrus performing with Lil Nas X in the below music video for 'Old Town Road'.
Other Famous Lefty Guitarists
Billy Ray Cyrus isn't the only famous left-handed guitarist. There are actually quite a few considering that only about 10 percent of the world's population is left-handed.
The man who is often credited with being one of the best guitarists that the world has ever seen was left-handed. That's right Jimmi Hendrix was a southpaw.
Apparently, Jimmi Hendrix's father thought that playing with the left hand was the devil's influence so he tried to force Jimmi to play right-handed. This didn't work though and Jimmi ended up re-stringing right-handed guitars for the left so that he could play them.
Another famous lefty guitar player is The Beatles guitarist Paul McCartney. McCartney is not actually left-handed though; he just plays with his left hand.
The creator of what is known as 'West Side Chicago Blues', Otis Rush, also played left-handed. He actually strung his guitar backward too.
Kurt Cobain, the frontman of Nirvana, was also a leftie guitar player. He actually made it onto Rolling Stone's list of 'The 100 Greatest Guitarists of All Time.'
While Cobain has been frequently referred to as playing "untutored squall," he was actually a very good guitarist. Cobain had mastered many unconventional ways of playing.
Finally, Tony Iommi, the legendary guitarist of Black Sabbath is a left-handed player. Interestingly, he lost two of his fingertips when he was 17-years-old and thought that he was done playing guitar.
Iommi had tried to learn how to play guitar right-handed but failed miserably. He eventually made prosthetic fingertips by cutting up an old leather jacket that could grip the strings and frets.
He told Loudwire that the prosthetic worked but he still had to relearn playing now with his new fingertips. It was a long and painful process for him.
Billy Ray Cyrus can be found within the ranks of these other amazing musicians who are left-handed.