Walter Bruce Willis–or simply Bruce Willis–is a retired American actor who is credited to have appeared in over a hundred movies in total and the hit TV show Moonlighting. He was born in Idar-Oberstein, Germany, on March 19, 1955. He is most famous for portraying the New York police detective, John McClane in the Die Hard action film series.
Bruce Willis is married to former model Emma Heming, whom he shares two daughters with. He was previously married to actress Demi Moore from 1987 to 2000 and they have three daughters together.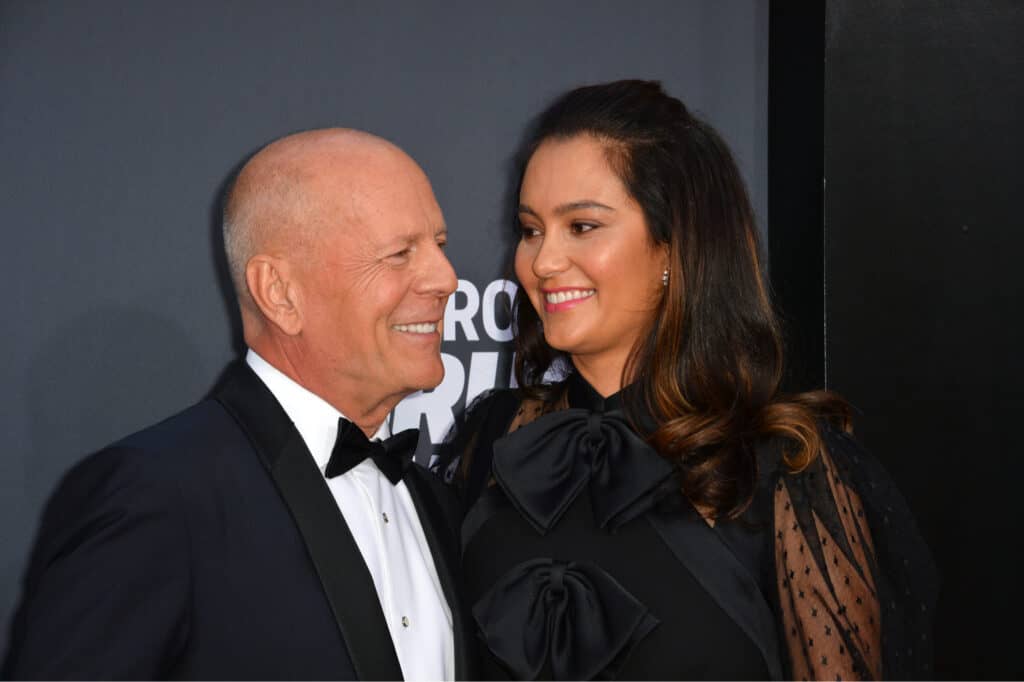 Early Life
Bruce's father, David Willis, was an American soldier and his mother, Marlene, was German. Bruce is the eldest child, with one younger sister and two younger brothers.
When his father was discharged from the army in 1957, they moved to Carneys Point, New Jersey. His father worked several blue-collar jobs as a welder, master mechanic, and factory worker while his mother was a banker.
In his childhood, young Bruce went by the nickname "Buck-Buck." He studied at Penns Grove High School and joined its drama club.
Though he initially suffered from a stutter, he discovered that performing on stage curtailed it. Bruno's humor and charm made him so popular, that he was eventually elected student council president.
After graduating high school, he worked as a security guard at a nuclear power plant, a bartender, and even as a private investigator, the last perhaps foreshadowing his big break into show business.
Television
In the mid-80's, TV producer and show creator Glenn Gordon Caron was looking for a male lead to cast opposite actress Cybil Shepherd for his new comedy-drama series Moonlighting.
In casting the character of David Addison, a charming smart-aleck private investigator, Caron already knew he had found his lead in Bruce after auditioning about 600 actors.
This was however met with much resistance from ABC network executives who did not believe that the still unknown actor could carry the show.
Caron was made to audition a total of 2,000 actors before the executives eventually relented to casting Willis. The show would become a hit with audiences and critics alike, earning Bruce a Primetime Emmy Award, a Golden Globe Award and a People's Choice Award for the role.
The show aired 66 episodes over a course of 5 seasons on ABC.
Bruce returned to TV to voice the title character in the animated series Bruno the Kid, which he also created. He also made a guest appearance on the hit TV sitcom Friends which garnered him another Primetime Emmy.
Movies
Bruce's success on television led to his first big-screen lead role in Blake Edward's romantic comedy Blind Date opposite Kim Basinger.
Though it was panned by critics, it achieved moderate success. But it was the 1988 action movie Die Hard that would launch Willis into international superstardom.
In the film, he plays NYPD detective John McClane, who must rescue his wife and her coworkers from a ruthless group of terrorists who have taken them hostage. Defying expectations, the film became the highest-grossing action movie of that year.
Unlike most 80's action movies, which featured muscle-bound invincible heroes, Willis's McClane featured a flawed and vulnerable protagonist who was much more relatable to audiences.
It would become Bruce's most lucrative franchise, spawning four more sequels: Die Hard 2, Die Hard with a Vengeance, Live Free or Die Hard and A Good Day to Die Hard. 
His other notable film credits include The Last Boy Scout, Pulp Fiction, 12 Monkeys, Last Man Standing, The Fifth Element, The Sixth Sense, Armageddon, The Whole Nine Yards, Sin City, Moonrise Kingdom, Unbreakable and Looper.
In the latter part of his film career, Bruce would be infamously known for appearing in a variety of low-budget and often direct-to-video releases. He is said to have been paid up to US$ 2 million for just a couple of days of shooting and participated in at least 20 of these B movies.
Marriages and Divorce
At a premiere of the movie Stakeout, Bruce Willis would meet Demi Moore, who was still engaged to the film's star Emilio Estevez.
After their engagement had ended, Bruce and Demi began dating and would eventually marry on November 21, 1987. The two would have three daughters together: Rumer, Scout and Tallulah.
Though their marriage would eventually end in divorce on October 18, 2000, Bruce and Demi have maintained an amicable relationship, with Willis even attending Moore's subsequent wedding to actor Ashton Kutcher on Sept. 24, 2005.
Bruce would later marry model Emma Heming on March 21, 2009 with Moore and Kutcher in attendance. Willis would father two more daughters with Heming: Mabel and Evelyn.
Retirement
On March 30 2022, Bruce's family released a joint statement that he was retiring due to a medical condition known as Aphasia, which affects the areas of the brain that controls language, ending a career that spanned over three decades.
His movies have grossed over US$ 5 billion internationally making him one of the most bankable stars in the world.