One of the most outrageous and profound professional American basketball players of the 90s, Dennis Rodman is most known for playing for Detroit Pistons and Chicago Bulls. Despite a lot of controversial coverage over the past few decades, one question remains- is Dennis Rodman married?
Despite being married four times, Rodman is no longer married. As of 2021, he is single. Continue reading to find out more about which celebrities Rodman has dated and married in his time, as well as the time he married himself.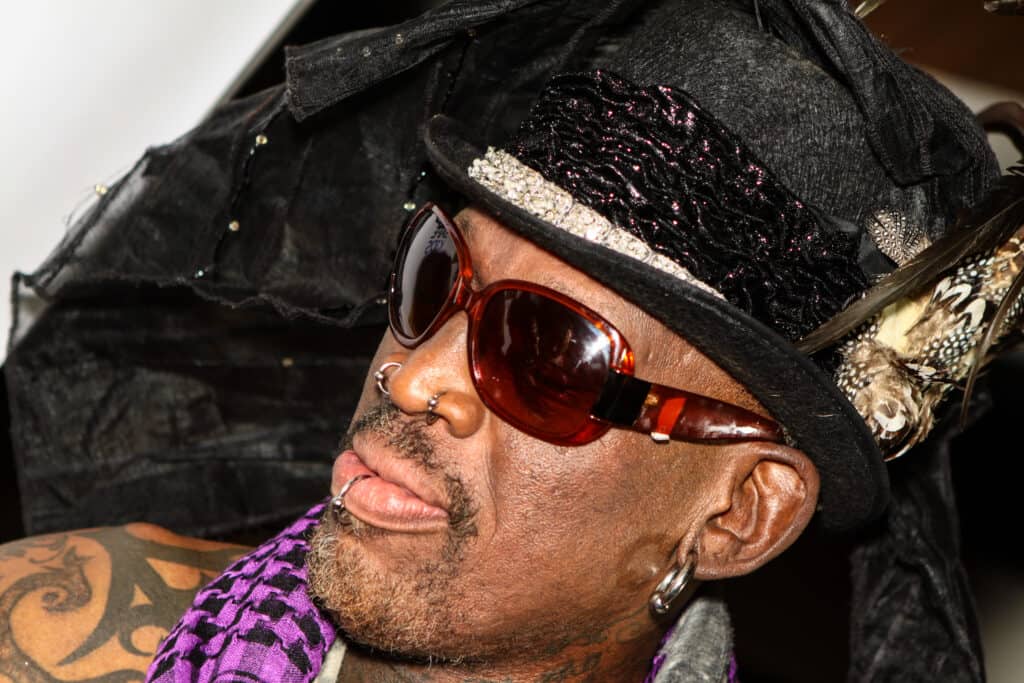 Dennis Rodman married Madonna?
Dennis Rodman is pretty well known for having a few tenacious and turbulent marriages during his lifetime. Most notably, Rodman married the likes of Madonna, Annie Banks, and Carmen Electra, one of the 'most beautiful women in the world'.
Rodman's first wife was Annie Bakes, a marriage that lasted just over a year (1992-1993). Bakes was an American model, and author of 'White Girls Don't Bounce'. The couple met in a nightclub during the late 80s.
Despite dating for over five years, the couple were only married for a year after their marriage broke down. According to Bakes, the couple got divorced after Rodman refused to continue couples therapy.
According to Bakes, "When Dennis and I were married, I told him the only way I would stay with him was if we went to get counseling," she shared, adding, "He agreed to go, but after a couple of times, he (quit)."
Rodman and Bakes had a child, Alexis a few years before their marriage, born in 1988.
After his rather short-lived marriage to Annie, Rodman started dating celebrity singer Madonna in 1995. The couple never got married, as they only dated for a few months.
Although their relationship was short-lived, Madonna was so keen to get some of Rodman's genes that she offered him $20 million to impregnate her, according to Rodman… In an interview with Revolt, Rodman responded to the question, "are you disappointed that you didn't get her pregnant?" with "no".
After his relationship with Madonna ending, Rodman started dating Vivica Fox, an American actress. Most well-known for her role in Independence Day, Fox and Rodman were only together for a year (1997-1998).
After less than a year from his separation from Vivica Fox, Rodman met Baywatch star, Carmen Electra. Known to some as the most beautiful woman in the world, Electra and Rodman were together for nine months, and subsequently got married at Las Vegas's Little Chapel of the Flowers.
Electra and Rodman's relationship did not last too long either. Electra admitted that her relationship with Rodman was in "direct response to the numbing emotional pain" associated with her mom and sister's deaths. Electras mom died of brain cancer, and her sister died of a heart attack a few weeks after.
Who else has Rodman married?
After Rodman's turbulent relationship with Carmen Electra, he started dating Michelle Moyer. The couple was together for four years before getting married in Newport Beach, California on May 13th, 2003.
The couple met in a bar back in 1999, both living at Newport Beach at the time. After marrying, the couple had two children, a son DJ, born in 2000, and a daughter, Trinity born a year later.
Rodman and Moyer's relationship eventually ended in 2004 when Moyer filed for a divorce. She stayed with Rodman until 2012. Moyer claimed that Rodman struggled with alcohol, which is why he struggled to find work to cover the child support.
So apart from Madonna, Electra, Bakes, and Moyer, who else has Rodman dated or married? Well, himself, in 1996. More of a celebrity stunt than an official marriage, Rodman can be seen in a custom-designed white dress made in France.
Rodman cross-dressed in his beautifully custom-designed wedding dress at the Hall of Fame, during his promotion of his memoir "Bad As I Wanna Be" in 1996. According to Rodman, he identified as bisexual and claimed to be marrying himself.
Whether he took this statement seriously or not is unclear, but Rodman's messages regarding gender fluidity, toxic masculinity, and sexual identity are explicit. The NBA star definitely made a bold statement with his self-marriage proposal.
In fact, Rodman recalls cross-dressing throughout his early years, way before other celebrities such as Ru Paul.
Dennis Rodman has 4 children and has gone through nine different relationships and marriages in his lifetime, excluding the time he claimed to marry himself. Is he going to settle down anytime soon?