Elizabeth Olsen, 32, is part of the all-star power cast in the Marvel Cinematic Universe as Wanda Maximoff/Scarlet Witch. She debuted in 2011 as Martha in the thriller Martha Marcy May Marlene. Although she prefers to keep her personal life private, we can't help but ask, "Is she married?"
Though there was no actual wedding party reported, it appears that Elizabeth Olsen and fiance Robbie Arnett (of the indie-pop band Milo Greene) have secretly tied the knot in 2020.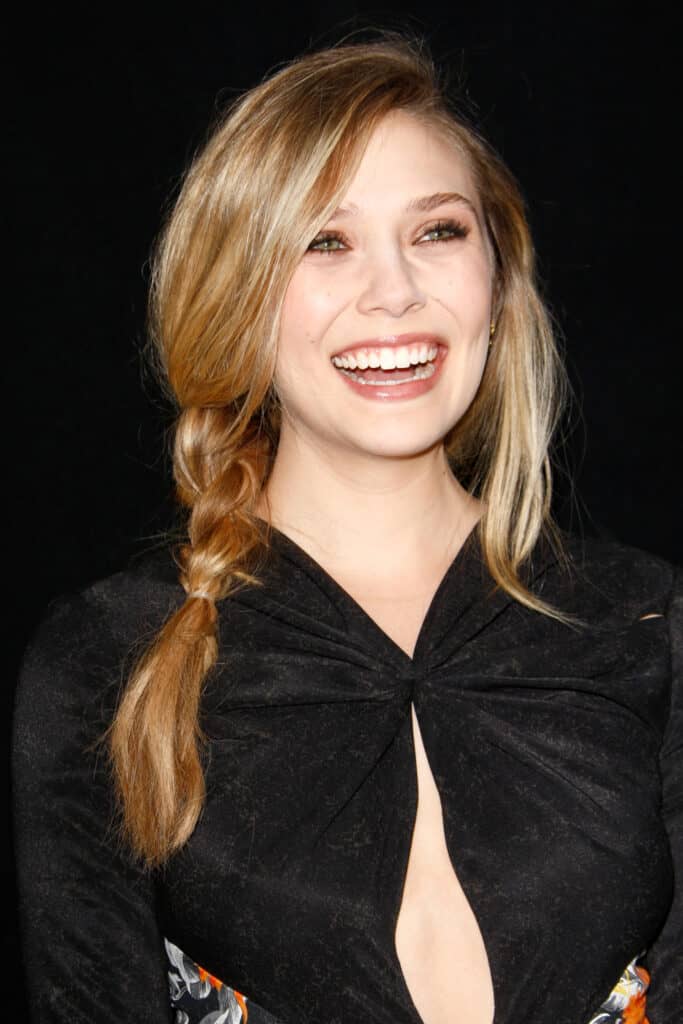 While she was being interviewed by Kaley Cuoco for Variety's Actors for Actors series, she casually slipped and mentioned "I also just noticed that my husband put Little Miss Magic — you know, the Little Miss books?" This statement apparently pertains to the books she sees inside her bathroom while having the interview to escape the construction noise from outside.
But, fans could not ignore that little slip of the tongue! Here's what we were able to dig up on the actress' uber-private relationship.
First Encounters
Sources say that Robbie's and Elizabeth's first encounter was in Mexico while having a vacation in early 2017. And ever since that time, the couple would be inseparable, though they haven't made their relationship public yet.
But in September 2017, all eyes were on them when they attended the Gershwin Emmy Party in Los Angeles, with the Daily Mail reporting that they seemed very much in love. Obviously, they are smitten with each other but preferred to keep a low profile.
The WandaVision star and her rocker boyfriend would be seen next going on lavish vacations in Europe, particularly in Italy in the summer of 2018. A series of now-deleted Instagram posts show the couple's adorable, intimate Polaroids while having a relaxing time by the pool. On the said trip, they also attended a weekend celebration hosted by designer Rosetta Getty in Tuscany.
Love and Music and Movies
In an interview that Olsen gave to James Corden on The Late Late Show, she admitted to having taken a huge step into their relationship. She tells Corden that her boyfriend has moved into her Los Angeles home and has taken with him his old mattress that now stays in her guest bedroom.
All things were looking bright and dandy for Olsen's love life and career in 2019. She just finished Avengers: End Game which grossed $2.7 billion at the box office. By July, People reported that Olsen and Arnett have been engaged.
Still tight-lipped about their future plans, the newly-engaged couple flew off to Mallorca, Spain in September to enjoy some fun in the sun.
Since news about the engagement broke out, Lizzie, as close family and friends call her, has been spotted wearing her gorgeous emerald engagement ring encrusted with smaller diamonds. Chic, understated, and oh-so-lovely! 
Coping in Lockdown
As the pandemic shook up the entire world, the couple coped with the changes by focusing on their home. The actress, in a guest column she wrote for The Hollywood Reporter, shared her own personal journey in light of the global pandemic, as well as her hidden life-long dream of having her own vegetable garden.
And cope they did. Lizzie and Robbie decided to remodel their backyard for better gardening and entertaining. And to pass the time, the couple made funny home videos of themselves goofing around and tending to their garden to be able to make their own produce. They sought the help of a professional landscaper to get them started. 
Olsen and Arnett also enjoyed laid-back activities such as relaxing by the pool and walking the trail just above their property.
Living the Dream
Olsen has revealed in an interview for the podcast Table Manners with Jessie Ware that the couple made a temporary move to England in the middle of 2020. They lived in a quaint village outside of London called Richmond, in a cottage right by the water.
Idyllic and serene, they both fell in love with their short stay in England and have even planned out a more permanent settlement there in the future. Around this period as well, Olsen started filming for Doctor Strange in the Multiverse of Madness, released in May 2022.
Olsen co-stars with Benedict Cumberbatch in the 28th movie of the Marvel Cinematic Universe. As of May 18, the movie has reportedly raked in a total of $715.8 million.
Future Plans
Life could never be rosier for Olsen and Arnett. Speculations have circled around that the couple finally got married in secret in 2020. We are thrilled for these two wonderful human beings and we look forward to hearing about new additions to their family in the near future. But for now, we wish them the best of luck in their own careers and personal life.