Ellen Pompeo's ascent to A-list status is not without a struggle. We know how she has worked her way to the top and with her success, we wonder "is Ellen Pompeo the highest paid actress?"
In a deal she signed for Grey's Anatomy Season 18, Ellen took home $575,000 per episode plus a whopping $6 to $7 million for two full backend gratuity points on the series. That made her the highest-paid actress in dramatic television taking home $20 million per season.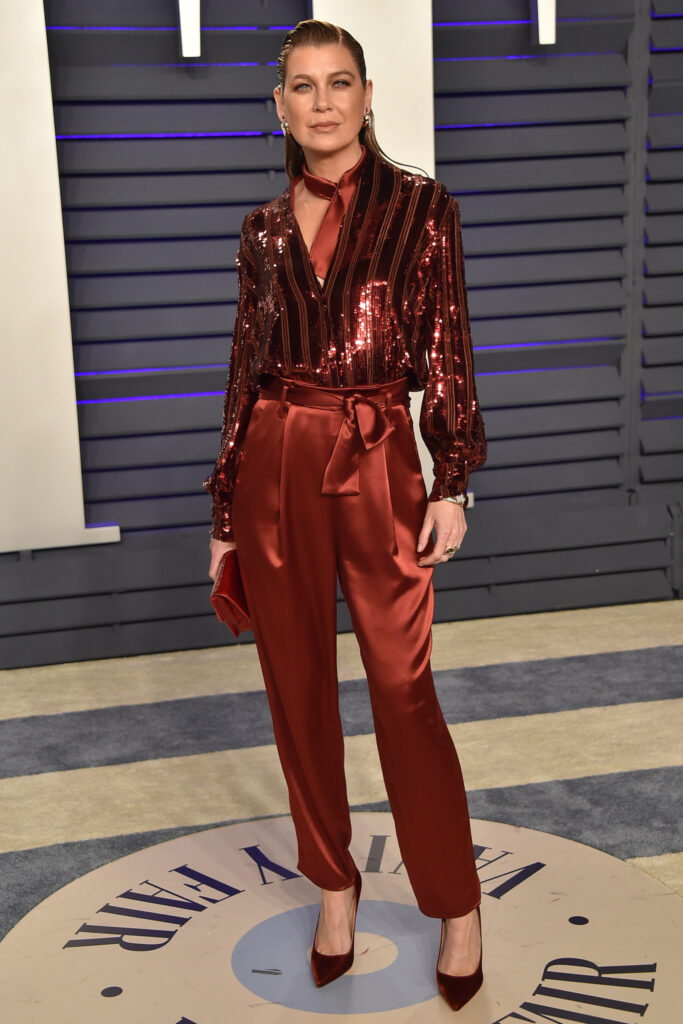 She has joined the ranks of other A-List stars such as Scarlett Johansson, Sofía Vergara, and many other actresses who have been reported to have skyrocketed net worths.
Aside from playing Meredith Grey in the series, Ellen will be joining Krista Vernoff as executive producer for Season 19. Together with Shonda Rhimes and the whole creative crew, they will unlock new stories and focus on modern medicine that will continue to tackle issues that shape the world we live in today.
Actress in the Making
But before all the success, Ellen was discovered by an agent while bartending in Miami. Luckily, she was cast for a commercial for L'Oreal back in the '90s and from there, her acting journey began.
Ellen started out on television by guest starring in shows like Law & Order, Strangers with Candy, Strong Medicine, and Friends. She was also part of a few big-budget movies such as Moonlight Mile with Jake Gyllenhaal , Catch Me If You Can with Leonardo DiCaprio, Old School with Will Ferrell, and Daredevil with Ben Affleck.
Grey's Success
Averaging more than 15 million viewers per episode, Grey's Anatomy has indeed achieved gargantuan success on mainstream television and digital streaming. And Ellen has been at the forefront since its conception in 2005. Being the titular head, Ellen has proven time and again her valuable contribution to the show's popularity.
Pompeo has been very vocal in her pursuit of equality of pay among actors. She has stood up against industry execs' unfair treatment of male and female actors, or male and female workers, in general.
She revealed to Variety that she almost quit upon knowing that her co-star and TV love interest, Patrick Dempsey, earned almost double than her in the earlier seasons.  
In America and most parts of the world, the gender pay gap has been a pressing labor issue consistently. Women are unfairly compensated 20% less than their male counterparts. Women of color fare even worse.
Sad Past
To relate this with her childhood, Ellen didn't grow up in a loving and complete family setup. She lost her mom due to an accidental overdose when she was just 4 years old, and that tragedy has left her insecure and vulnerable.
Finding Her Voice
As she grew up, she learned to advocate for herself and had to learn to fight for what she's worth. From being an insecure child, Ellen grew up to fight for the underprivileged and those who are having a hard time, specifically aspiring actresses in Hollywood.
Once an aspiring actress herself, Pompeo never had anyone to turn to for help when she started. This was the main goal behind her podcast, Tell Me With Ellen Pompeo. On this platform, she can interview both celebrities and non-celebs alike to talk about pressing issues and life in general.
Being one of the highest-earning actresses of today has not made Pompeo immune to fighting for what's fair and right. She lends her time to speaking loudly again gender disparity and diversity in Hollywood. She passionately discussed this in a panel interview by online retailer NET-A-PORTER held in 2018. She was joined by other equally strong and admirable actresses Gabrielle Union, Emma Roberts, and Gina Rodriguez. 
The women discussed how there are very few good roles opening up for actresses of color and that Ellen feels kind of sad for not being able to show her children, who happen to be Black from her husband Chris Ivery, that people of different races and shapes are beautiful and worth emulating.
Ellen's candor and wit coupled with her deep sense of compassion have made her one of Hollywood's most influential actors. Her presence on TV week after week has opened many hearts and fueled passions for the medical arts. And her voice has encouraged people not just to turn a blind eye against unjust practices in the showbiz industry, but to also take part in trying to effect the most-needed change for the next generations to come.