Emilia Clarke's role as Daenerys Targaryen, known as the "Mother of Dragons," is one of everyone's favorites in the popular TV series Game of Thrones (GOT). Why not? Emilia's beauty is ethereal, and her smile is to die for. That is why many fans often wonder if the actress is married.
Emilia Clarke is currently not married and has never been married.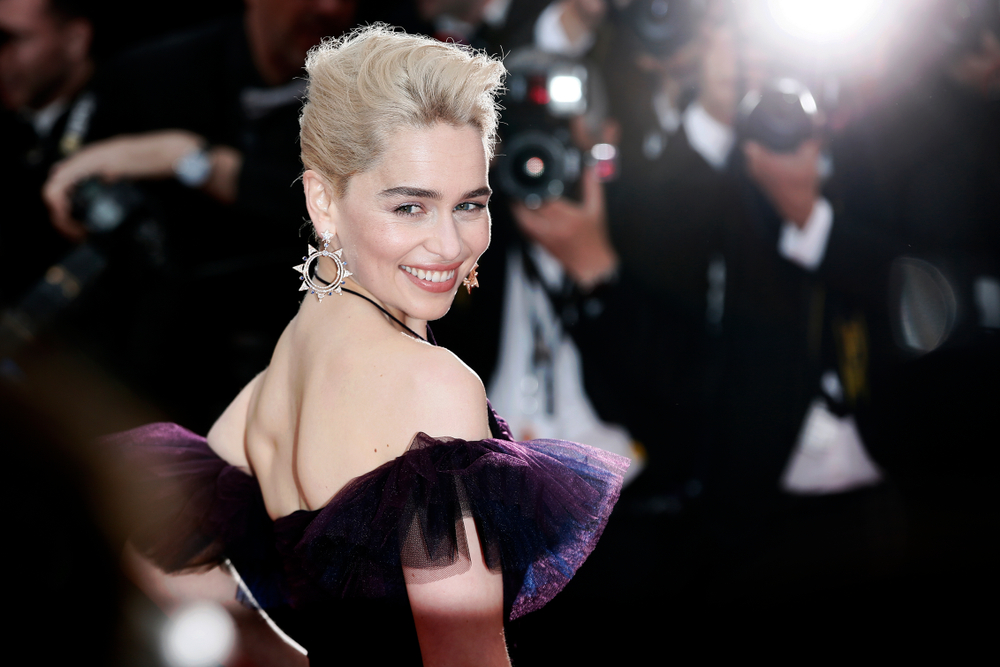 Here are more details about the GOT actress' relationship status and acting career.
Who Is Emilia Clarke?
Emilia Isobel Euphemia Rose Clarke is an English-born Hollywood actress. She was born on October 23, 1986, in Westminster, London. Her parents are Peter Clarke, a theater sound engineer from Wolverhampton who died in 2016, and Jennifer Clarke, a marketing executive for a global management consultancy.
Emilia Clarke's interest in acting began when she was three years old, after watching the musical Show Boat, where her father worked as part of the production crew. She gained worldwide recognition by playing Daenerys Targaryen in Game of Thrones, one of the most popular TV shows of all time. The series ran from 2011 to 2019.
As an actress, she has reached unbelievable success in her career. In fact, due to her charisma and natural talent, many people believe that she will achieve even greater things in the future.
Where Did Emilia Clarke Grow Up?
Emilia Clarke grew up in Berkshire and Oxfordshire, parts of South East England. She attended St. Anthony School in Headington, and St. Edward's School in Oxford. While there, the young Emilia acted in two theater plays.
She later attended Drama Center London, where she featured in ten plays. After graduating from drama school in 2009, she began her acting career by playing a guest-starring role on BBC One's medical soap opera Doctors.
Is Emilia Clarke Married?
Emilia Clarke is beautiful, eloquent, and highly stylish. So it is not surprising that fans wonder if she already has a husband. However, according to the latest information regarding her marital status, Emilia Clarke is not married.
In a recent interview with Elle, Emilia Clarke says, "Yes, I want babies. I don't know about marriage. That's probably quite a painfully millennial thing to say. But I do want to find a human that you'd want to create a family with."
She also wants her children to be raised in the countryside as she was, saying, "I grew up with ducks in the garden and a stream. We used to go mushroom picking in the fields. My first plays were done inside of trees. And if I manage to push out a few sproglets, I'd like them to have that experience as well."
Seth Farlane, an actor, producer, animator, and artist, is one of Emilia Clarke's exes. There were also rumors that Emilia dated actor, writer, comedian, and filmmaker James Franco. However, none of her past relationships had gone beyond dating.
When Did Emilia Clarke Begin Her Career?
Emilia Clarke began her acting career in 2009, after graduating from Drama Center London. She appeared in a guest-starring role on the show Doctors. In addition, Emilia starred in two commercials for Samaritans, a charity providing aid to people at risk of suicide. Later, she appeared in Syfy's 2010 film Triassic Attack. Emilia was subsequently named one of the UK's Screen Stars of Tomorrow by Screen International magazine.
Her breakthrough role came in 2010 when she was cast as Daenerys Targaryen in the HBO series Game of Thrones. The show was highly successful when it debuted in April 2011. Emilia Clarke has appeared in all its eight seasons, reprising her role until 2019.
Since appearing in the Game of Thrones series, she has been featured in many other films and TV shows.
In 2012, Emilia Clarke starred in the films Spike Island and Shackled. She also appeared in the American science fiction movie Terminator Genisys. In addition, she played the lead character in
the romantic flick Me Before You in 2016. That same year, she voiced the character of Bridget in an episode of Robot Chicken.
In 2017, Emilia Clarke starred in the horror film Voice from the Stone and did voice work for an episode of the animated series Animals and Thunderbirds Are Go, respectively. She also starred in the movie Last Christmas in 2019.
Emilia Clarke Survives Brain Aneurysms
Emilia Clarke miraculously survived two life-threatening brain aneurysms in 2011 and 2012.
In a book titled "Dear NHS: 100 Stories to Say Thank You," she expressed gratitude to the healthcare workers who helped her during her ordeals.
Emilia Clarke's Awards
Emilia Clarke has won many notable awards throughout her active years as an actor, including:
Screen International Stars of Tomorrow, 2010;
EWwy Awards, 2011;
Scream Awards, 2011;
Gracie Awards, 2012;
Saturn Awards, 2015;
Empire Awards, 2015;
Britannia Awards, 2018;
Shorty Do Good Awards, 2019, and
Time 100 Most Influential People in the World, 2019.
Emilia Clarke's Nominations
The GOT star had been nominated for the following awards:
IGN People's Choice Awards, 2011
Scream Awards, 2011
Critics' Choice Television Awards, 2013, 2016, and 2018
Golden Nymph Awards, 2012
Satellite Awards, 2013
Young Hollywood Awards,2014
Screen Actors Guild Awards, 2012, 2014, 2015, 2016, 2017, 2018, 2020
Saturn Awards, 2015
Teens Choice Awards, 2015, 2016, and 2018
People's Choice Awards, 2014, 2016, and 2017
Jupiter Awards, 2016
Nickelodeon Kids Choice Awards, 2019
MTV Movie and TV Awards, 2017, 2018, and 2019
Primetime Emmy Awards, 2013, 2015, 2016, and 2019
Emilia Clarke's Net Worth
As of 2022, Emilia Clarke has an estimated net worth of $20 million.