The English actress, Emilia Clarke, is famous for her appearance in the 2011 hit series Game of Thrones, where she played the role of Daenerys Targaryen. Men were drawn to the youngest of the Targaryens. Is it the same thing for Emilia Clarke in real life?
Emilia has had quite a love life, as she has had a number of romantic relationships in the past.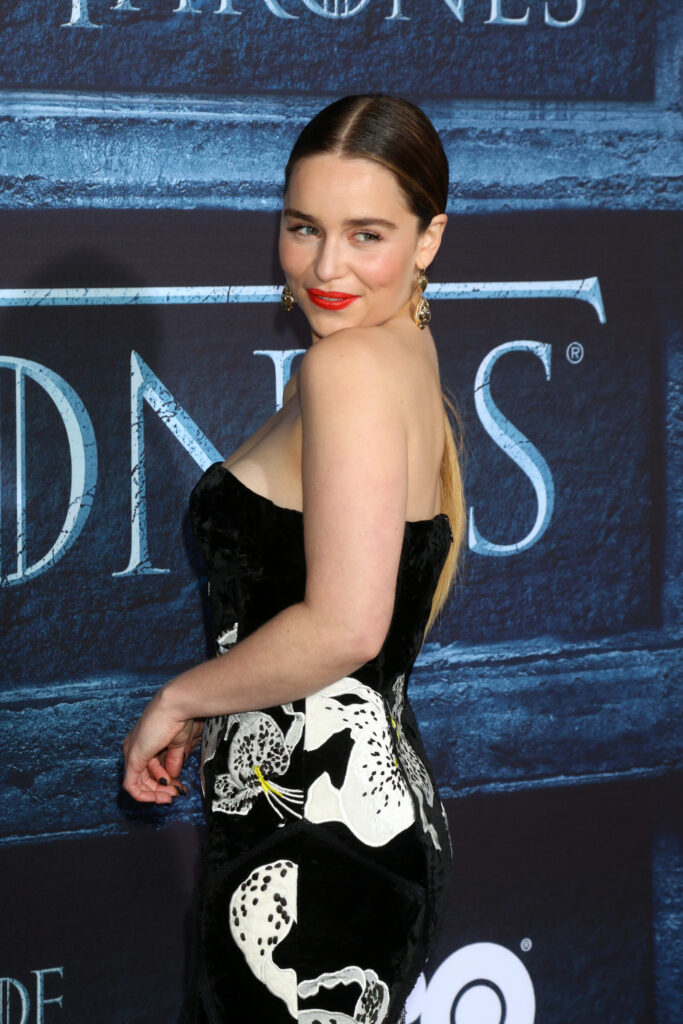 Some of the men in the industry that Emilia Clarke dated include:
Seth Macfarlane
Seth Macfarlane is an American actor and creator of the series American Dad, Family Guy, The Cleveland Show, and The Orville.
Seth Macfarlane and Emilia Clarke began dating in 2012 but their relationship ended in 2013 due to the long distance between them. In 2016, Emilia talked about her relationship with the actor and comedian in an interview with Glamour.
James Franco
James Franco is an American actor. He was nominated for the Academy Award for Best Actor for his role in the movie 127 Hours.
Even though he had a thing with the actress, it didn't last long as he discarded the project, The Garden Of The Last Days. Initially, he had wanted her to co-star in the movie, but two weeks before release, he completely stopped everything involving the film.
The rumor was that they were together in May 2013 because they were seen together in New York City around that time, looking a bit like they were more than just friends.
Jai Courtney
Jai Courtney is an Australian actor that appeared in the movies A Good Day To Die Hard, The Exception, Terminator Genisys and many more. 
In 2014, the British actress and the Australian actor began dating after meeting on the set of Terminator Genisys. In 2015, Jai Courtney revealed he was single.
Charlie Mcdowell
American Film director Charlie Mcdowell confirmed in October 2018 on Instagram that he and Emilia were in a romantic relationship. Four months later, however, in February 2019, they split up.
This is believed to be Emilia's most recent and last relationship, as she is presently not dating anyone.
Some Iconic Roles Played by the Actress
The formidable movie star has been active in the film industry for a long time, but while in school, Clarke was featured and acted in stage productions while she attended St. Edwin School.
Emilia Clarke later got accepted into Drama Center in London, where she was featured in movies, which were produced by the center. She then made an appearance on the soap opera Doctors in 2000.
Since then, she has featured in a lot of movies, including Triassic Attack, a 2010 a TV film that won her the UK Stars of Tomorrow recognition and the appreciation of popular film magazine Screen International for her prominent role as Savannah.
Some other movie roles that Clarke starred in are Breakfast at Tiffany's, where she played the role of Holly in 2013, Terminator Genisys, where she played the role of Sarah Connor in 2015, Me Before You, where she played the role of Louisa Clark in 2016, and Private Lives, where she played the role of Sybil in 2020.
A recent release in 2022 featured her in The Seagull as Nina Mikahailorna Zarechnaya.
Where Did Emilia Clarke Grow Up?
Emilia Clarke was born Emilia Isobel Euphemia Rose Clarke on Oct. 23, 1986 in London. She was raised in Oxfordshire in England.
Her zeal to act began when her father worked on a theater performance, Showboat, a musical to which her mother always took her to watch when she was just three years old.
The actress spent most of her childhood days in Berkshire. It was not until 2004 that she returned to the capital, then enrolled in the Drama Center London, and graduated in 2009.
Who are Emilia Clarke's Parents?
Emilia Clarke was born to Peter and Jennifer Clarke. Her father died in 2016 from cancer, and was a theater sound engineer. Her mother, on the other hand, was a businesswoman.
Other Things to Know About Emilia Clarke
Emilia Clarke was diagnosed with brain aneurysms in February 2011, after the first season of Game of Thrones wrapped up. Following this health issue, she began a charity in 2018 and kicked off SameYou in 2019 to help bring awareness to brain injuries and neurorehabilitation. Despite troubles with her health, however, Clarke went on to win two Emmy awards for GoT.
In 2019, Emilia shared on her Instagram that she was the keynote speaker at DreamForce, where she talked about brain injury recovery.