Michael Bublé is arguably the modern-day Frank Sinatra with his 40s jazz-inspired vocals. Most well-known for showing his vocal talents with his cover of Nina Simone's 1965 Feeling Good, Bublé has become an international success. One question is less clear, is Michael Bublé Canadian?
Bublé was born on the 9th of September 1975, making him 46 in 2021. He was born in Burnaby, Canada. So yes, he is Canadian. Continue reading to find out Bublé's success story and how it started in his home country Canada.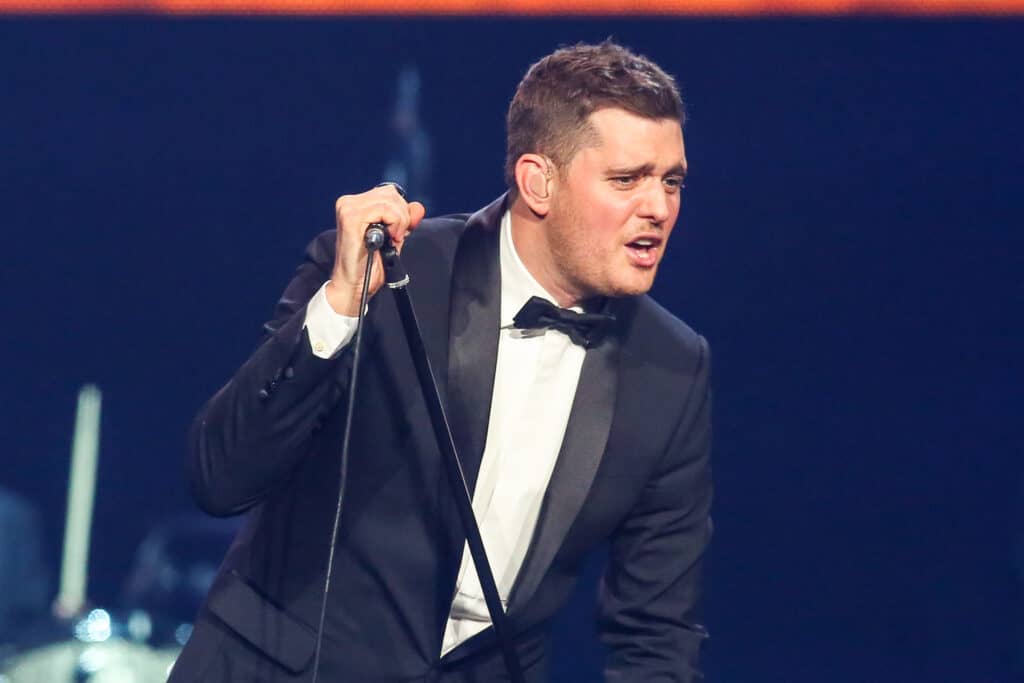 Michael Bublé's Early Life
Although Bublé is Canadian, his father Lewis Bublé was a fisherman in a small province in Italy called Lussino. Since his dad was away at Sea during Bublé's childhood, he was brought up by his mother Amber Bublé and grandfather Demetrio Santaga.
Bublé wanted to be a singer from a young age, reflecting on his childhood he said "I wanted to be a singer and I knew that this was the music that I wanted to sing."
As a child, Bublé was inspired by classic jazz and soul music, most notoriously by the likes of Stevie Wonder, Frank Sinatra and Ella Fitzgerald. In fact, it was his grandfather Demetrio who introduced him to these classic jazz stars during his childhood.
It was also Bublé's grandfather who encouraged him to play during his adolescence at local talent shows. In fact, he was disqualified from playing at one event for being one year too young. This did not stop Bublé from becoming an international success later on in life.
Despite being too young to enter the talent contest, the organiser Beverly Delich was so amazed by Bublé's vocal gifts, she encouraged him to enter the British Columbia Youth Talent Search. He not only entered the competition but also won it.
Bublé's grandfather was a plumber and supported Bublé's early music career by offering free plumbing services to live music organisers and recorder producers who could spread the word about Bublé's talents and get him gigs at live music events.
With the support of his grandfather, Bublé was hired by the Red Rock Diner, in Vancouver, Canada to perform an Elvis act. Aged only 21 at this point, Bublé's music career had just started to pick up and it would not be long until he was talent scouted by music producers in Canada.
Bulbé was so inspired by classic jazz and blues musicians such as Elvis Presley, Frank Sinatra and Jonny Cash that he learnt how to mimic their subtle vocal techniques. He says on AXS TV, "Sinatra would sing hard on his vowels, he really oooo'd and eeee'd". "Elvis Presley would get real deep… he would have a quick vibrato"
With attention to detail in regards to the subtle vocal techniques his favourite jazz and blues artist used, Bublé was becoming recognised for his incredible live performances of acts such as Frank Sinatra, Elvis Presley and Nina Simone.
And it was with talent that Bublé was spotted during his time at the Red Rock Diner by his colleague Debbie Timuss, a singer and dancer in the Elvis Presley production. Both Bublé and Timuss then ventured out to Toronto to play with a swing jazz band Forever Swing.
From Tribute Acts to International Fame
Despite being talented scouted several times during his teens and early adulthood, it wasn't until 2000 that Bublé had had his big break. He performed at the former Canadian prime minister Brian Mulroney daughter's wedding in 2000. In the world of music, it is often the case of who you know.
The former prime minister introduced Bublé to the infamous music composer, producer and artist David Foster. Known for writing the soundtrack for Ghostbusters, the Grammy Award Winning producer, Foster took Bublé under his belt and signed him on to 143 Records.
According to biography.com, Bublé has intended to produce his first major-label release, "The last thing we wanted to do was a tribute album or a lounge act". He goes on to say "We wanted to treat this music with the love and respect it deserves, but the important thing was to capture a spirit and energy and that wasn't confined to any particular musical era."
Bublé released his first major album, titled 'Michael Bublé' in 2003. Containing a plethora of classic jazz hits such as Come Fly With Me by Frank Sinatra and Moondance by Van Morrison, Bublé's first album was an international success reaching top 10 in UK and Canada and Number 1 in Australia.
From there Bublé music career exploded, with winning a US Grammy for his Album Call Me Irresponsible in 2007.