Famously recognized as the "Christmas King," Michael Steven Bublé is a Canadian singer whose debut album peaked in the top ten in Canada and the United Kingdom. Was Michael Bublé featured on American Idol at any point in his singing career?
Michael Bublé appeared on American Idol in the show's 20th season finale.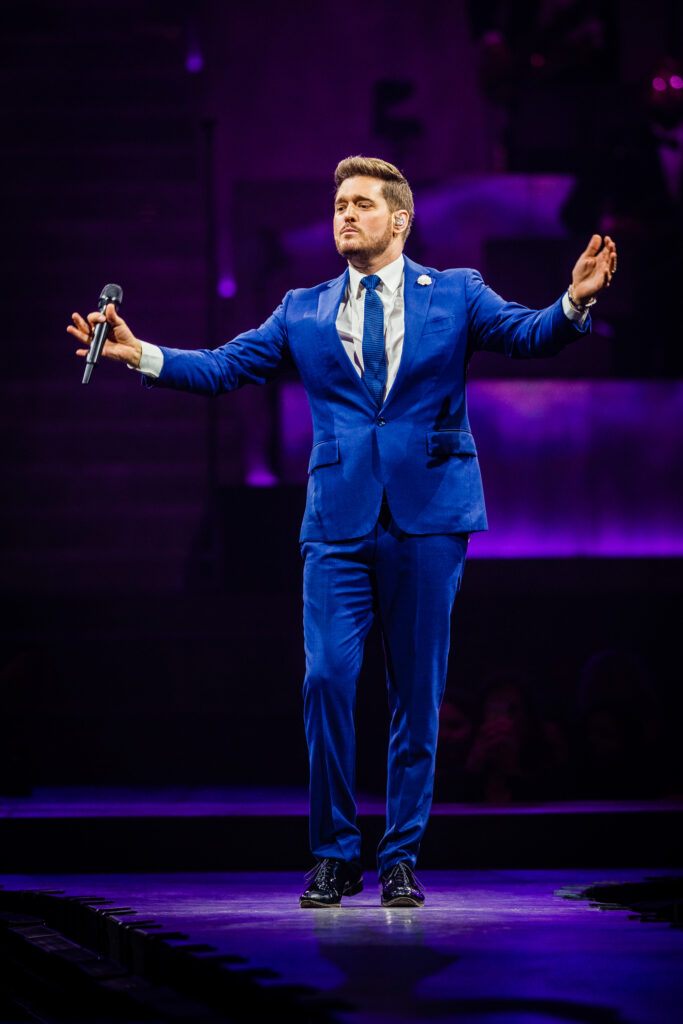 During the season, he performed a duet with Christian Guardino that brought smiles to the faces of millions of viewers. Here's a rundown of Michael Bublé's musical career and his time on American Idol.
What Are Michael Bublé's Most Significant Achievements as a Singer?
His albums It's Time (2005) and Call Me Irresponsible (2007) reached a global audience, peaking number one on the Canadian Albums Chart, the US Billboard 200, the UK Albums Chart, the Australian ARIA Albums Chart, and various European charts.
Was Michael Bublé Interested in Singing When He Was a Kid?
They say that fate can be postponed but not denied. One may ask whether Bublé had a love for singing as a child, given the illustrious career he has now in the field.
When he was two years old, Bublé dreamt of being a famous singer. As a teenager, he prayed and slept with his Bible with the aspiration of becoming a vocalist.
At the age of five, he was also interested in jazz. His family discovered his singing skills for the first time when, at age 13, he sang the line "May your days be merry and bright" passionately to the tune of "White Christmas" during the Christmas holidays.
His grandfather, Demetrio Santaga, inspired him to pursue his dream of being a singer by paying for him to take singing lessons. He never ceased believing that his grandson would one day become famous.
When Michael was 16 years old, his grandfather, a plumber from Preganziol, Treviso, exchanged his plumbing services for his grandson's nightclub performances.
Michael Bublé's Appearance on American Idol
In 2022, Bublé gave a stunning performance during the 20th season finale of American Idol. The rendition of "Smile" was beyond exceptional and impressive, made by Michael Bublé and Childish Guardino, a 21-year-old singer from Long Island,
The internationally recognized singer Bublé and one of the Top 7 finalists of American Idol teamed up on a rendition of the Charlie Chaplin, Geoffrey Parsons, and John Turner-penned song "Smile."
It is interesting to know that the song "Smile" was initially performed by Nat King Cole in 1954 and was included in Bublé's 11th studio album, Higher, as well as his 2005 live album, Caught In The Act.
Before the performance, Guardino tweeted, "So pleased to be back on the @americanidol stage for the finale alongside the brilliant @michaelBublé!"
Has Michael Bublé Appeared on Any Other Shows?
The singer secured a prestigious live show as host of the 2017 Brit Awards. Bublé's role as host caused some fans to ponder whether or not he would make a good host, as he is not known for hosting TV shows.
In a statement, he said: "It's a huge honor for me to host such a big night in music." Even though I didn't grow up as a Brit, I've always been well aware of the Brit Awards and their impact globally.
He went on to say, 'As a fan of music, this is the perfect gig." I'm looking forward to celebrating the success stories of a great year in music.
It was the third time a non-British host led the biggest night in the British music calendar, with Australian singer Kylie Minogue and American television star RuPaul co-hosting the show. At the last minute, however, he pulled out of the gig to be with his family when his son was diagnosed with cancer.
Was Michael Bublé Ever a Member of an Ice Hockey Team?
As a child, Bublé had a passion for ice hockey and hoped to play for the Vancouver Canucks, but he lacked confidence in his abilities and believed he was not talented enough.
He added, "I yearned so much to play hockey… If I were skilled at hockey, I would not be singing at this moment. "He noted that he and his father had watched Vancouver Canucks games together.
"As a boy, I attended every home game," I recall wanting to be Gary Lupul, Patrik Sundstrom, and Ivan Hlinka. I used to find it amusing that my name is Michael Bublé because I was almost given the name Jiri Bubla. "
As part of his contract with performance producers in each city, the singer was expected to keep "one local team hockey puck" in his changing room despite never having played hockey professionally. He was also a renowned celebrity Vancouver Canucks fan.