Canadian singer Michael Bublé (born Sept. 9, 1975) has crooned his way into the hearts and minds of millions of fans of all ages. But how did the "King of Swing" end up with the meticulous chops of a professional jazz singer and the mainstream acclaim of a legit pop star?
Michael Bublé's long and storied career all began with a local talent contest organizer named Bev Delich.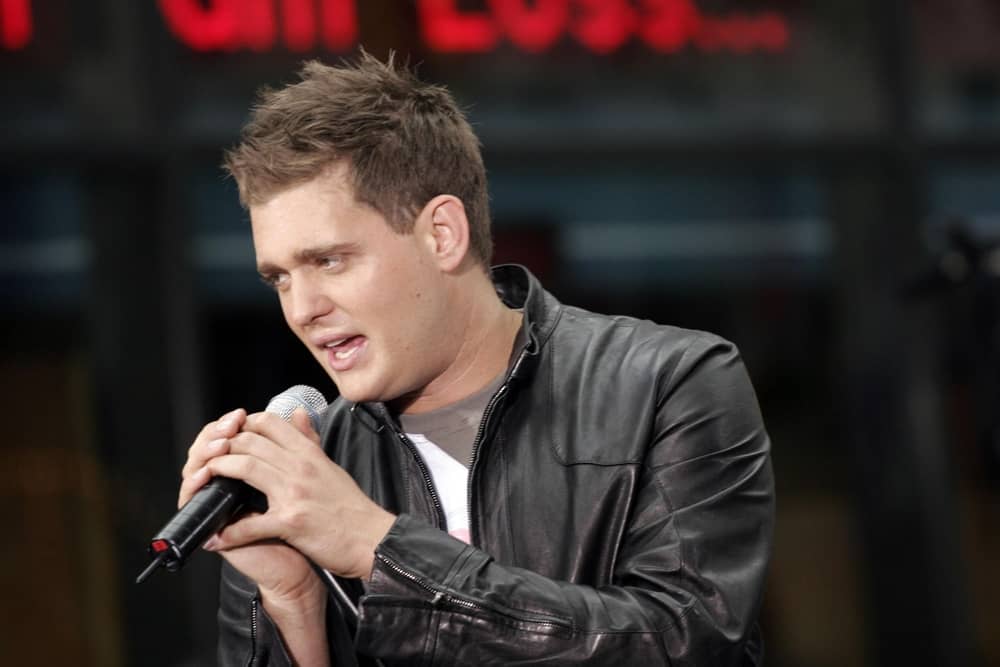 One of his best-selling albums was 2005's It's Time. The subsequent album Call Me Irresponsible, released in 2007, not only made a dent in the European charts, but hit the top spot in the US Billboard 200, the UK Albums Chart, the Canadian Albums Chart, and ARIA Albums Chart (Australia). He has since released other hit albums like Christmas (2011), To Be Loved (2013), and other notable compilations that have garnered him myriad awards.
Known most for his holiday-themed cover songs, Bublé has also created numerous iconic covers – iterations made with the utmost respect to the old school but with a kick of the new – and equally catchy originals.
Providing him with the right foundation, Bublé's grandfather introduced the young Michael to the realm of jazz. Grandpa Demetrio Santaga, a Treviso-born plumber, paved the way for Michael's first gigs – stage time and spots in local bars which Santaga bartered for with free plumbing work.
Santiaga also had a sizable collection of jazz music vinyl records he shared with and was embraced by his godson.
"My grandfather was really my best friend growing up. He was the one who opened me up to a whole world of music that seemed to have been passed over by my generation… I wanted to be a singer and I knew that this was the music that I wanted to sing," Michael reminisced in a 2004 interview.
Beginnings
With his first jazz gig done and dusted at the tender age of 16, Bublé became a seasoned performer in his late teenage years. It was a first-place win in a local contest that enabled his entry into the mainstream, as it was there that he met organizer Beverly Delich, who unfortunately had to disqualify young Michael as he was only 18 at the time. 
Nevertheless, Bublé asked Delich to manage him after he won the Canadian Youth Talent Search. After this, the singer carved out his niche in the jazz musical market, taking almost any opportunity that came his way; whether it be conventions, hotel lounges, cruise ships, and shopping malls. No job was too big or small for the extremely driven Bublé.
Bublé's performance at a business party gained the attention of Michael McSweeney, an aide to ex-prime minister Brian Mulroney. McSweeney sent a copy of the indie album released by Bublé in the early 2000s.
Mulroney then invited Michael to sing at his daughter's wedding, among whose guests counted the award-winning record exec and producer David Foster – the musical genius who worked with household names such as Michael Jackson, Whitney Houston, and Madonna, to name a few.
Although Foster was far from eager to sign Michael to his label as he said he was unfamiliar with how to market the genre, the singer was no less persistent then than when he started gigging.
He helped finance the album by finding an investor, flying back to Vancouver to do so.
"I flew back to Los Angeles and went to David's house, and he said 'What do you want?' And I said, 'Mr. Foster I have the money.'"
After recording and post-production, Michael needed to toil further, asking for an appointment with the Warner Bros. president to help increase the chances of the album's release.
"With all due respect, Sinatra's dead, don't bury the music with him," stated the executive.
"I'll work hard and help fill the void and we will keep this music alive together," Bublé replied.
Bublé Rising
Bublé's self-titled album was released in 1993 under Foster's 143 Records (now Reprise Records). It hit the top of the charts with an eclectic array of standards that included "For Once in My Life," "The Way You Look Tonight," and a Barry Gibb-backed cover of the Bee Gees stunner "How Can You Mend a Broken Heart."
Bublé has since then made a number of jazz, pop, and Christmas albums, appeared on multiple television shows, and performed at historic events like the 2010 Winter Olympics.
For the velvet-voiced singer, it appears that there's nowhere to go but – like the title of his 2022 album – Higher.