When it comes to pulling off ridiculous throws, you will be hard-pressed to find a Quarterback with as many moves as Patrick Mahomes. He's even notorious for switching hands that he's throwing with, which begs the question of what is his dominant hand?
Patrick Mahomes is right-handed with ambidextrous abilities. In the 2019 season, Mahomes used his left-hand to throw the ball in order to avoid being sacked by Von Miller. This led many NFL fans to speculate whether or not the Kansas City Chiefs Quarterback was in fact left-handed.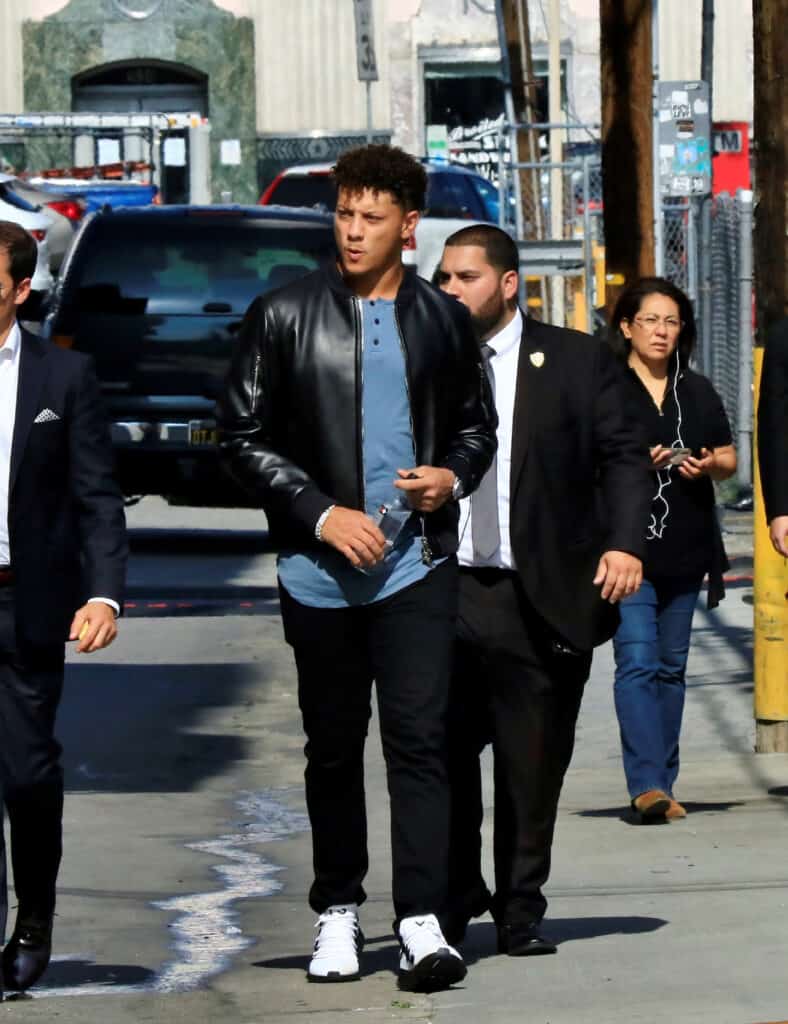 You can read more below about Patrick Mahomes' switch hand play, his adaptability in every game he plays, and how he came to win so many career successes in such a short time.
Mahomes' Switch Hand Play
If you have ever tried to throw a football with your non-dominant hand, you probably know that it is near impossible. You lose your accuracy, the ball doesn't go as far, and the speed isn't there either.
However, despite being right-handed, Patrick Mahomes has been able to not only throw with his left but has so much accuracy with it that his pass completed the play so the team gained yards.
During a 2019 game against the Denver Broncos, Mahomes was about to be sacked by the Broncos outside linebacker Von Miller. Using quick thinking, Mahomes switched the ball to his left hand and then threw it to Tyreek Hill to gain yards in the first down of the game.
This move showed that although he is right-handed, he does have some ambidextrous abilities. Something his childhood friends had seen in action when he played baseball as a kid.
Patrick Mahomes Quick Thinking on the Field
The switch hand play that we mentioned above isn't the only play that involved some quick thinking on Patrick Mahomes' part. In fact, he has proven time and again that he can be insanely adaptable on the field.
He also doesn't balk under pressure instead thinking quickly and making the throw to his teammates that score his team some unreal touchdowns. A great example of this was when the Kansas City Chiefs were playing the Baltimore Ravens.
Mahomes was in a pinch appearing to look to his right for someone to throw to. That was when he threw to the left without even looking and the ball went straight to receiver Demarcus Robinson.
The interesting thing is that this type of play isn't a one-off for Mahomes. He is making plays like this all the time.
Another example of his quick thinking capabilities was his most notable pass of Super Bowl LV. In order to avoid being sacked, he dove and managed a right-hand throw of 30 yards to Darrel Williams.
If Williams had managed to successfully catch the ball, it would have been one of the most notable touchdowns in NFL history. He didn't though and the Chiefs ended up losing to the Tampa Bay Buccaneers 31-9.
You can watch that play along with two other crazy plays from Mahomes during Super Bowl LV in the below YouTube video from JG Clips.
Patrick Mahomes Career Successes
The number of awards that Mahomes has received throughout his NFL career is outstanding for someone who only entered the league in 2017. To date, he is arguably the best Quarterback in the entire league.
Those awards that he has won show just how great he is. First of all, he has played in the Pro Bowl three times and was awarded an All-Pro position in both 2018 and 2020.
These are just the tip of the iceberg though.
Not only did he only enter the NFL in 2017, but he also helped his team to win the Super Bowl in his second year in the NFL. It was that same year that he was named the NFL's MVP and the Offensive Player of the Year. Along with these awards he was also the QB to lead the league in passing touchdowns.
Mahomes has also broken the league's record for the fastest QB to reach 100 touchdowns which he did in 40 games. He has also become the fastest QB to reach 10,000 passing yards which he did in 34 games.
Finally, he is also tied with Andrew Luck for the title of QB with the most consecutive 300 or more passing yards games. They have both had 8 consecutive games where they have done this.
Of course, Patrick Mahomes did almost all of this with his right hand. However, he did get some help from his left hand in that one play.