Patrick Mahomes is an American quarterback recognized for being one of the best of the era and for having a great passion for the Kansas City Chiefs team. Although it's obvious to think he lives in the same place where the team he plays for is based, nobody knows what his house looks like.
Patrick Mahomes lives in Kansas City with his young wife and high school friend Brittany Matthews. The luxurious house built in 1953 costs $1,9 million and features a lot of techs to control the lights, music, and all appliances with one voice order.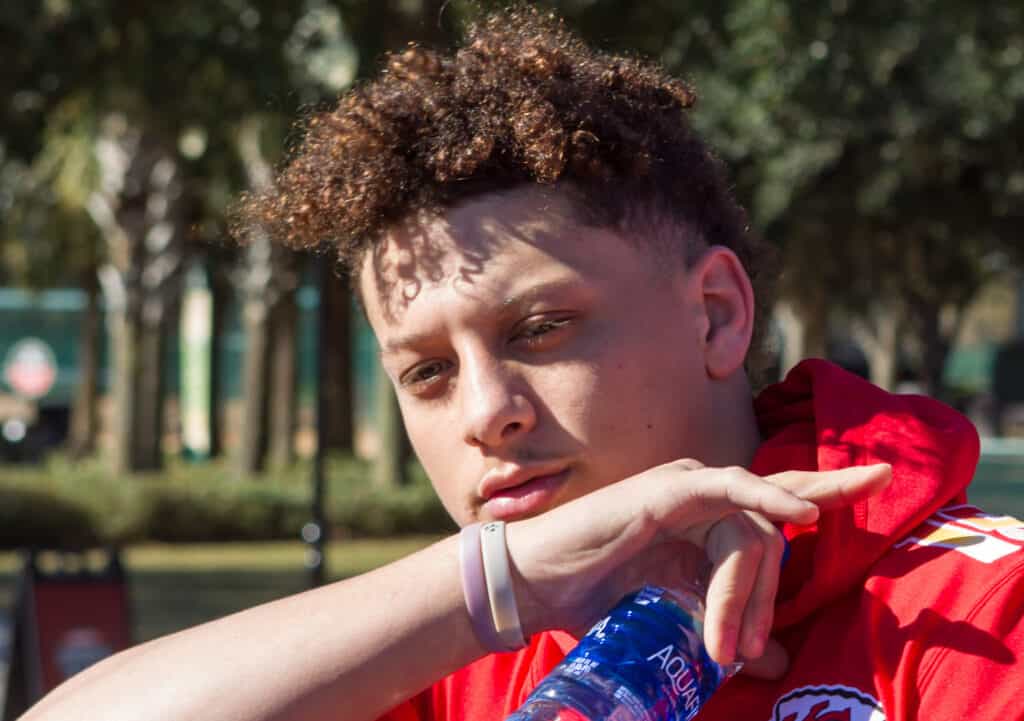 The quarterback proved over the years that he deserves a place in the top of the best athletes in the NFL, but it's his house that we are curious about.
House and Assets
Patrick Mahomes purchased a fully equipped house in a gated community in the heart of Kansas City. The athlete renovated the house without cutting corners in any shape or form, turning it into a safe and technological paradise for his new family.
The $1.9-million house sits on a large green lot with plenty of yard space for Patrick's dogs to play without any problems.
Inside, the house has 3 rooms, a Chef's kitchen, and an open floor plan that connects directly with the surrounding nature.
The athlete built a custom room for all his sneaker collection, one of his biggest hobbies today. There are several posts on his Instagram account where you can see the closet full of shoes in the background.
Patrick Mahomes also installed an advanced electrical and security system. This service is fully controlled by Google Nest, which also controls the lights, music, and electricity system.
The renovations made to the house considered the original construction built in 1953 and took it to the next level, making it safer and modern.
But that's not the only property the renowned QB has owned in Kansas, as prior to buying his house, he and his wife live in a luxurious penthouse they then sold for almost half a million dollars.
Love for Kansas
Patrick Mahomes has no plans to leave the Kansas City Chiefs in the near future. The athlete found in the city a gigantic community of football fans who support him and make him feel at home.
That's why Kansas City's favorite quarterback has said on multiple occasions that he has no intention of leaving the city.
Patrick Mahomes has such a great love for Kansas City that he has never left the city even when the team is in the off-season. For him, the city is a perfect environment that he wouldn't want to leave and he is very committed to making his fans happy.
On the other hand, the purchase of his new luxurious home has affirmed the certainty that Patrick Mahomes wants to make a living in Kansas City. The athlete does all of that alongside his wife, who always supports him through any important decision they make.
Controversy Online
But everything is not a bed of roses for Patrick Mahomes; his life has not been free of controversy.
Patrick Mahomes momentarily lost the support of his fans for some tweets he wrote in 2011 regarding Trayvon Martin. The athlete defended police brutality in his tweets and also George Zimmerman, the policeman who brutally murdered Trayvon Martin in 2012.
In 2011, Patrick Mahomes already wrote several messages on his Twitter account asking his followers to stop assaulting cops. These old messages generated a general discomfort among his fans and many stopped supporting him.
But with the passing of time, most of his fans forgot about the issue and can now forgive Patrick's past mistakes.
From High School Sweethearts to Power Couple
Patrick Mahomes met his young wife Brittany Matthews in high school, according to various sources.
Brittany Matthews is an athlete too and supported every step Patrick Mahomes took during his career. She started out as a soccer player at the University of Texas and later played professionally in Iceland.
Patrick Mahomes always showed great love for her and Brittany goes to the majority of his Kansas City Chiefs games. When Patrick Mahomes won the Super Bowl in 2020, his young wife was there to support and encourage him.
The couple's relationship is expected to last for many more years since their story has only just begun.
Growing Career
Patrick Mahomes is a sports superstar who still has much more to prove on and off the field as his career is on the rise. Both his friends and his fans hope that Patrick continues to grow and that his skills on the field will catapult him as the best quarterback in the NFL.