Patrick Mahomes is many things: a professional NFL player, the son of a former Major League Baseball pitcher, an entrepreneur, a father, and a multimillionaire. But just how many zeroes are on Patrick Mahomes' paycheque?
Patrick earns an average annual salary of USD $45,000,000. As if that weren't enough, he has a workout bonus of USD $100,000, earns a USD $2,000,000 signing bonus each year, and makes upwards of USD $7,000,000 in endorsements alone.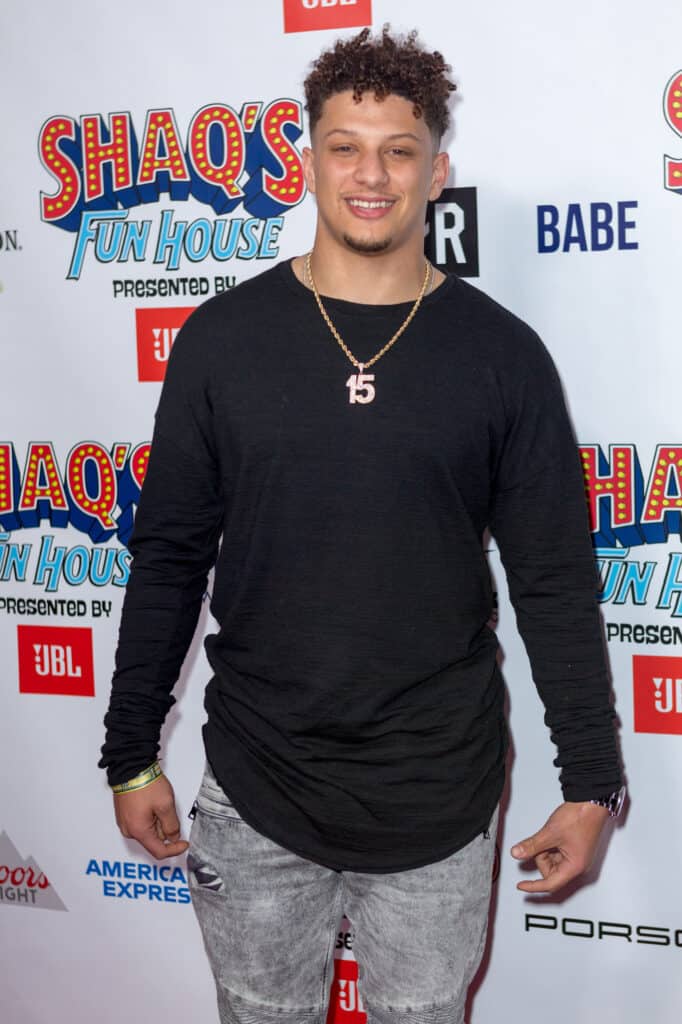 The NFL player is on his way to legend status and earns more money in a month than most people could dream of earning in their lifetime. Let's take a closer look at the nitty-gritty of his salary, how else he makes his money, and what he spends his millions on.
What is Patrick Mahomes' Salary?
Patrick may be young, but he's already worth an impressive USD $30,000,000. He's broken many records and won many awards, but one of his biggest accomplishments to date is becoming the first half-billion-dollar athlete in sports history.
This title came after winning the Super Bowl and being named the Super Bowl MVP when his 10-year contract extension was signed.
According to the USD $450,000,000 contract, Patrick earns an average annual salary of USD $45,000,000.
His contract also reveals that Patrick got a USD $10,000,000 signing bonus, a restructure bonus of USD $21,716,905, and a workout bonus of USD $100,000.
The contract, which runs until 2031, will provide Patrick with a USD $2,000,000 signing bonus each year as well as a substantial increase on his base salary year on year. By 2031, he will be earning a base salary of USD $38,000,000.
How Does Patrick Mahomes Make Money?
As impressive as Patrick's salary is, it's not his only income avenue. He earns an additional USD $7,000,000 per year from endorsements.
His biggest sponsors include Oakley, Adidas, Hy-Vee, State Farm, DirecTV, Electronic Arts, and BioSteel Sports Nutrition. He went down in history as the first NFL player to sign an endorsement deal with Oakley.
Patrick's Instagram page is littered with advertisements. He has enjoyed paid partnerships with brands including Head and Shoulders, Coors Light, Essentia Water, Bose Earbuds, and the brands he's sponsored by.
Oh, and remember when Patrick told the world "I'm going to Disney World!" when asked what he was going to do after winning the Super Bowl? That put Disney back a cool USD $5,000,000.
How Does Patrick Mahomes' Spend His Millions?
Patrick is not only very good at making money but good at spending it too. One of the first things he did with his money, on the same day that he received his Super Bowl ring, was propose to his long-term girlfriend.
The engagement ring reportedly set him back between USD $350,000 and $800,000. The ring features a massive 8 to 10-carat emerald cut diamond and is set on a platinum diamond-adorned double band.
He also spends his money on extravagant gifts for his fiancee, like a USD $230,000 Lamborghini Urus, as well as elaborate parties complete with balloons by the hundreds, customized lighting, and matching shirts.
Patrick invested some of his cash in a Kansas City property worth an estimated USD $1.9 million and spent nearly USD $400,000 renovating it to his liking. The home boasts a private gym, and a custom shoe closet to house his shoe collection that boasts over 150 pairs of sneakers.
Patrick also goes on elaborate vacations to luxury destinations including Cabo San Lucas and the Turks and Caicos Islands.
In 2020, he purchased a stake in the Kansas City Royals, making him the youngest team owner in MLB history. In addition, he teamed up with the likes of Kevin Durant and Rory McIlroy to invest in Whoop.
Patrick also uses his money for the greater good. On top of private funding the purchase of new voting machines for the Chiefs stadium in 2020, he has also donated upwards of USD $500,000 of his own money to charities through his '15 and the Mahomies' charitable foundation.