With 44 events won on the PGA Tour, there's no question about it, when Phil Mickelson's out on the green, he's one of the best professional golfers in the game. Yet, Mickelson is an interesting guy, and what he gets up to off the green is often just as interesting to his fans that as what he gets up to on it – and many are curious to know the truth about a suspected pilot's license!
Phil Mickelson received his pilot's license in the late '90s and aviation is considered to be a preferred pastime of his. However, when it comes to flying his own luxury jet, Mickelson takes a backseat and leaves it to other pilots.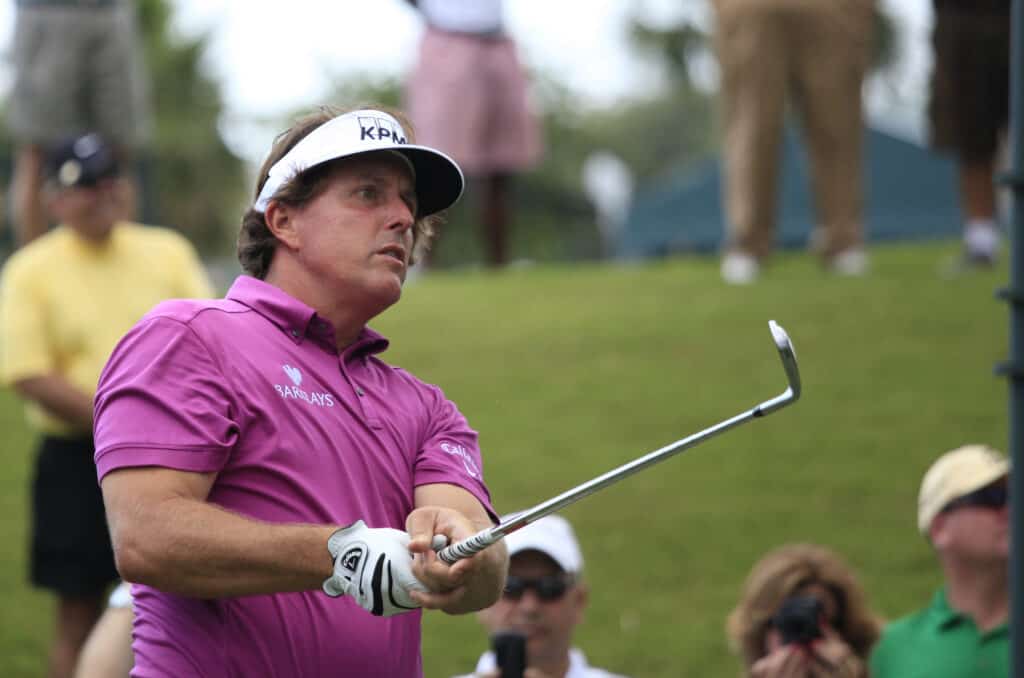 Mickelson's fascination with flight and his skill as an aviator go back a long way, back all the way to the golfer's early career, and it's a pastime that Mickelson has invested both a lot of time and money into.
A Love of Flight
Mickelson's interest and passion for aviation are, in part, a result of the fact that his father was a Navy pilot who flew in Vietnam. It's said that Mickelson sought to receive his own pilot's license in order to follow in his footsteps and bring him closer to his father.
As his father had also worked as a commercial pilot, he often managed to secure nonrevenue tickets for his son to get around the country, but the tickets often resulted in the golfer getting bumped down and losing out. He said: "If the flight before was canceled because of weather or whatever, all the overflow would go on the flight I wanted, so I was out.
"I spent a lot of nights sleeping in those hub cities like Detroit, Minneapolis and Memphis. I was big in the Memphis airport".
When Mickelson first received his license in the late '90s, the golfer used to fly all across the country to all sorts of events. And, at one point, Mickelson even flew to daughter's 8th-grade graduation.
Luxury Jet
But Mickelson's interests in aviation are not just fuelled by sentimentality and emotion, the golf star has also invested significantly in a $40 million private luxury jet, a Gulfstream V.
The stunning aircraft can seat up to 19 people, includes private working areas, a luxurious eating area, a capacious kitchen area, and plenty of in-flight entertainment options.
But it wasn't as simple as just purchasing a $40 million jet for Mickelson. The acquisition of a luxury jet had been an objective of his for quite some time and it had taken years of saving.
In fact, it was only after he was advised to start saving that Mickelson decided not to buy an airplane worth $1 million and instead wait until he had made more money. Reflecting on the acquisition, Mickelson said: "What's the point of having money if you don't spend it? Then put a third in safe investments and a third in higher-risk, higher-reward stuff. So I waited until later to get a plane, and I was able to protect my family".
Ultimately, Mickelson's savvy saving antics are all a result of his incredibly lucrative career, which, without, he would've almost certainly be one luxury private jet down!
A Successful Career
Born in San Deigo, California, Mickelson began to become involved in golf from an early age, and it was his father who helped his son learn the ropes in their backyard.
Eventually, Mickelson attended Arizona State University on a golf scholarship and quickly became the face of U.S. amateur golf. The collegiate golfer would go on to win a series of high-profile awards in the amateur game.
Going pro as early as 1992, many laud the fact that Mickelson was notching up wins while Tiger Woods was still only just starting out.
In 2003, Mickelson got his first Major win, and in light of achieving that goal, entered into one of the best periods of his professional career.
And, although Mickelson is in advanced years now for a professional golfer, it appears he's still got the backing of some fans. In 2020, one fan was reported to have put a $45,000 bet on the golfer in a move that could've resulted in a $3.375 million payout.
So, while the best years may be behind him, it appears that Mickelson still commands the confidence of certain sects of golf enthusiasts. And, who knows, maybe he'll carry on until he can afford an entire fleet of luxury aircraft.