With Rihanna's unique ability in keeping things fresh for her career and her overall brand, it might come as a surprise to many that she's been in the public eye for nearly two decades as of 2022. While her loyal fans from day 1 may already know everything there is to know about the "Pon de Replay" singer, her new fans are hungry for more. Let's start from the basics: How tall is Rihanna exactly?
Singer-songwriter, business mogul, and new mom Rihanna stands 5 feet 8 inches tall (1.73 m or 173 cm).She wears a size 9 US women's shoe.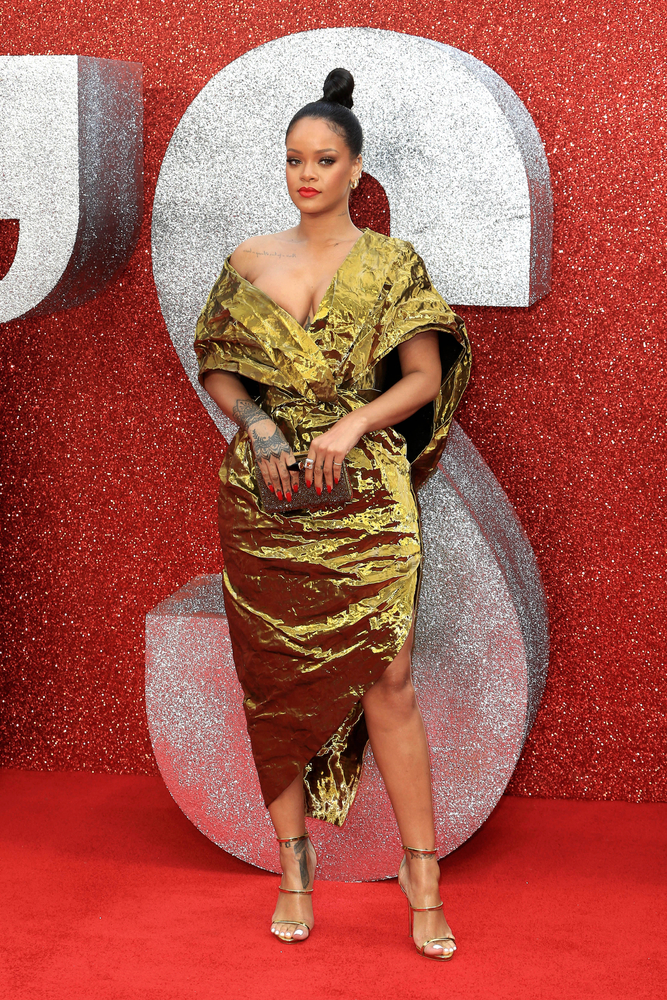 Scroll for more Rihanna facts and trivia.
What is Rihanna's real name?
Rihanna's birth name is Robyn Rihanna Fenty. According to Nameberry.com, her middle name (the one she uses as her stage name), means "sweet basil" in Arabic. In the Irish language, though, the name Rihanna bears a different meaning, which is "great queen," per Babynames.com. The singer's own business entity is named after her actual surname, Fenty, as well as the brands created under it.
How old is Rihanna?
Born in 1988 on February 20th, Rihanna turned 34 years old in 2022. She was 16 years old when she was introduced to Jay-Z who was thoroughly impressed by her singing talent. She eventually got signed under Def Jam records and went on to sign a 6-album deal with the record company. Here's Rihanna's journey from her humble beginnings to worldwide fame.
And while we're talking birthdays, Rihanna's zodiac sign is Pisces, symbolized by the fish. We did a deep dive on Rihanna's personality according to her astrological sign – check it out here.
Is Rihanna a national hero?
The singer, who sold clothes in the street as a young girl, became a billionaire in 2021, at the age of 33. Rihanna was also honored as a national hero of her native Barbados in the same year. Per Rolling Stone's report, she's the second woman (and eleventh person) to ever receive that honor, and that she can use the title "Right Honorable" moving forward.
Where is Rihanna from?
Although she found worldwide fame from her career as a signer and businesswoman in the United States, Rihanna is not American. She was born and raised in Barbados, and still considers the Caribbean island nation her home. Despite her fame and larger-than-life image, Rihanna stays grounded in her roots by being consistent in spending holidays and special occasions with her family and close friends in Barbados.
Rihanna is of mixed ethnicity, and this is one of her primary driving forces in putting up Fenty Beauty. She saw the gap that existed within the beauty industry, specifically in the area of makeup shades that are out in the market. Her makeup line disrupted the beauty industry by offering shades that actually match skin tones like hers and many others, which had been curiously absent for decades.
Is Rihanna considered tall?
With her 5ft 8in height, the Barbadian singer is taller than the average woman from her home country. According to MedicineNet, the average height of women in Barbados is 5 ft. 4.2 in (1.65 m or 165.5 cm), so Rih is considered tall at home as in the United States.
But how does Rihanna measure up against other female music artists? Well it turns out that the "Umbrella" singer is actually slightly taller than Beyoncé (5'7"), whom she has been pitted against on many occasions by the media. Her BFF, Katy Perry, shares the same height standing at 5'8". Finally, Taylor Swift stands two inches taller than Rihanna (and most everyone else TBH) at 5 feet 10 inches.