Rihanna, being the force of nature she is, has had a pretty colorful love life since she shot to fame in the early 2000s. While her personal life got a lot of exposure in years past, the singer and businesswoman has been extra private in recent years, so many are wondering – is Rihanna married now?
Despite rumors of a secret wedding with her beau A$AP Rocky, Rihanna is not officially married and has never been married.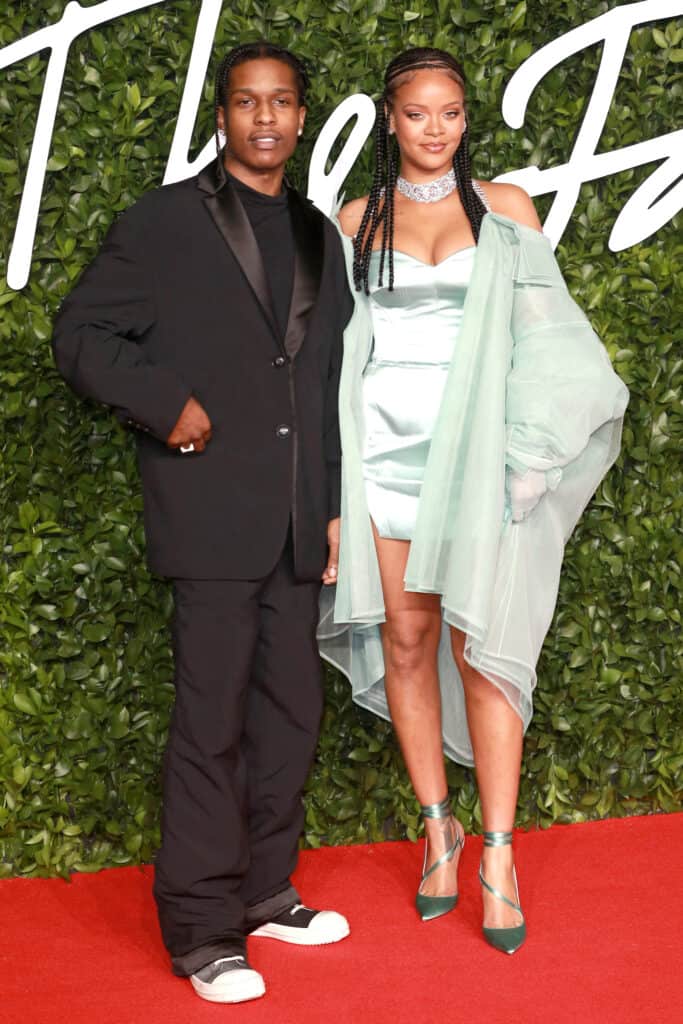 Here's what we have on the Rihanna-A$AP Rocky timeline and a little bit about their bundle of joy.
When did A$AP Rocky and Rihanna start dating?
The details are hazy as to exactly when and how Rihanna and A$AP Rocky started dating as both music artists had been romantically involved with other people in previous years. According to a deep dive by Cosmopolitan, Rih and Rocky were already friendly as early as 2012 when they performed onstage together during the MTV Video Music Awards.
The following year, in 2013, they were spotted kissing behind the scenes while filming the music video for Rocky's single "Fashion Killa" where Rihanna was featured as his romantic interest. None of them confirmed nor denied the romance rumors. What was clear to everyone, though, was that these two music stars shared a genuine friendship that had potential to go deeper. 
It wasn't until the early months of 2020 when people started talking about the Rihanna-ASAP Rocky pairing once again. The "Love On The Brain" singer was fresh out of her relationship with Saudi Arabian billionaire businessman Hassan Jameel, whom she dated for about three years. Their breakup was said to be caused by their lives simply drifting apart. 
Although Rihanna's breakup with Hassan was announced in January 2020, she already appeared with the rapper as her date at the 2019 British Fashion Awards, which was held a month before. We can only guess if something was already brewing at that point.
And they were inseparable since. Although they never really made a public confirmation of their relationship status, it was fairly understood that things had gone deeper between the rapper and singer. They were often seen together on dates throughout 2020 and even spent the holidays together, which is a huge signal of things getting more serious between two people, famous or otherwise.
By 2021, A$AP Rocky was gradually opening up about his love for the "Umbrella" singer. In an interview with GQ Magazine, he referred to Rihanna as his "lady" and the love of his life, an obvious indication that they were indeed a couple. When he was asked about his thoughts on monogamy, he said: "So much better when you got the One. She amounts to probably, like, a million of the other ones."
The couple spent the 2021 holidays together as well, and rang in the new year at Rihanna's native Barbados. Shortly after, towards the end of January 2022, pictures of Rihanna's baby bump were released, which had fans all over the internet (meaning, the entire world) freaking out in excitement for their favorite singer.
When did Rihanna give birth?
As of 2022, the couple had become such masters at keeping their relationship private that details around their personal life didn't leak out unless they wanted to. After announcing in late January that they were expecting their first child, the couple just left the update at that and kept mum about the baby's gender.
Fans and observers were left with their own guesses as to how long into the pregnancy Rihanna was at that point, until May came and the news finally broke that the couple had given birth to a baby boy. Rihanna was 34 years old when she had her first baby.
Keeping consistent with their privacy policy, Rih and Rocky did not reveal their baby's name nor exact date of birth. If the baby was born within May 2022, he was shown to the world at 7 months old via a TikTok video released by Rihanna herself.