Rihanna and Taylor Swift are two of the most successful recording artists of the 21st Century. Which singer is more popular overall?
Both Rihanna and Taylor Swift are highly popular, with Rihanna releasing more chart-topping singles but Swift with more Number 1 albums. Swift is more popular on Instagram and YouTube but Rihanna is more popular on Twitter, so there is no clear winner.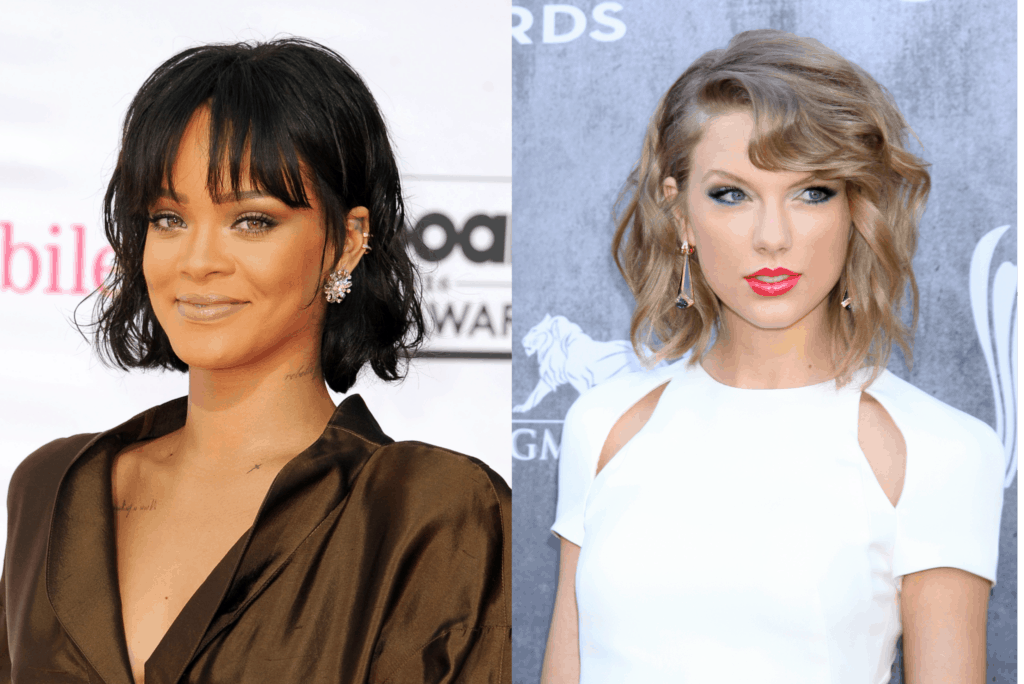 For more on who is more popular of Rihanna and Taylor Swift, read on.
Record Sales
Rihanna and Taylor Swift released their debut singles at similar times, making record sales a fair way of judging their popularity as recording artists.
Rihanna's first single was "Pon de Replay" from her debut album "Music of the Sun", and was released on May 24, 2005. Swift's debut single was "Tim McGraw", from her first album "Taylor Swift" and was released on June 19, 2006.
As of writing, Rihanna has had 62 songs on the Billboard Hot 100 singles chart, while Swift has had 113. Of these, they have enjoyed a similar number of Top 10 hits, with Rihanna having 31 and Swift having 28.
However, Number 1 hits show a clear difference between the two. Swift has topped the charts with six of her singles, while Rihanna has accomplished this 14 times.
In terms of singles, Swift has hit the Top 100 about twice as many times as Rihanna but they have a very similar amount of Top 10 hits. Rihanna is the clear leader in terms of chart-topping success.
While this could be taken as meaning that Rihanna is a more popular singer in terms of sales, their album sales tell a different story. The easiest way of comparing them is through their performance in the Billboard 200 albums chart.
Rihanna has had 10 albums in the Billboard 200, very similar to Swift's 11 albums. In both cases, they have also enjoyed a similar number of Top 10 albums, with Rihanna releasing eight and Swift nine.
Again, it is in Number 1s that we see a significant difference between the two singers. While Rihanna has released two Number 1 albums, Swift has topped the albums chart a highly impressive seven times in her 11 releases.
This means that record sales are somewhat inconclusive in determining who is more popular out of Rihanna and Swift. Rihanna has more chart-topping singles, yet Swift has more Number 1 albums.
It could be said that Rihanna has been consistently popular for longer, hence more Number 1 singles. Two of Swift's songs, "Shake It Off" and "Blank Space", however, outperformed Rihanna's biggest single, "Love the Way You Lie".
Social Media
Another metric for judging who is more popular is social media followers, with both artists enjoying large followings on the major websites.
Rihanna has been far more active on Instagram than Swift, having posted more than 4500 times, compared to Swift's 450. In spite of this, Swift has a far larger follower count.
Rihanna's Instagram, @badgirlriri, has 87 million followers, while Swift's, @taylorswift, has 140 million. Both singers are among the most-followed people on Instagram.
On Twitter, however, Rihanna comes out on top, despite joining the site almost a year later than Swift. Her page, @rihanna, has more than 99 million followers, while Swift's, @taylorswift13, has over 87 million.
Their YouTube subscriber numbers are quite similar, with Rihanna followed by about 35 million and Swift followed by 40 million.
It isn't immediately obvious why Rihanna would be ahead of Swift on Twitter, yet behind on Instagram and YouTube. One possible explanation is that Rihanna became a bigger mainstream star earlier than Swift, who exploded in popularity after transitioning from country to pop.
Twitter was, at one point, more popular than Instagram, but these roles have reversed in recent years. It's possible that Swift and Instagram have both become more popular in recent years, hence the follower ratio between the two.
Whatever the case, both Rihanna and Taylor Swift are hugely popular on social media, as they are in society as a whole. Both can claim to be among the most-followed people on the internet and both have numerous Number 1 singles and albums.
While one of the two might be more popular on certain sites or with their fanbases, their followers are measured in many tens of millions, and maybe far more than that.