Considered one of the greatest frontmen in rock history, there are conflicting reports regarding Freddie Mercury's sexuality. What do we know about it?
There is no definitive statement regarding Freddie Mercury's sexuality. He once stated that he was bisexual and engaged in relationships with both women and men. It is possible that his relationships with women were a way of protecting his public image at a time when homosexuality was socially unacceptable or outright criminal.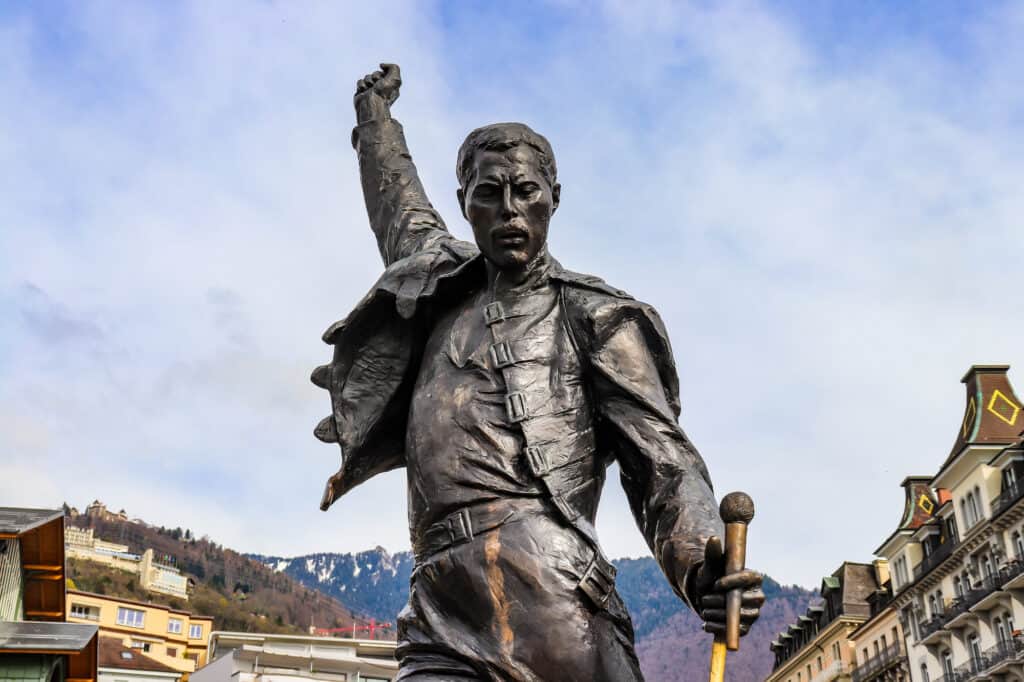 For more on Freddie Mercury's sexuality, read on.
Freddie Mercury
Mercury was born Farrokh Bulsara in Zanzibar, in modern-day Tanzania, on September 5, 1946. His parents, Bomi and Jer, were both from western India, and Farrokh had a younger sister, Kashmira.
Bomi worked for the British Colonial Office and Zanzibar was a British protectorate at the time, making Mercury a British subject. He was raised in India, where he first discovered his love of music and began playing the piano.
After briefly returning to Zanzibar, the Bulsara family was forced to flee overseas by a revolution. They moved to Middlesex in England and Freddie was officially registered as a British citizen, a formality due to his status as a colonial subject.
Sexuality
The Queen frontman never openly discussed his sexuality with the press. It's important to understand the environment in which he was living.
When Mercury was born and for most of his life, homosexuality was treated as a mental illness, a sin, or a crime. This extended to the legal status of homosexuals; before 1967, gay men could be sentenced to as long as two years in prison.
The Bulsara family practiced Zoroastrianism, an ancient religion that is centered on the cosmology of good and evil. In the faith, homosexuality was considered a form of demon worship.
Mercury never discussed his sexuality with his family and they were told that a male lover who lived with Freddie in London was actually his gardener.
He suggested the name "Queen" for the band, a derogatory term for gay men, and frequently wore outfits on stage that were evocative of gay fashion at the time.
The band's most famous song, "Bohemian Rhapsody", has been analyzed as a song about coming out but Mercury never confirmed or denied this interpretation.
Queen bandmate Brian May has said that Mercury's sexuality was not something that was openly discussed but was not a well-hidden secret. He mentioned that the visitors to Mercury's dressing room gradually shifted from women to men.
Relationships
Mercury publicly dated women, notably Mary Austin in the 1970s. They lived together for a number of years and Freddie eventually proposed, before he informed her that he was bisexual.
Austin had suspected that Mercury was gay rather than bisexual. There would be no need for the couple to separate if Freddie were interested in men and women equally.
They remained good friends for the rest of Mercury's life, with Austin inheriting most of his estate. He had engaged in sexual encounters with men both during and after his relationship with Austin.
The last of these was Jim Hutton, who was Mercury's partner up until Freddie's death in 1991. Still, he continued to have relationships with women, including German actress Barbara Valentin.
Mercury embraced the gay scenes of cities such as New York and Munich while on tour, engaging in numerous one night stands. Throughout the 1980s, many gay men began falling severely ill and rumors spread of a "gay cancer" in the community.
He was diagnosed with HIV in the late 1980s and informed his bandmates of the nature of the illness. Mercury still didn't tell his family, nor the wider public, about his diagnosis.
Freddie Mercury eventually issued a statement on November 23, 1991, stating that he had AIDS. He died the following day, on November 24, without ever publicly stating his sexuality or how he had contracted his illness.