Freddie Mercury was the lead singer of the popular rock band Queen. Throughout the 1970s and 80s, Mercury and Queen found great success across the globe but Mercury's life was cut tragically short due to AIDS. 
Freddie Mercury's last words were "pee, pee" as he requested assistance using the restroom because he was so weak and frail. He would then fall into a coma shortly afterward and passed away.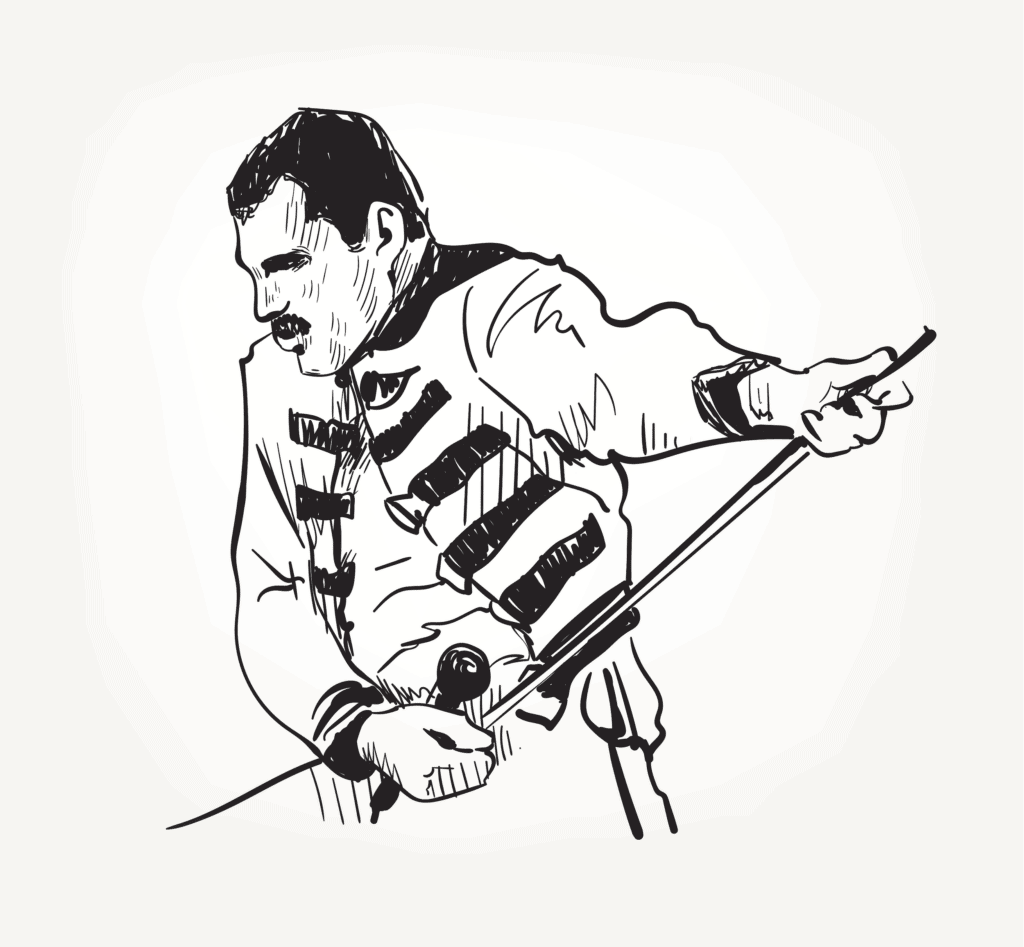 Mercury's legacy lives on today and his work with Queen is still considered some of the best rock music in the history of the medium.
Early Life
Freddie Mercury was born Farrokh Bulsara in Zanzibar (now part of Tanzania) on September 5, 1946. He was born to Bomi and Jer Bulsara, both from the Parsi community in India.
Freddie has one younger sister named Kashmira. In 1969, the family moved to England.
During most of his youth, Mercury learned and admired music and took to playing the piano at an early age. He attended the St. Peter's School of music near Bombay in 1954.
At the age of 12, Mercury formed a band called the Hectics. They covered popular rock and roll music of the time, a genre that Mercury was becoming obsessed with.
After moving to England, Mercury began studying at Isleworth Polytechnic school in West London and then studied art and design at Ealing Art College, where he graduated in 1969.
Though Mercury was an accomplished student and graphic designer, he still had his sights set on music. After graduating, he joined a series of small bands and spent most of his days practicing music and studying rock and roll songs.
Mercury joined his first band, named Ibex, in 1969 but it didn't last long. He then joined the semi-popular band Smile, with guitarist Brian May and drummer Roger Taylor.
Bassist John Deacon joined Smile in 1971 and the band changed its name to Queen. The group got hard at work on their first album.
Queen
Mercury designed the cover of Queen's self-titled debut which featured the famous Queen crest that would be used throughout the rest of the band's history.
Queen's first album didn't make much of an impact on the music world and as of 1972, the group was still performing for less than ten people a night.
The band's second album found the group's personality better but still didn't create much success. The group was jeered at certain shows, including an infamous one in Australia.
The group's third album, Sheer Heart Attack, found success in the UK and US. Their song "Killer Queen" became the band's first number-one hit when it topped the charts in Britain.
After touring and finding new management, Mercury and the other members of Queen began work on their fourth album, A Night at the Opera.
Success
A Night at the Opera featured the operatic epic "Bohemian Rhapsody", which the record label initially hated and wanted to be scrapped from the record. Upon its release, the song shot up the charts in the UK and was a major smash.
"Bohemian Rhapsody" remained number one in the UK for nine weeks. It remains the third-best-selling single of all time in the United Kingdom and also reached number one in America too.
After the hit single took the world by storm, Queen became one of the biggest bands in the world and embarked on massive world tours.
They followed A Night at the Opera with A Day at the Races, which was another smash. They were now performing for crowds as large as 150,000.
Their next albums would feature such classic hits as "We Will Rock You", "We Are the Champions", "Don't Stop Me Now", and "Another One Bites the Dust" among others.
Each tour would prove more successful than the last thanks to Mercury's commanding stage presence.
Illness and Death
By 1988, fans had noticed that Mercury was looking thin and gaunt and the media reported he was seriously ill. Mercury denied anything was wrong and instead said he was just exhausted.
In reality, Mercury had been diagnosed with HIV in 1987. Only his close friends and bandmates knew of his illness.
The band continued to record despite Mercury's illness and released Innuendo in 1991.
On November 23, 1991, Mercury confirmed in a statement that he had contracted AIDS. Within just 24 hours, his health took a turn for the worse and he lay dying in his home.
He was surrounded and assisted by his close friends and his partner. He slipped into a coma and passed away due to bronchial pneumonia, which was a complication of the AIDS virus.
A massive outpouring of support and love followed the death of Mercury and his legacy has only grown in the years since his passing. He is considered one of the greatest performers and rock band frontmen in the history of music.