He's known as Michael Bubbles in the U.K. while his best friends call him Bublé or Bubes. To us, he's the famous Canadian crooner, Michael Bublé. But at home?
He is also a husband and has been married to Luisana Lopilato since 2011. They share three children, with a fourth on the way in 2022.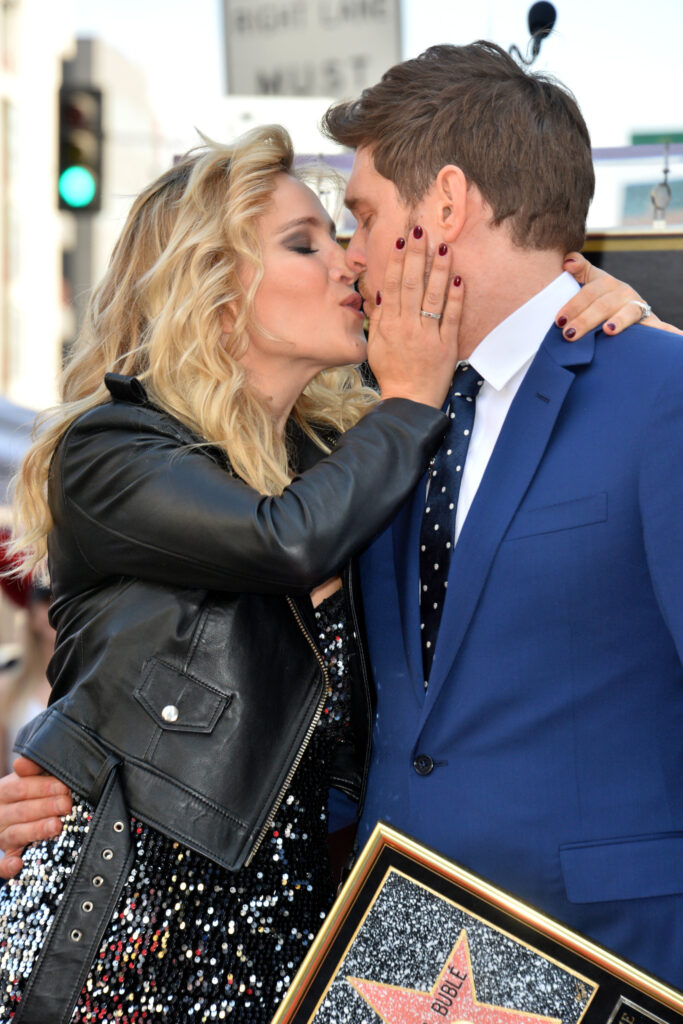 Old Flame
Before meeting Luisana, the Grammy Award-winning star was in a high-profile relationship with British actress, Emily Blunt (Devil Wears Prada, 2006 and Sicario, 2015) from 2005 to 2008. They had met backstage at a 2005 concert and even sang the last verse of Me and Mrs. Jones on his 2007 album—Call Me Irresponsible before they broke up.
In an interview with E!, Bublé revealed that he wasn't the best boyfriend before he settled down and said that he was a jerk, careless, and reckless with the hearts of the women he was with.
"I got my karma, I earned it. I got my butt kicked and it hurt me enough that I looked in the mirror and I didn't want it to happen again."
As to why the pair split, Michael reportedly cheated on Blunt as photos of him with another woman was posted online. The hitmaker recalls many things in his past that were cringy but matured and got to learn more about himself, how short life was, and got closer to being spiritual.
The actress is happily married to American Actor John Krasinski since July 2010, lives in New York City, and has two daughters.
About Luisana
Luisana Loreley Lopilato de la Torre was born on May 18, 1987 in Buenos Aires, Argentina. According to IMDB, she is an actress and composer, famous for her roles in telenovelas Casados Con Hijos (2005), Nafta Súper (2016), and Rebelde Way (2002). She has been acting in television and film since 1999 and has appeared in music videos with her husband, and even Ariana Grande and Justin Bieber's Stuck with U in 2020.
She started as a child actor with a regular role in the TV series Chiquititas from 1999 to 2001. Then from 2002 to 2003, she was cast as Mía Colucci in the telenovela Rebelde Way. She is popularly known for her work in—Perdida (2018), Intuition (2020), Erreway: 4 Caminos (2004), and Papá por un diá (2009).
Despite being pregnant, she regularly posts on her YouTube channel various content from videos of her family, trailers for her movies, and even where to eat delicious pizzas in Argentina.
Love at First Sight
Bublé sat down with Access to describe where he met his wife for the first time. He was taken from an arena in Argentina where he played and his security guards took him along with his beloved grandfather to the basement and got him in a van. His first glance of Luisana was across the parking lot where he was driven and remembered getting a heavy feeling and telling his grandpa that he had seen the most beautiful woman he had ever laid eyes upon.
A few hours later, he was at his hotel and met with his friend who worked at his music label. He asked if Michael could meet a couple of the most famous actors in the country. Call it destiny or fate but she was one of those actors and that's how they met.
During that time, the actress was accompanied by an attractive man and she barely spoke any English. The pop crooner thought that the man was her boyfriend and spent more time talking to him, but after a lot of drinks later, found out that Luisana and the gentlemen were not a couple.
It was such a funny first impression because Lopilato thought Bublé was gay since he barely spoke to her but already had a crush on him from the start. With the help of Luisana's sister who could speak more English, she bridged communication between the future couple and eventually went on group dates with Luisana along with her sister or friends.
He would always bring his laptop and would translate everything he wanted to tell her into Spanish. Talk about going the extra mile for the woman you love!
Haven't Met You Yet
The "Sway" singer wrote a song dedicated to his wife called Haven't Met You Yet from his fourth studio album—Crazy Love, released in August 2009. The meaning of the song is about everyone's dream of finding a relationship and love. Before the release of the single, he translated the lyrics into Spanish and showed it to his wife, who of course, loved it!
Co-written by Alan Chang and Amy Foster-Gilles, the music video stars Bublé and Lopilato which will forever be a testament to their everlasting love. To this day, they are going strong and their family is getting bigger. Michael is thrilled to be a father and loving husband.