Broderick Stephen Harvey, or Steve Harvey as he's known across the world, is an American comedian, game show host, television presenter, actor, author, broadcaster, and businessman. He has many titles, but was 'military man' once one of them?
There is no public record of Steve Harvey ever serving in the military, but he was technically a federal employee as he worked as a mailman before becoming a famous comedian and television host. Even though he did not serve, he has huge respect for those who did and do.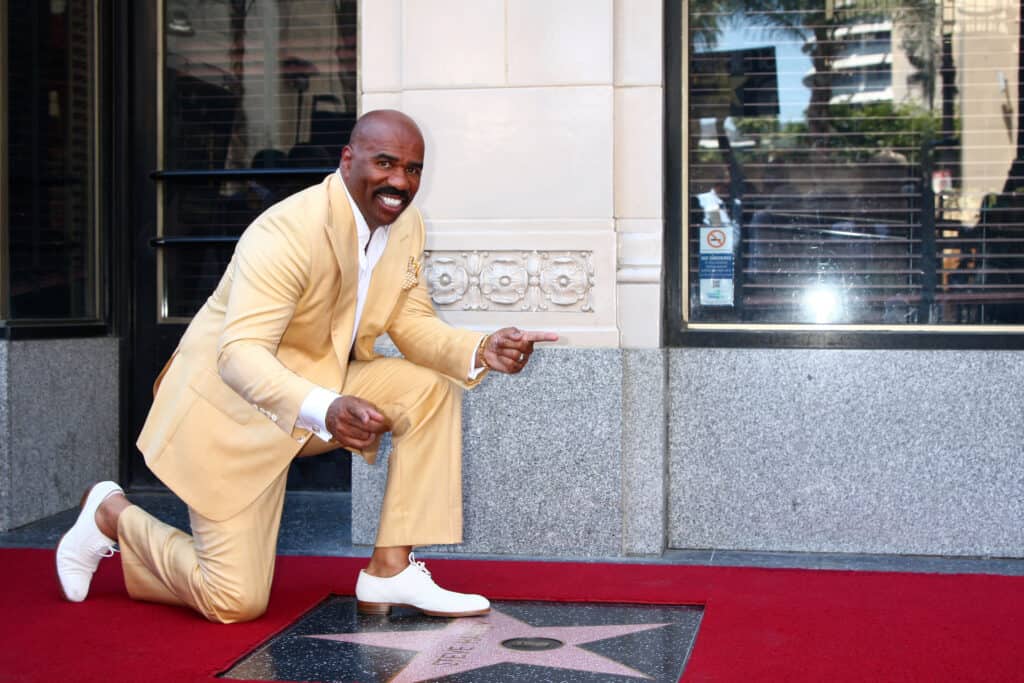 Let's take a closer look at Steve's relationship with the military and what other jobs he worked in before finding fame and fortune.
Steve Harvey's Relationship With The Military
Steve has never served in the military, but that doesn't mean that he doesn't have a patriotic dose of respect for those who did, do, and plan to. He shows his respect through his television show and social media platforms.
The star often features heartwarming and eye-opening military and veteran-related content on his acclaimed 'Steve TV Show' and has the utmost admiration for the men and women who serve his country.
Over the years Steve has used his platform to interview Medal of Honor recipients, share moving homecoming videos, surviving boot camp segments, and more.
Through 'The Steve & Marjorie Harvey Foundation', Steve aims to he;p mentor and empower young men. Often, this involves teaching them about the military.
At a 'Steve Harvey Mentoring Weekend', Steve's daughter Bindi said "Our boys get to experience and see manhood firsthand with United States Army Soldiers because, as my father always says, a boy without a male role model is like an explorer without a compass."
What Other Jobs Has Steve Harvey Had?
Although Steve wasn't a military man prior to finding fame, he has worked a handful of other jobs. After dropping out of Kent State University, Steve worked whatever job would take him.
He worked as a boxer, an assembly line inspector at Ford Motor Company, a mailman, a carpet cleaner, a pet product salesman, and an insurance salesman.
It was while working in sales at an insurance company that Steve decided to try his hand at comedy, performing his first stand-up comedy routine at Cleveland's Hilarities Comedy Club. He won USD $50 and quit his job the next day.
His first year working as a comedian was trying, and he only made USD $3,000. As a result, his wife divorced him and 75% of his earnings from that point on was sent to her to support their kids.
Steve spent three years being homeless, living in his 1976 Ford Tempo and cleaning himself in swimming pool showers or gas station basins. With the help of his friends, he managed to find a part-time job cleaning carpets and checking credit at a travel agency.
Thankfully, as his net worth is USD $200 million today, Steve's luck turned around and he was able to forge a successful career in comedy. His rags-to-riches tale is an inspiring one to all.
Which Celebrities Have Served in The Military?
Nobody knows why Steve didn't serve in the military, and the star himself is yet to publicly discuss it. Unlike Donald Trump, Bill Clinton, Ted Nugent, Chevy Chase, Rush Limbaugh, and even Elon Musk, Steve hasn't been accused of dodging the draft.
Even though Steve isn't one of them, there are many celebrities who have served in the military.
Ice-T, Bob Ross, Morgan Freeman, M.C. Hammer, Jimi Hendrix, Hugh Hefner, Adam Driver, Chuck Norris, Elvis Presley, Mr.T, Sean Connery, Arnold Schwarzenegger, Clint Eastwood, Tom Selleck, and Johnny Cash have all served in one capacity or another.
Bea Arthur, Ruth Westheimer, Sunny Anderson, and Gal Gadot are female celebrities who served in the military in various roles.