Usher Raymond is an American singer, dancer, songwriter, actor, businessman, father, and all-around entertainer. Performing his legendary dance moves — not to mention juggling all of those roles! — is bound to work up a sweat, so let's hope Usher has something to keep the odor under control.
When it comes to cologne, Usher reaches for Thierry Mugler's 'Amen' and 'Royal Water' by Creed. Other than these two long-time favorite scents of his, he also wears the colognes 'Usher He', 'UR for Men', 'Usher VIP', and 'Homme by Usher' from his own collections.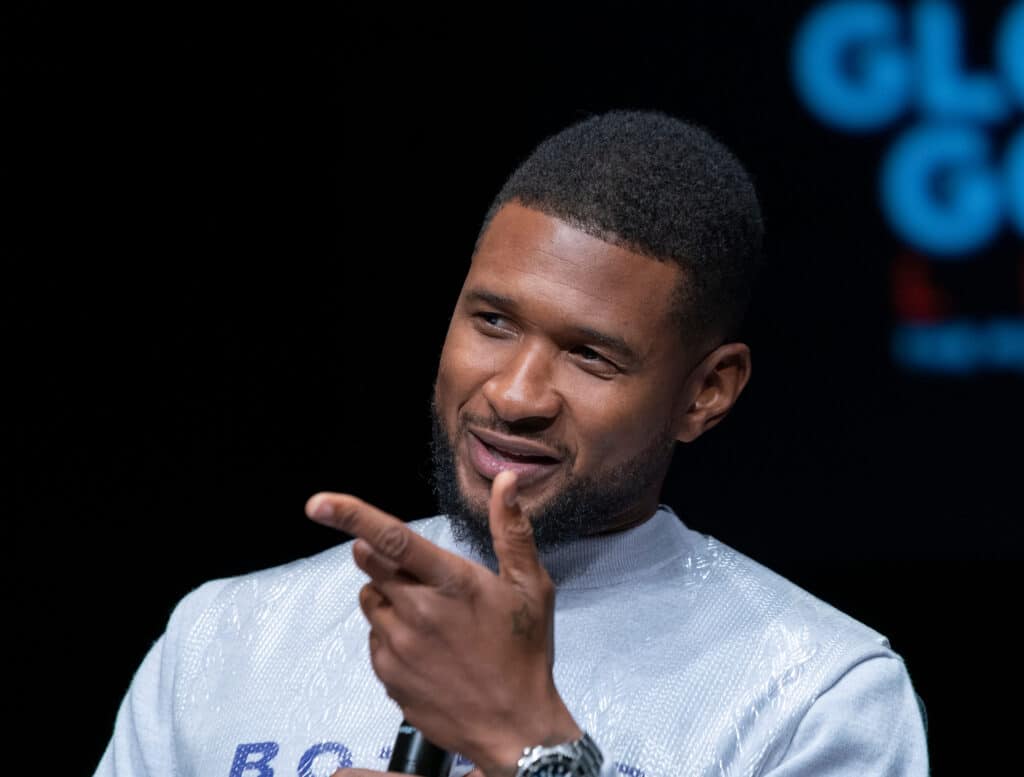 Based on his cologne preferences, and the fact that he has released eight fragrances of his own, it's safe to say that Usher must smell simply divine. Let's sniff around and discover what cologne Usher wears and what his various fragrances smell like.
Usher's Cologne Preferences
Excluding the colognes that he created himself, Usher has two go-to colognes that he bounces between. Those are Thierry Mugler's 'Amen' and 'Royal Water' by Creed.
Thierry Mugler's 'Amen' is a cologne for men that has top notes of lavender, mint, coriander, and bergamot. Its middle notes are Lily-of-the-Valley, milk, cedar, jasmine, patchouli, honey, and caramel while its base consists of coffee, tonka bean, benzoin, sandalwood, and musk.
Surprisingly, 'Royal Water' by Creed is a unisex fragrance that smells strongly of mint and citrus. A deeper sniff reveals the soft and subtle scents of juniper, berries, musk, and ambergris.
Feminine fragrance is important to Usher. He told Today, "The power of attraction is where it all starts. It has to be inviting, something that's lighter in the day and still makes him come closer in the evening. It has to be delicious".
Does Usher Have His Own Cologne?
He may be known for his enviable singing and dancing skills, but Usher is also quite the businessman. And, amongst his many other ventures, he's in the business of smelling good.
Between the years 2007 and 2018 Usher has released eight fragrances. In order of release, those fragrances are 'Usher He', 'Usher She', 'UR for Men', 'UR for Women', 'Usher VIP', 'Homme by Usher', and 'Femme by Usher'.
His first cologne 'Usher He' is classed as a woody aromatic men's fragrance that has top notes of melon, pineapple, and Lemon Verbena. Its middle and base notes include white pepper, lavender, vetiver, violet, suede, and Guaiac wood.
The feminine version, 'Usher She', is a floral fruity fragrance with notes of apple tree blossom, red currant, apricot, and cashmere wood. He says of the perfume, "The fragrance represents strength and sexiness, and more than anything, mystery and a journey."
Both the male and female scents in Usher's 'UR' collection are floral fruity. Its main olfactory features are jasmine, honeysuckle, and peach nectar which he says "Is a tribute to my humble beginnings in Atlanta."
On the other hand, 'Usher VIP' is a woody spicy fragrance. His latest men's cologne is an amber spicy fragrance and his latest perfume is a Chypre floral fragrance.
Usher and Candles
Usher doesn't just want himself and his fans to smell good. He also wants their bathroom, bedroom, lounge, kitchen, and wherever else you'd like a candle to smell good too!
He turned one of his fragrances into a scented candle named simply 'USHER'. Although it is listed as a unisex candle, it reportedly has a very masculine smell due to its scents of Verbena, melon, Guaiac wood, musk, and suede.
Usher is not the only celebrity to have branched out into the scented candle market. Other celebrities that have their own scented candles include Taylor Swift, Kim Kardashian, Gwyneth Paltrow, and even Anthony Hopkins.