These days, everyone knows who Kris Jenner is – after all, she's the mother to what is arguably the most famous family in the world. She's got more money than most people would know what to do with, but just how did she earn her substantial wealth? What does the matriarch of the Kardashian-Jenner family do for a living?
Kris Jenner is a reality television star, socialite, media personality, bestselling author, and the Executive Producer of the award-winning reality television show Keeping Up With The Kardashians. In addition, she is a successful businesswoman and entrepreneur with many income avenues.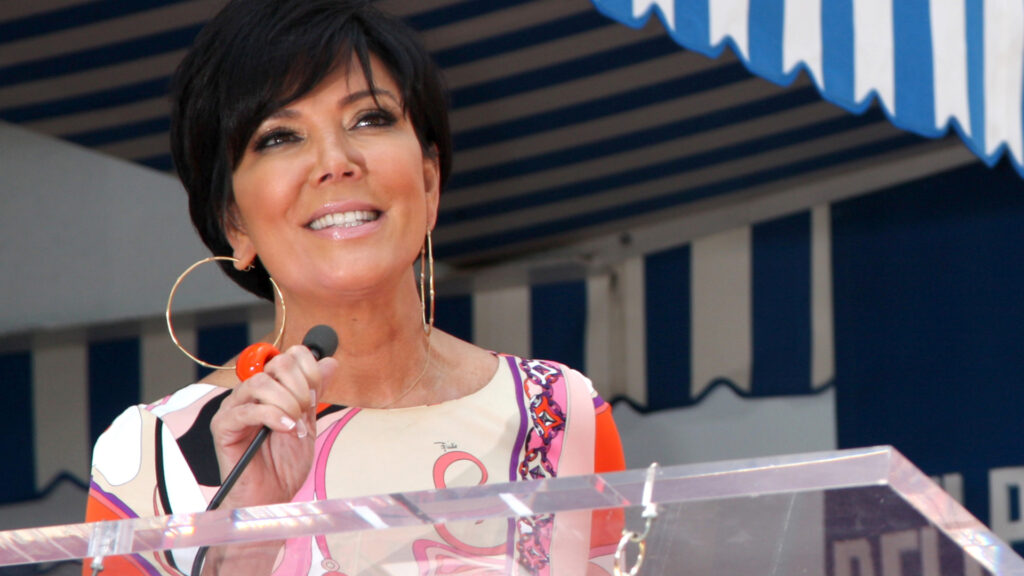 Are you keen to find out exactly what Kris Jenner does for a living and how she goes about making her millions? Then be sure to read this article till the end, as it will dive into what Kris does for a day job and how much she earns from doing so, as well as what work experience she has behind her now-famous name.
What Does Kris Jenner Do For Work?
Kris Jenner is a woman that wears many, many, many hats. The matriarch of the Kardashian-Jenner family is a socialite, media personality, author, reality television star, and businesswoman extraordinaire. But above all else, she's known as a "momager" – a mom and manager all in one. She even trademarked the term back in 2015!
Most of Kris's workday consists of managing the diaries of her children Kourtney, Kim, Khloé, Rob, Kendall, and Kylie. This job includes arranging photoshoots, negotiating brand collaborations, "putting out fires," reviewing licensing deals, monitoring product sales, scheduling media appearances, and much more.
Above and beyond being a fully-fledged "momager," Kris also manages her own media commitments and earns a steady stream of income from promoting different products on social media, working with different brands, and participating in traditional media interviews.
The tip of the Kris Jenner iceberg is the fact that she is also a massively successful businesswoman and entrepreneur in her own right. On top of owning a percentage of both KKW Beauty and Kylie Cosmetics, Kris owns and is the CEO of Jenner Communications, and she also has a plant-based cleaning company called Safely, which she co-created with Chrissy Teigan, who stepped down to focus on her family.
There's a modern-day saying, "The devil works hard, but Kris Jenner works harder," and – love her, or hate her – nobody can deny that Kris has worked incredibly hard to get to where she is today.
Does Kris Jenner Get A Salary?
In case you were under the impression that Kris manages her kid's chaotic diaries out of the goodness of her heart, let's dispel that theory now. Because Miss Kris Jenner makes more money than most people could ever dream of making in their lifetime.
For every job any one of her children takes on, Kris earns a 10% cut. While that may not sound like much, when you consider the fact that Kim alone earns between USD $300,000 and $500,000 per Instagram post, you don't need to work hard to imagine just how much Kris's 10% translates to.
All in all, from the monthly salary that comes from managing her children to the income generated from her book sales, Kris takes home approximately USD $1,000,000 per month.
What Did Kris Jenner Do Before She Became Famous?
Though she's been living the high life for many years now, it wasn't always that way. Long before she became the Momager we know her as today, Kris had a 'regular' job. In fact, she had four.
According to her 2011 memoir, 'Kris Jenner… and All Things Kardashian', Kris's first experience in the working world came when she was just a teenager, and she decided to help out in her family's candle store. Later in her teenage years, she picked up a second job at a local doughnut shop where she would "literally scrape the glaze off the floor and sell coffee to customers."
When Kris's mother, Mary Jo Campbell, put her candle business on hold, Kris landed her third job working as a sales clerk in "a little dress shop in La Jolla." She would work shifts at the dress store in between her schooling.
After leaving school, Kris began training to become an air hostess. In the year 1976, Kris put this training to use as she became a flight attendant for American Airlines. She enjoyed this position for approximately a year before deciding that her future was to become a mother – little did she know then that this role would double as a career path!