Demetria Devonne Lovato, or Demi as you likely know her by, is a Disney Channel star turned influential A-lister with numerous award-winning number one hits under her belt, millions of Instagram followers, and an army of loyal Lovatics behind her every move. Her weight is often the headline of celebrity publications, and it seems as though everyone is interested in knowing her dress size.
Demi Lovato, who often speaks about her weight but doesn't share the specifics, is said to wear a US size 8 dress. Over the years, the star gained and lost weight at a dizzying rate. In a heartbreaking revelation, Demi revealed that she has struggled with an eating disorder since the age of nine.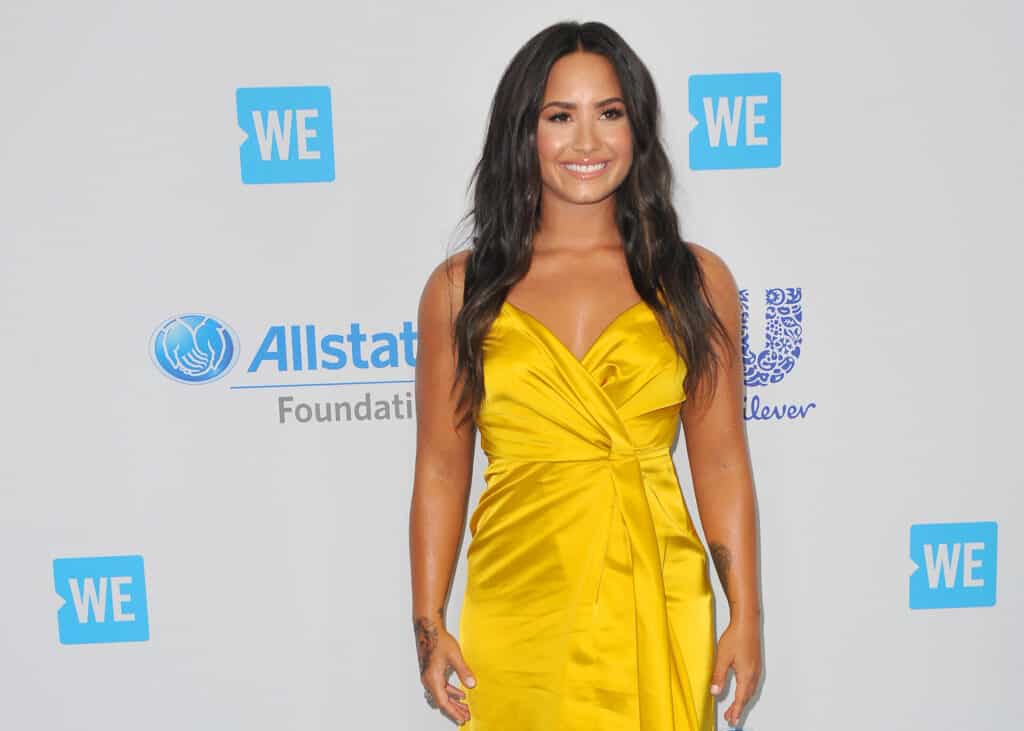 The troubled songbird is now a body positivity poster child and doesn't tolerate body shaming in any way, shape, or form. To discover Demi's current dress size, measurements, and her brave battle with bulimia, keep reading.
Demi Lovato's Dress Size and Style
Like most women, Demi Lovato struggles with her weight. Unlike most women, her struggles with the scale make international headlines. Throughout her life and career, Demi has bounced between dress sizes but now proudly wears a US size 8.
Demi is in good company in this healthy dress size. Other celebrities who wear a US size 8 include the likes of Megan Thee Stallion, Billie Piper, Mindy Kaling, and Beyonce.
Demi, who is no stranger to the Best Dressed pages, wears clothes that compliment her figure. The star is a fashion icon and though she loves to experiment with different looks, she's most well known for her grunge-yet-girly sense of style.
When she's on stage, Demi tends to dress in a sporty way and is fond of fishnet stockings, hot pants, bodysuits, and bespoke leather pieces. Based on her previous on-stage outfits, Demi prefers dressing in all-black ensembles.
Offstage, the mental health advocate leans on the casual cute side of things and isn't afraid to play around with colors. She has a penchant for thigh-high boots, mid-riff baring cropped tops, and plunging necklines.
On the red carpet, Demi never fails to turn heads. Sometimes she opts for long feminine dresses in muted shades while at others she picks an outfit that is edgy and daring. No matter what she wears, one thing is certain: she stuns.
Demi Lovato's Struggles With Her Body Image
It's no secret that Demi Lovato has faced many battles in her personal life including her struggles with depression and addiction. Sadly, both of these issues arose from an eating disorder that Demi has been suffering from since the tender age of nine.
The talented singer started binge eating at nine years old after the birth of her sister and leaving the cast of Barney and Friends. She has struggled ever since. In her YouTube documentary, Demi Lovato: Simply Complicated, Demi opens up about her battle with bulimia and says that food is "still the biggest challenge in my life."
In the documentary, she details what triggers a relapse of her disordered eating, how she copes, and she shares a part of her difficult journey and her complicated relationship with food. Demi admits to constantly thinking about her eating habits and says "Body image, what I wish I could be eating, what I wish I could be eating next, what I wish I didn't eat, you know it's just constant."
Thankfully, Demi has embraced her body and seems to have the upper hand when it comes to her perception of beauty. She is now a practitioner of body positivity and encourages her fans to adopt the same mindset.
After a newspaper splashed the news of Demi's "fuller figure" on their front page, she clapped back at the body shamers by proudly declaring "I AM MORE THAN MY WEIGHT." and went on to explain that she's not upset about the headline but she's "angry that people think it's okay to write headlines about people's body shapes."
Demi Lovato's Measurements
Demi is an incredibly strong vocalist and — no matter what size it may be — it's difficult to imagine such a large voice being contained in her body. The inspirational celebrity stands 5'3" tall and carries herself confidently.
Her hips measure in at 36 inches, her waist at 27 inches, and her chest at 34 inches. Demi wears a US size 34 B bra and a US size 7 shoe. She weighs approximately 137 lbs. Regardless of what the scale displays when she steps on it, Demi is beautiful and the perfect example of how numbers are just that: numbers.