Sultry voice and impressive range aside, Demi Lovato can be instantly recognized by her smokey "come hither" eyes, defined brows, glowing skin, and perfect pout. But just how does she achieve such immaculate makeup looks?
Looking like Lovato is no easy feat! The songstress has a dedicated glam squad and her makeup staples include primer, foundation, concealer, highlighter, blush, setting powder, eyeliner, eyeshadow, mascara, lipstick, gloss, and a combination of brow pencils & mascaras.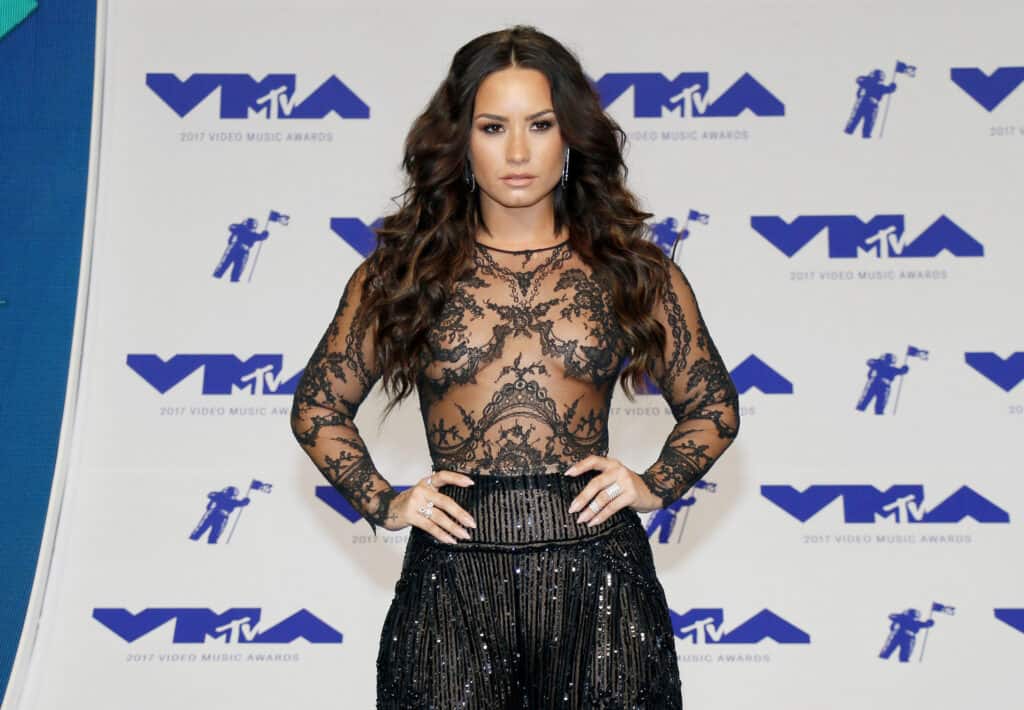 Demi Lovato has been wearing makeup for most of her life. With her mom's permission, Demi purchased her very first makeup product — a Clinique lipstick — when she was just five years old.
With the help of the makeup artists behind two of her most iconic looks, Mario Dedivanovic and Jill Powell, let's find out what has changed since then.
Her Face
Mario Dedivanovic, of Makeup By Mario, was the brains behind Lovato's beautiful Grammys look. Her skin was the dewy display of flawlessness because of YSL's Touche Eclat Blur Primer in Silver, All Hours Foundation in Almond, Touche Eclat High Cover Concealer in 1.5 Beige, Couture Blush is N. 9 Rose Lavalliere.
For fear of looking "like a glow-worm", she also steers clear of applying too much highlighter and Couture Highlighter was used to alleviate that fear. The look was set in place by means of All Hours Setting Powder, also in the shade Almond.
In the week that followed her emotional Grammys performance, Lovato's dream of singing the national anthem at the Super Bowl was realized. This time it was Jill Powell's responsibility to ensure she looked as dreamy as can be.
She achieved the ethereal look with the help of Giorgio Armani's Luminous Silk Primer and two shades of Luminous Silk Foundation before sealing the deal with a gentle dusting of the Luminous Silk Compact finishing powder.
When asked by ELLE's Kristina Rodulfo whether or not she uses drugstore beauty products the star admitted that she doesn't. She said "No. I think it's really important that if you're putting stuff on your skin — you want to make sure it's good quality."
Her Eyes
Demi is known for her smokey eye. Once upon a time she even released her own 10-product line — Lovatics by Demi with NYC — which consisted of six eyeshadow palettes so it's no surprise that she boasted a deep smokey eye in both looks.
Mario chose to use YSL's Volume Effet Faux Cils mascara and eyeliner with Sequin Crush Eyeshadow while Powell opted for Armani's Eyes to Kill Designer Liner and a golden eyeshadow mixed with espresso brown.
But when it comes to her luscious lashes, they aren't always hers. She often wears lash extensions and is a firm fan of Rokeal Beauty's false lashes in particular.
She also uses a mystery eyelash serum that, when she was asked to share the name of, she responded "I would tell you but I don't want to give them promotion because they're not paying me, so…"
Her Lips
Demi always chooses to paint her lips in one of two ways: nude or daringly bold.
Mr. Dedivanovic and Mrs. Powell both went down the nude road. Mario used the YSL Rouge Pur Couture in 125 while Jill used the Beauty Rouge d'Armani Sheer Lipstick in 205, Beauty Smooth Silk Lip Pencil in 2, and Beauty Ecstasy Lacquer Lip Gloss — all by Armani.
Her Skin
Everyone is aware of the harsh impact makeup can have on your skin if not properly taken care of, but thanks to esthetician to the stars Renee Rouleau, Demi doesn't have to worry about this.
Renee, who has been taking care of Lovato's skin since she was just seventeen years old, enforces a strict skincare regime that Demi follows religiously. The Lovato skincare routine includes the likes of double cleansing, toning, moisturizing, peeling, and more.
#NoMakeupMonday
If one thing is for sure it's that Miss Lovato doesn't fear a full face. But she is also not afraid to bare it all and as a result, is no stranger to participating in makeup-free Instagram challenges.
While it's clear that the star loves makeup and putting her glam squad to work, she keeps it real and is proud to show off what lies beneath the heavy layer of foundation.
The accompanying caption to a #NoMakeupMonday Instagram post Demi shared with her millions of followers read "…I figured after posting so many glamorous pics with tons of makeup and hairpieces, it's important to show myself underneath it all. This is what I look like 85%-90% of the time. Proud of my freckles, proud of booty chin, and proud of myself for loving and accepting myself the way I am."