Ivanka Trump was once known as a New York City socialite but upon her father's ascension to the highest office in the land, she became one of the most powerful people on Earth. She has always been known for her cool demeanor and smart sense of fashion.
Ivanka Trump is a size 6, according to most sources. Before an entrance into politics, Ivanka was known to show off her figure and style on runways and in advertising campaigns.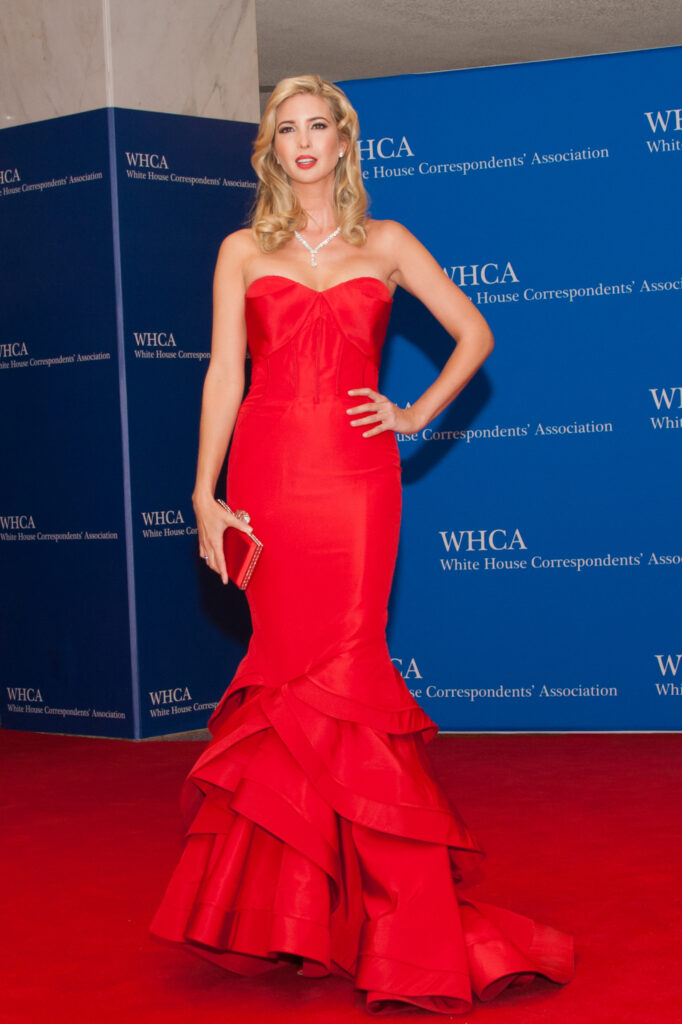 Like the rest of the Trump children, Ivanka's life has shifted to a focus on politics and creating a legacy for her father and her family.
Early Life
Ivanka Trump was born in Manhattan, New York on October 30, 1981, to her father Donald Trump and her mother Ivana. Ivanka shares the first name of her mother but has been nicknamed "Ivanka" her entire life.
Ivanka has two brothers, Eric and Donald Jr., and two half-siblings, her sister Tiffany and her brother Barron.
Ivanka was born into high class and wealth and her early years reflected that. She attended the Chapin School in New York until she was 15 and then went to Choate Rosemary Hall in Connecticut, an upscale and strict boarding school that she didn't like.
During her time at boarding school, Ivanka began modeling on weekends and was featured in multiple advertisements including some for Tommy Hilfiger. She appeared on runways across the country and world and was even featured on the cover of Seventeen magazine in May 1997.
Ivanka graduated from Choate in 2000 and began attending Georgetown University before she transferred to Wharton School of the University of Pennsylvania, just like her father had.
She graduated cum laude and received a bachelor's degree in economics.
Her Time In New York
After college, Ivanka made her way into the business world like her father and grandfather before her. In 2007, she formed Ivanka Trump Fine Jewelry and opened a retail location in Manhattan.
Her jewelry business would later move its location to Trump Tower although the brand is sold across the world at dozens of fine-jewelry locations.
Ivanka also began selling Ivanka Trump fashion items, such as shoes and handbags, and clothing. She struck up major merchandising deals with Hudson's Bay and Macy's to carry her products.
Ivanka soon joined the Trump Organization to work closely with her father. She appeared in numerous publications at the time in stories that highlighted her work with the Organization and her brand of fashion items.
Ivanka became a regular fixture on her father's reality show, The Apprentice, during the sixth season. She was one of the boardroom judges who, along with her dad, chose the fate of contestants.
Ivanka also appeared on other various shows during this time, including a guest judge spot on Project Runway.
Politics
When her father announced he was running for president, Ivanka immediately endorsed him and began working on his campaign.
She made dozens of public appearances on behalf of her dad and would use that time to defend his public image and speak of their close relationship.
Ivanka was cited as Donald Trump's advisor on "women's health and women".
Ivanka introduced her father to the world before his speech at the Republican National Convention in 2016. Her speech was well received and her work on her father's campaign had many wondering if she would get into politics at a later date.
When her father won the presidency in 2016, Ivanka was brought into the White House as an advisor to the president. She would be a public face of the administration and worked closely with her father and attempted to guide his presidency.
During her father's single term, Ivanka traveled the world with her husband, presidential advisor Jared Kushner, to many locations and events. She attended G20 summits and embassy openings across the globe.
She was one of the people participating in talks between her father and North Korean leader Kim Jong-un.
In 2020, Ivanka was a major part of her father's re-election bid for the White House. Though the campaign was altered due to the coronavirus pandemic, Ivanka made appearances on television and online to promote her father and his agenda.
Once again, Ivanka introduced her father at the Republican National Convention.
Donald Trump was defeated in 2020 and Ivanka returned to normal life in New York City with her husband and their children. Her future business plans include working on her fashion line as well as donating her time to her interest in philanthropy.