The youngest member of the Kardashian-Jenner clan may be known for her iconic lips, but her eyes deserve an honorable mention too. Whether she's rocking a deep smokey eye or a bright cut crease, one thing is certain: Kylie's eyelashes look incredible!
Kylie Jenner's go-to false eyelashes are Ardell Glamour Wispies Black Lashes, Lilly Ghalichi's 3D Miami Lashes, and Huda Beauty Alyssa #2 Lashes. In addition to false eyelashes, Kylie also gets eyelash extensions and has a skilled hand at mascara application.
For some time now, the words 'makeup' and 'Kylie Jenner' have been synonymous. Though the socialite, media personality, model, businesswoman, mother, and makeup mogul is not a trained makeup artist, she sure knows her way around a makeup kit. Kylie enjoys doing her makeup herself — including her fluttery lashes.
Kylie's False Eyelashes
Surprisingly, Kylie's favorite false eyelashes hail from affordable drugstore brands. For a natural look, Kylie opts for the Ardell Glamour Wispies Black Lashes but when she's after a dramatic finish she'll reach for Lilly Ghalichi's 3D Miami Lashes.
In an Instagram Story, Kylie said "Everyone always wants to know what lashes I wear. My favorite are Lilly Lashes." Kylie's number one makeup artist also swears by Lilly Lashes Miami lashes and describes them as one of his "fave lashes" to use on the social media star.
Kylie's third favorite false eyelashes are Huda Beauty Alyssa #2 Lashes which she applies on top of whatever lashes she's already wearing to create a wispy, voluminous lash effect. All of the Kardashian-Jenner girls are huge fans of Huda Kattan and are all supporters of her Huda Beauty brand.
In order to achieve a natural look, Kylie applies her falsies using a criss-cross technique which not only makes her lashes look more natural but makes her eyes look wider too. When Khloe's makeup artist, Hrush Achemyan, applies lashes on her he builds a layered effect by building individual lashes on top of one another on the lash line.
With the help of her makeup artist, Ariel Tejada, the makeup mogul added false eyelashes to her Kylie Cosmetics product range. The individual lash trios are reusable, vegan, and totally synthetic. This new product addition came about as a result of Kylie's inability to get her regular lash extensions (more on that in a few!) applied and so she innovatively came up with her own.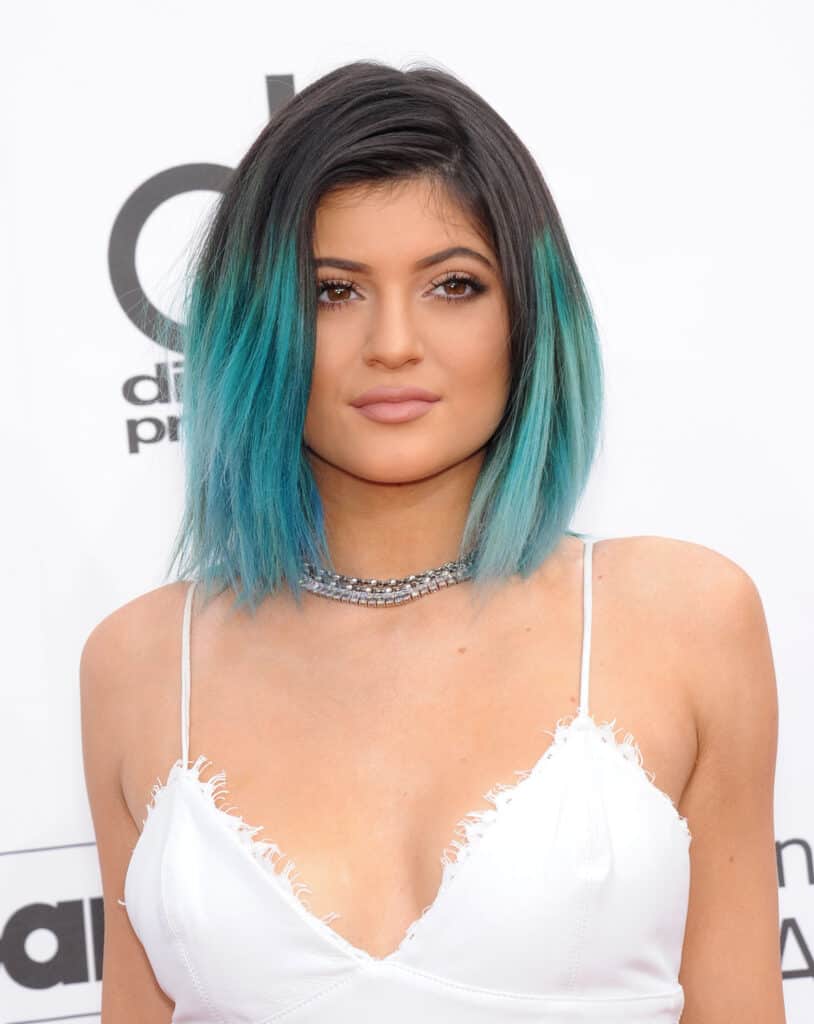 Kylie's Lash Extensions
Before the COVID-19 pandemic struck, the global beauty influencer had lash extensions applied every six to eight weeks at $180 an application. Her go-to lash extension salon is Los Angeles-based Star Lash Beauty Bar.
Kylie has frequented the Star Lash Beauty Bar, which is owned by one of her best friends Yris Palmer, since 2015. Her eyelash extensions are the key to her makeup-free selfies and stories that she often shares with her millions of followers on her Instagram page.
Kylie's Mascara
No matter whether she's got a fresh set of extensions in or a pair of falsies on, Kylie often finishes off her eye look using an expert application of mascara. Kylie doesn't single out one brand as her go-to mascara maker but bounces between an assortment of brands.
Lancôme's Hypnose Drama Mascara is one of Kylie's ultimate mascaras. Speaking about the mascara, she says "I used to be obsessed with their Star Mascara, but these days I'm all about Drama. It gives you tons of volume with just one coat and it doesn't clump up at all!"
The Kylie Cosmetics creator also often uses Dior's Diorshow Black Out Mascara in black for her upper lashes and lightly applies brown mascara to the lower lash line for a subtle look. Always keen to support the endeavors of her famous family members, Kylie also uses the $18 mascara from sister Kim Kardashian's KKW Beauty.
Seeing as how Kylie has built her empire off her extensive makeup knowledge, it should come as no surprise to read that Kylie is quick to share her makeup tips with the world. She shares quick makeup tips on her Instagram page and posts in-depth tutorials on her YouTube channels.
In the past, Kylie has shared her guide to makeup with Vogue as part of their iconic Beauty Secrets video series on their YouTube channel.