There is no arguing Brad Pitt's status as a Hollywood leading man – the guy has stayed on the A-list for over 20 years! His facial features and chiseled physique obviously play a huge role in his stardom, but how about his height? How tall is Brad Pitt after all?
Brad Pitt stands 5 feet 11 inches (1.8 m or 180 cm) tall. This being the case, the twice-awarded Sexiest Man Alive is slightly taller than the average American male.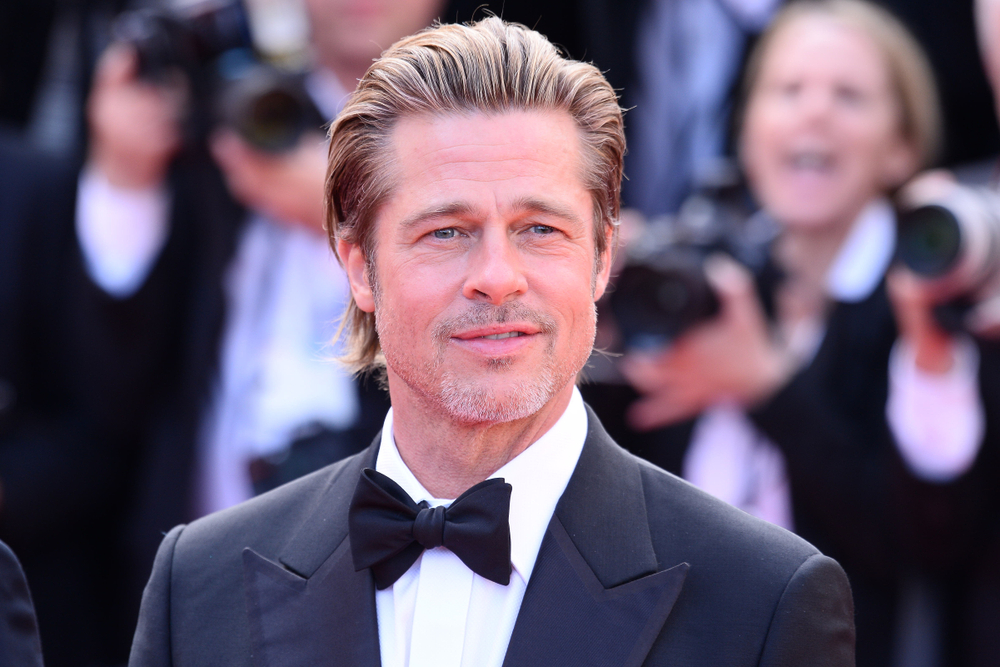 While Brad isn't necessarily short, The Fight Club actor reportedly wears lifts on occasion in order to appear taller. Read on for a few more Brad Pitt basics that are worth knowing. 
Were Brad Pitt and Jennifer Aniston really married?
Yes, they were. Before becoming the other half of "Brangelina," Brad Pitt was the husband of Friends star Jennifer Aniston and their pairing was highly celebrated in the media. They began dating in 1998 and then tied the knot in 2000.
According to Brides' timeline, Jennifer Aniston and Brad Pitt's first date was set up by their managers, as both were coming out of breakups – Jennifer from Tate Donovan and Brad from Gwyneth Paltrow, whom he had dated for 3 years (1994-1997).
Brad and Jen were so celebrated as a couple that their paparazzi pictures were all over the news and tabloids. Everyone was glued to their every move and after their wedding, fans could not wait for them to announce their baby plans.
By 2004, Jennifer Aniston shared in an interview that she was ready to have a child with Brad. Everyone was excited about Jen's statement but the hype was short-lived as cheating rumors buzzed within months of that interview. Onlookers started suspecting that a romance was brewing between Brad Pitt and Angelina Jolie while filming Mr. and Mrs. Smith. 
By January 2005, Jen and Brad publicly announced their separation via People Magazine. Their divorce was finalized in October of the same year. They had no kids together, biological nor adopted. 
Who is Brad Pitt dating now?
According to a November 2022 report by Page Six, Brad Pitt's rumored girlfriend is Ines De Ramon, a fine jewelry executive. She is affiliated with Anita Ko Jewelry as the company's vice president. Ines is also a certified nutritionist and was previously married to actor Paul Wesley from The Vampire Diaries.
The rumored couple have a sizeable age difference, with Brad being 58 years old and Ines in her early 30s. While reports say that while Brad and Ines' relationship has been going on for months, they are not exclusively dating as of now. News of their romance came up after they were spotted together in a Bono concert. 
What TV shows can we see a young Brad Pitt?
With 85 acting credits listed on his IMDb profile, those curious to watch Brad Pitt as a young Hollywood newcomer have a lot to choose from. Not many know this about the Hollywood leading man, but he appeared in some TV shows In the late 80s to 1990:
Dallas
From 1987-1988 Brad Pitt was cast as Randy in a soap opera titled Dallas. He appeared in four episodes: Farlow's Follies, It's Me Again, Daddy's Little Darlin', and Brother, Can You Spare a Child?
21 Jump Street and Growing Pains
In 1988, Brad Pitt appeared in one episode of 21 Jump Street titled "Best Years of Your Life." The series was led by another young actor who would become a huge superstar, Johnny Depp. 
In Growing Pains, Bradd Pitt appeared in two episodes, first in 1987 (​​Who's Zoomin' Who?) as Jeff, and then in 1989 (Feet of Clay) as Jonathan Keith. Growing Pains was a very popular TV series at the time which also featured a young Leonardo DiCaprio in its cast (as Luke Brower).
Glory Days
In 1990, Brad Pitt's star was steadily rising as he landed a lead role in the TV series, Glory Days, where he played Walker Lovejoy. The high school-set series didn't last very long with just 6 episodes, and was replaced with Beverly Hills 90210.