Emma Stone is one of Hollywood's finest actresses and always charms fans with her raspy voice. Audiences love Emma Stone's hair as well, admiring its lustrous shine. But has she dyed her hair out of its natural color? Or is she maintaining her natural hair color?
Emma Stone's natural hair color is blonde.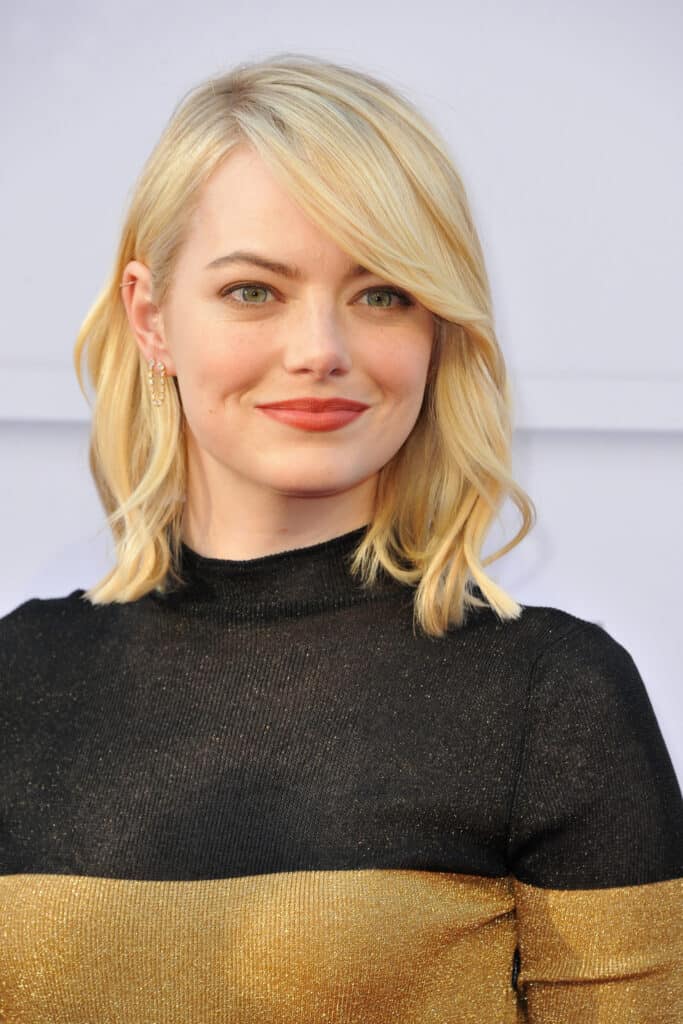 We're just as surprised as you may be, as many people thought that she's a natural redhead. Also, she has worn different hair colors over the years. Here's a brief on what we know about the actress' lustrous hair.
Did Emma Stone dye her hair for Cruella?
Emma Stone starred as Cruella de Vil in Disney's Cruella, which was released in 2020. The actress portrayed the role of a young fashion designer who had an evil side and had black and white hair. Emma moved a lot in the movie, with plenty of stunts but her black and white hair didn't seem to move.
So fans wondered if she dyed her hair or just had a perfect wig maker.
The makeup artist on the set of the movie had to put a lot of work into achieving the Cruella look on Emma Stone. Stacey, the artist, had to paint Emma's hair black and white before putting on the Cruella wig.
Although Emma Stone didn't full-on dye her hair, there was still a touch of black and white on her natural hair.
Why was Cruella's hair black and white?
Cruella de Vil suffered poliosis, a condition that led to the lack of melanin in the hair, eyebrows, and certain hairy regions of the body. So Cruella wasn't born with black and white hair. That's nearly impossible.
Critics, however, shared their two cents on that aspect of the movie because they felt like poliosis should only be seen in patches and not complete half of the hair.
But does that really matter? Emma Stone as Cruella looked perfect with the hair color, and its stylized presentation of the hair condition helped in the storytelling for sure.
How many wigs did Emma Stone wear in Cruella?
In Cruella, Emma Stone wore two different hair colors – red, and a mixture of black and white.
The actress' hair was painted black and white before she wore the black and white wig. When the hair and makeup artist on set did this, the aim was to make it look as natural as possible.
If you have seen the movie, you would understand how real the hair looked. Even for Tipper Steifer-Cleveland, the young actress who played Estella, the stylist went out of her way to ensure that everything was symmetrical.
Emma Stone also had red hair at some point in the movie. So it is quite likely that the actress shifted between two different hair colors and wigs.
Is Emma Stone a redhead?
Emma Stone was naturally born a blonde. She grew up with blonde colored hair but changed it when she started acting. The actress believed that if she dyed her hair from blonde to dark brown, she would land more serious movie roles.
But of course, it's her talent rather than her hair color that has helped her earn roles and accolades over the years.
Over time, her hair has morphed from blonde to dark brown and red. People who didn't really know her before she came into the limelight wonder if she has always been a redhead.
Emma Stone hasn't been a redhead and being the awesome woman that she is, she can pull off any hair color.
Which actress is not a natural redhead?
Emma Stone doesn't seem to be the only actress who isn't a natural redhead. Do actresses change their hair to red because the color is bold? Or is it a trend that never ends?
Well, we can't say but here is a list of some actresses who aren't natural redheads.
Lucille Ball
Lucille Ball has an iconic red hair look which screams "bold" whenever she walks into a room. However, she didn't always have that hair color! And she's also managed to hide how she achieved that color. But, with a little deep digging, it's been revealed that she used henna, a natural dye, to achieve her very own iconic red hair look. 
Bella Thorne
Bella Thorne moved from being a brunette to a ginger, but both colors weren't always her natural hair color. She used to be a blonde but didn't seem to like it. The actress even claimed to have broken down when directors once asked her to go back to her natural hair color for a role.