Jeffree Star is an internationally known YouTube beauty guru, with millions of views and an eponymously named makeup brand that sells out within minutes when it launches new products. However, given Star's penchant for bold looks both on his channel and in his personal life, he can often be found wearing colored contacts to match his look, which might lead many to ask what is Jeffree Star's real eye color?
Jeffree Star's real eye color is brown. Though he can often be found sporting contacts that range from blue to violet, depending on his look, there are multiple photos of a makeup-free Star dating as far back as high showing Jeffree's real eye color.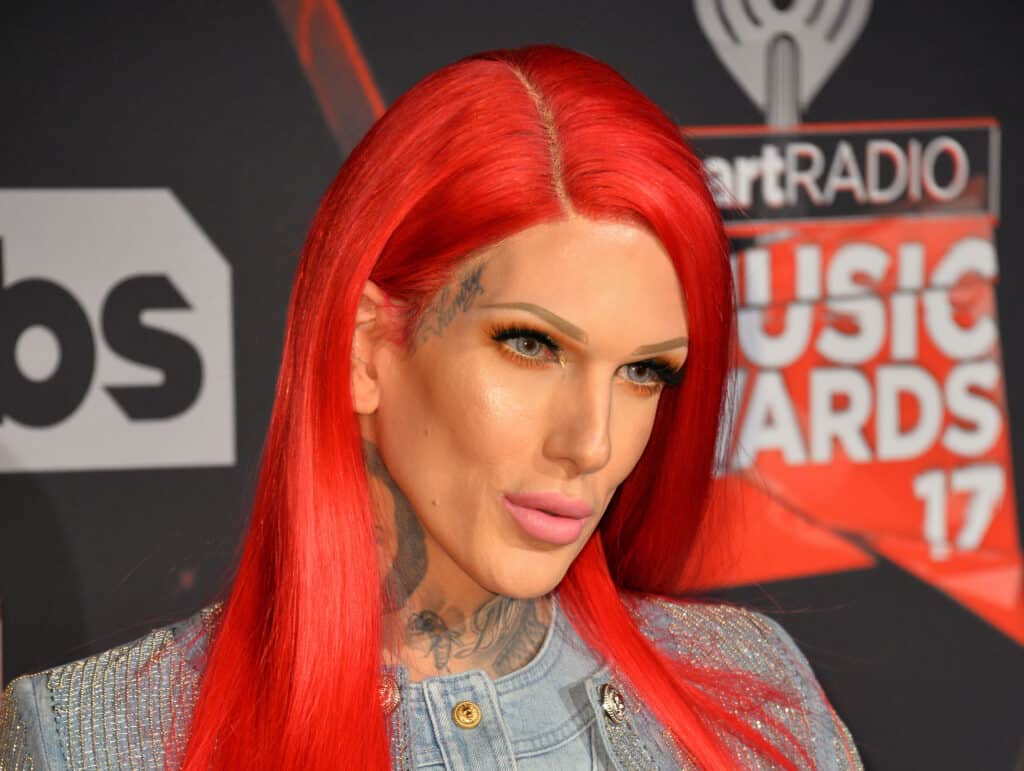 Read more below about Jeffree Star's rise to fame, the science of eye color, and why he's so fond of colored contacts
A Brown-Eyed Boy
Jeffree Star's career began as a Myspace music artist. Having moved to Los Angeles after high school, the now-makeup mogul, worked part-time as a makeup artist, while focusing on his music career.
From the beginning of his career, Star has occasionally worn colored contacts, having them complement his bold on-stage looks while performing his songs. Star's most frequently used contact color is blue, which can be seen as far back as this photo on Star's Myspace profile.
During his time in the music scene, Jeffree Star recorded one studio album, Beauty Killer, but ultimately left the music industry when a record deal with Akon fell apart. Instead, Star moved his social media base to YouTube and began recording makeup tutorials and product reviews, often causing controversy with his candid commentary and famous feuds with other YouTube stars.
In 2014, Jeffree Star launched Jeffree Star Cosmetics, which has gone on to be one of the most successful makeup brands of the past decade. Star has also gone on to be one of the top YouTubers with over 18 million subscribers to his channel.
Ghostly Gray
Given Star's status in the beauty world, it only makes sense for him to experiment with ways to alter his look. To promote his most recent release, the Cremated palette, Star wore a pair of ash gray contacts, posting a ghostly image to his Instagram account.
You can see Jeffree Star discuss his normal makeup routine and discuss not wearing his colored contacts by request in the YouTube video below.
The Science Behind Eye Color and Surgery of the Future
Eye color is an important physical trait, and one of the first things many notice about another person. Eye color is determined by melanin (the same thing that determines skin color and the shade of one's hair).
Melanin absorbs light, where it is passed onto the retinas, which then convert it to the images one sees around them. The fraction of light that is not absorbed by the iris is reflected back, creating each person's eye color.
Though it was once thought that only an individual gene determined the color of one's eyes, scientific research has recently discovered that over a dozen genes contribute to the determination and it's a much more complicated inheritance pattern than originally thought as well. Even though many learned in elementary school that two brown-eyed parents cannot produce a blue-eyed child, that is false; though unusual, it's absolutely possible.
Colored contact lenses are the quickest and easiest way to alter one's eye color. No more difficult than wearing a normal pair, colored contacts come in a wide variety of colors and designs, from the average everyday colors, to something that might appear in a horror film.
For those seeking a permanent change to their eye color, iris implant surgery, wherein a small incision is made and an artificial iris made of silicone is inserted is also an option. Though this surgery originally started as a medical necessity to treat traumatic eye injuries, it has become an increasingly popular elective cosmetic surgery over the years.
Given how often Jeffree Star changes his appearance, it wouldn't make sense for the makeup mogul to permanently alter the color of his eyes. He has enough disposable income to buy colored contacts in every shade imaginable, able to match whatever magical makeup looks he has up his sleeve.