As an artist who is known for her bold and brilliant looks, Nicki Minaj is no stranger to experimenting with all kinds of styles – including her makeup! So listen up Barbz, as you can find out the exact products Miss Minaj uses to achieve her show-stopping looks.
When it comes to makeup, the first thing you need to go for is color. Nicki's very own beauty motto, in her words, revolves around just that: "Color, color, color, color. When in doubt, add color. Then add some more." Nicki Minaj has worked with several leading makeup brands throughout her career to establish the looks she is known for today.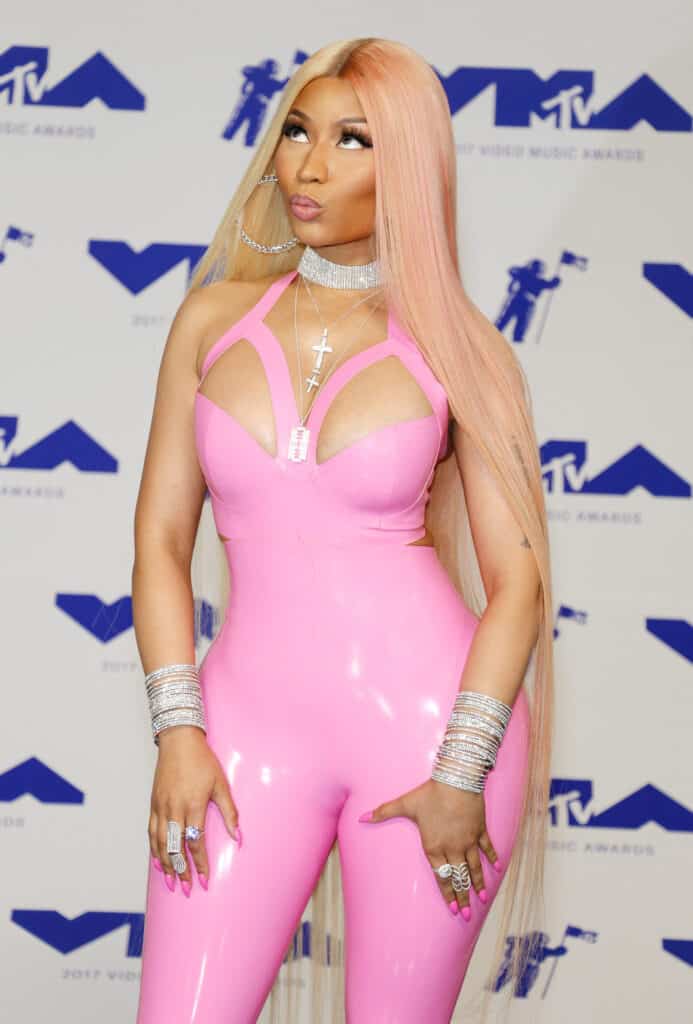 In today's world, artists are known for constantly changing their looks, and rebranding themselves depending on the 'era' or album they are hoping to achieve and sell. Nicki Minaj never disappoints her fans in providing them with new looks almost constantly.
With her ability to do this so effortlessly, it is no surprise that she has become a role model for women around the world, as many wish to copy her flawless makeup looks.
M.A.C. Attack!
One of Nicki's favorite brands for helping her achieve her best makeup looks is M.A.C.
She produced two lipsticks as part of the M.A.C. 'Viva Glam' campaign alongside Latino hero, Ricky Martin.
This was for an excellent cause, as all proceeds went to those who are living with HIV/AIDS across the globe. This campaign was successful not only in sales but for spreading awareness and education of an issue that is still prevalent in our world today.
Lipstick is essential to how Nicki tops her looks, which is why it was so important for her to work on some with such a successful brand, like M.A.C.
When it comes to her daily makeup routine, Minaj claims it would not be complete without her signature pink lipstick.
"I can't see myself without pink lipstick. I can go without it for a couple days, but if there was no more pink lipstick in the world, I'd be useless."
As well as collaborating with M.A.C. for lipsticks, she is a firm lover of all of their products, using them on a daily basis. She uses M.A.C Pro Longwear fluid foundation on both her face and legs. She also says that she couldn't live without her M.A.C. liquid eyeliner.
Thanks to her constant creative expression, it is unsurprising that people all over the world strive to recreate her iconic makeup looks.
Nick 'N' Tuck
Nicki has been no stranger in the press to circulation around her plastic surgery, making people question the 'real-ness' of her looks.
From her face to her ass, people have constantly had something to say about her appearance. However, the rapper claims that she has never been under the knife.
Nicki has previously spoken out about the flourishing methods of contouring, and how they can really help add definition to a person's overall makeup look. This allows her to angle her face to whatever look she is going for.
However, the press had something to say about this. Many believed that Minaj underwent a nose job during the early stages of her career. Nicki had a bite back for haters with one word: makeup!
"They'll see contour and they'll think you had surgery on your nose, no, no, no. Look at 'RuPaul's Drag Race' and you'll see how you can make your nose look any shape you want. When people see my makeup they think all types of crazy things that I'm doing to my skin, but it's makeup."
Black Friday, Every Day!
Whether you are a Barbz or not, it is undeniable that Nicki has pathed the way for creative expression using makeup.
From professional makeup to downtime lipgloss and just a bit of blush, she has a variety of looks that all help women feel confident and more comfortable in the skin they are in.
Nicki shows her fans daily that you can change your looks not because society wants you to, but because you have a love and flair for makeup. You can have a natural progression with yourself creatively, and makeup can be your canon for both art and self-love.