Perrie Edwards has been giving fans back-to-back hits as a member of the girl group Little Mix. She came into the limelight after debuting on X-Factor. And her voice isn't the only thing getting to people as she also has lustrous hair. The singer always shows off the different tricks her hair can do, including the many colors she can wear. But, what is natural hair color beneath all the layers of dye?
Perrie Edwards' natural hair color is brown.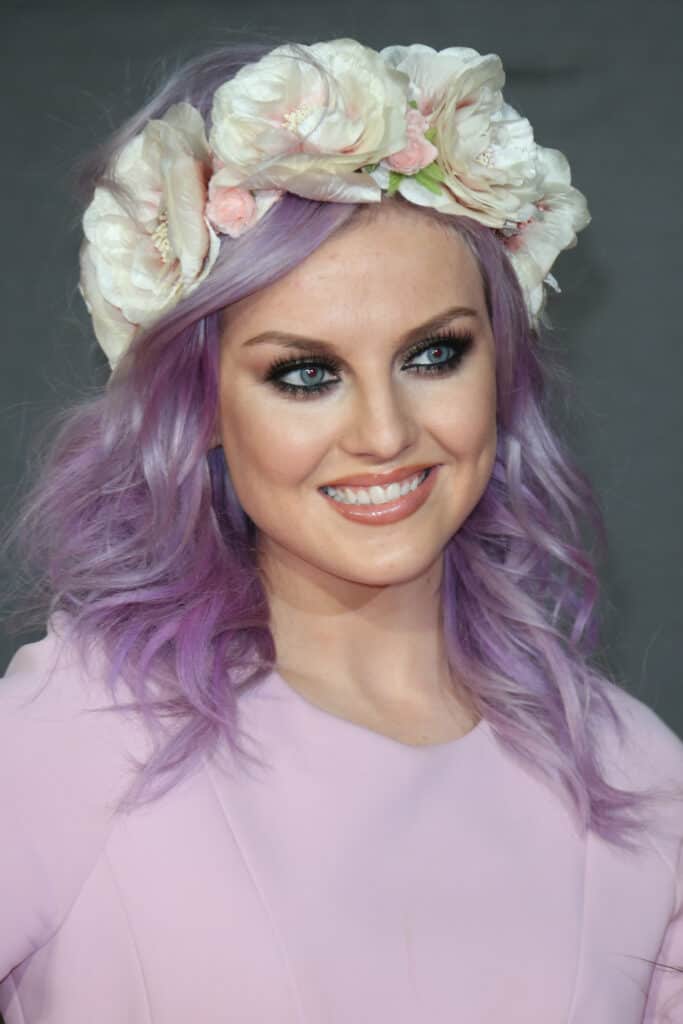 Perrie Edwards' hair is as beautiful as her face, voice, and skin. Here's all we know about Perrie's hair and her rise to stardom.
Is Perrie Edwards' hair naturally curly?
Perrie Edwards likes looking glammed up and red-carpet ready. The singer has an amazing group of makeup artists who elevate her look at any given opportunity, and honestly, they have been doing a good job. But in 2020, Perrie Edwards decided to shock fans by showing off her natural looks and hair.
In her Snapchat video, which she posted in 2020, she wore a t-shirt, a black face mask, and with her hair tied up in a high bun. The video, which was supposed to be PR for Little Mix's 2020 album, turned out to be cute because of her hair.
Fans know Perrie Edwards and her signature straight blonde hair. However, the Snapchat video showed her in a high bun with curls. It turns out that she's a natural curl with ringlets at the tip of her hair.
What nationality is Perrie Edwards?
Perrie Louise Edwards was born on July 10, 1993, in England. Edwards was brought up in the Whiteleas neighborhood of South Shields, Tyne, and Wear. Her ancestry may be traced back to the United Kingdom, Scotland, Ireland, and Sweden.
Before relocating to South Shields, Edwards was a student at the Radipole Primary School in Weymouth, located in the county of Dorset.
She started her education at St. Peter and Paul RC Primary School in South Shields, continued it at Mortimer Community College, and then moved on to Newcastle College, where she earned a BTEC in Performing Arts.
Edwards made her home in Hamilton, New Zealand, during her adolescent years. She was there for a total of two years.
In conclusion, Perrie Edwards is of English descent.
How did Perrie Edwards become popular?
Perrie Louise Edwards, who goes by the name "Perrie Edwards," is a singer and member of the British girl group "Little Mix." The group was put together during season 8 of The X Factor, the first group to win in the history of the show.
After she won, she became a big star because the group put out their first album, "DNA." She has since become one of the most well-known pop singers not just in the UK but all over the world.
The blonde superstar has not only become well-known, but she has also won the hearts of millions of fans all over the world. As for how she lives her life, she is a simple, lazy girl who loves to wear clothes from the 1990s.
Perrie sang Alanis Morisette's "You Oughta Know." After she did not pass the first Bootcamp challenge, she was put in a four-person group with Jesy Nelson called "Faux Pas."
Leigh-Anne Pinnock and Jade Thirlwall were in a different group called "Orion" at the same time. Both groups did not move forward. Later, the judges decided to bring back the four to make a four-person group.
They called it "Rhythmix," and the group moved on to the judges' house. They started attending live shows, and Tulisa Contoslavlos helped them.
On October 28, 2011, the name "Little Mix" was chosen for the group. Little Mix was named the winner of the show on December 11, 2011, the first group to do so.
Perrie Edwards' net worth
Perrie Edwards' net worth in 2021 was £9 million. The singer owns a fashion brand called Disora. Upon debuting the brand, she sold out all the available joggers, which cost £395 per pair.
Perrie Edwards also makes money from going on tour with her band and various endorsements with brands such as Superga. 
The net worth of Little Mix's members
Little Mix was collectively worth £12 million in 2021. The band made £1 million in 2019 from album releases and selling merch.
Additionally, each member of the girl band, consisting of four people, ran individual businesses. The singers also have tons of endorsement deals, ranging from baby products to hair care goods.