Perrie Edwards has been giving us hits for years with her crew, Little Mix. So, out of sheer curiosity, people wonder if she's in a relationship. Most of her songs revolve around getting over exes and it's not surprising that fans would want to know if she is single.
Perrie Edwards has been in a relationship since late 2016 with Alex Oxlade-Chamberlain. There are no reports of engagement or marriage plans.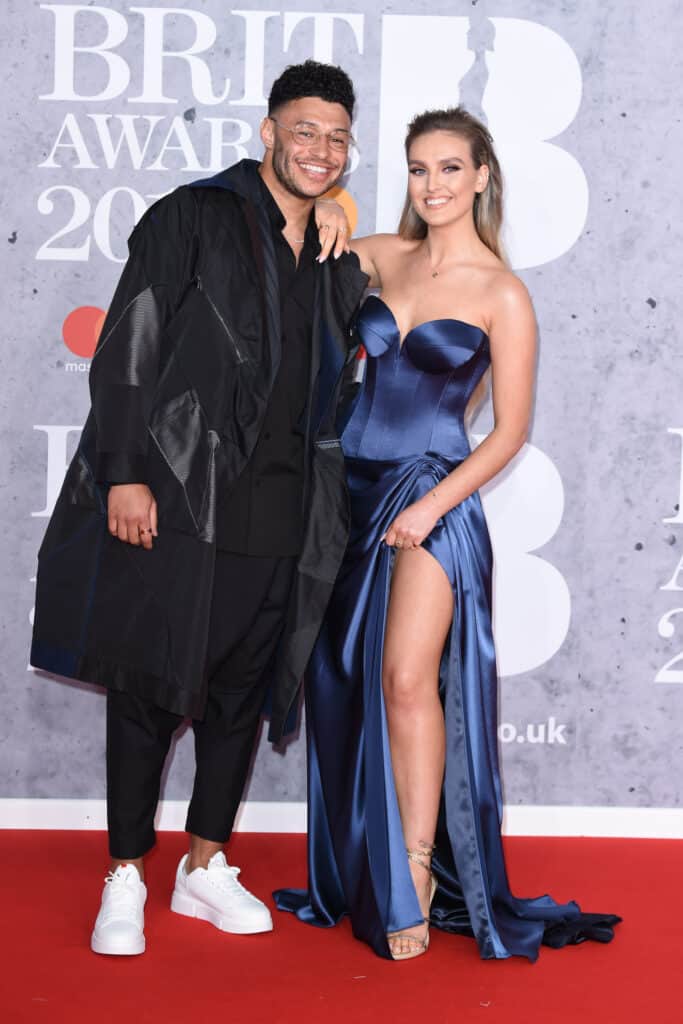 Perrie Edwards has had a beautiful relationship with her beau and here's all we know about the relationship.
Who is Perrie Edwards?
Perrie Louise Edwards, born on July 10, 1993 to Deborah Duffy and Alexander Edwards, grew up in the United Kingdom. She graduated from Newcastle College with a degree in performing arts.
Perrie got her start through the reality TV competition show The X Factor first as a solo act. After eliminations, she was grouped with three other contestants to form the group, Little Mix.
The group would skyrocket to fame with chart-topping hits, some of which Perrie actually co-wrote: "Shout Out to My Ex" and "Little Wings." These singles topped the UK charts.
Aside from the music, she's had a number of advertisements and endorsement deals over the years. She has also started her own lifestyle/clothing brand, "Disora."
How did Perrie Edwards become popular?
Perrie Edwards auditioned for the 8th edition of The X Factor show. She made it through the first round but somehow didn't survive through the bootcamp stage. The artist was evicted but instead of sending her home, the judges teamed her up with three other female contestants of the show – Leigh-Anne Pinnock, Jesy Nelson, and Jade Thirlwall.
The judges named the group, "Rhythmix," but they also didn't make it past the bootcamp stage. This group had to leave the show until the judges decided to call them back.
It turned out that they came back stronger and better, and received mentorship from Tulisa Contostavlos.
The group was then renamed "Little Mix" and they became the first band to win The X Factor show in Britain. Little Mix would go on to become one of the most popular girl bands in history as they had sold out over 2 million concert tickets by 2021.
This band gave Perrie Edwards relevance in pop culture and she garnered millions of social media followers.
Who is Perrie Edwards dating?
After the show that brought her to the limelight, she dated Zayn Malik who was also a contestant on the show. Their relationship also made her popular as they got engaged but eventually called it off in 2015.
When the relationship with Zayn ended in 2015, Pierre Edwards laid low for a period. It was around that time Little Mix released the track "Hair."
We can't say that the breakup was the reason for the song but it was a weird coincidence.
Then around 2016, Perrie Edwards started dating Alex Oxlade-Chamberlain. No breakups have been reported, in fact, the couple is often seen going places together, looking really happy being with each other.
In 2018, social media posts from Perrie and Alex had fans wondering if the couple has moved in together. Neither confirmed the rumors, but in any case, fans were happy for the two.
Is Perrie Edwards married?
Perrie Edwards and Zayn Malik got engaged around 2013 but the couple didn't get married. Instead, they called off the engagement and also the relationship. It may have been a sad period for her but she was able to move on and into a new relationship not long after.
Perrie and Alex have been together for a while, but no news of a wedding has ever come out. Fans have been speculating about a secret wedding since 2018 when they moved in together.
Does Perrie Edwards have kids?
Perrie Edwards and her boyfriend welcomed her first child, Axel Chamberlain.
The singer's baby arrived earlier than expected and she excitedly announced that the baby came a day after she and her boyfriend finished setting up the nursery.
Axel, who was due in September 2021, came a month early. It's almost as if he couldn't wait to see what his family had in store for him.
Who is Perrie Edwards' boyfriend?
Perrie Edwards' boyfriend, Alex Oxlade-Chamberlain, is an English footballer. He was born on August 15, 1993 in Portsmouth, United Kingdom.
In 2011, he became the UEFA youngest goal scorer after scoring two goals in his first three matches for Arsenal. Then he went on to play for Liverpool in 2017 and signed a five-year contract with the team.
In 2020, he had an estimated net worth of around $14 million. His weekly wage was over $120,000. He also had many endorsements and worked with brands like Nike.