Rafael Nadal is a Spanish professional tennis player, who is ranked number 2 in the world by the Association of Tennis Professionals. He has been number one in the world consecutively for 209 weeks previously and has won 20 Grand Slam men's singles titles, 13 French Open titles, and has the longest single-surface win streak.
Rafael Nadal's daily routine consists of heavy training, lots of tennis practice, sharing his skills and knowledge about the sport with others with his charity, "Fundacion Rafa Nadal", spending time with friends and family, eating healthy meals, as well as watching TV instead of going to bed.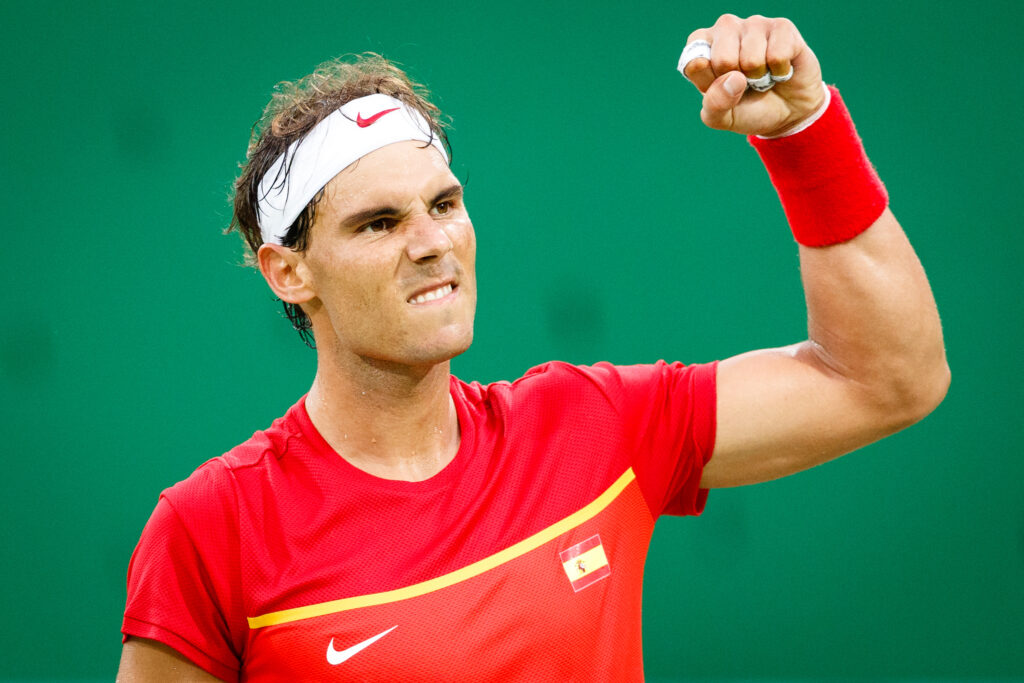 Rafael Nadal dedicates a lot of time to training and perfecting his skillset in tennis, and his motto is "I have no sense of humor about losing". And rightfully so- the professional tennis player is one of the best in the world, so it makes sense that he spends so much time on the sport.
Rafael Nadal As a World Champion in Tennis
Rafael Nadal was born in Mallorca, Spain in 1986 and he got started in tennis when he was only three years old. His uncle, Toni Nadal, was a former professional tennis player and he started working with him very early on.
When Rafael was eight years old, he won the under-12 regional tennis championship which showed his uncle that he could truly make it in the tennis world. His uncle amped up his training and encouraged the young boy to play with his left-hand, which would hopefully give him an edge on the court.
At twelve years old, Rafael won the Spanish and European titles in his entire age group, and by 15 years old, he was considered a professional.
When he turned 16, he took on bigger players, but regardless made it to the semifinals of the Boys' Singles tournament at Wimbledon and at 17, he became the youngest male to reach the third round at Wimbledon. By 19 years old, Nadal was ranked number three in the world, winning 11 singles titles and the French Open.
The following year, Nadal had endured some foot and shoulder injuries that had put him at a bit of a disadvantage, but still won the French Open once again, and added four more titles.
In 2008, Rafael Nadal won the French Open and won Wimbledon against his rival, Roger Federer, along with taking home a gold medal at the Beijing Olympics.
He was deemed number one in the world in 2008 and won the Australian Open in 2009, as well as the French Open and Wimbledon again in 2010.
He announced his withdrawal from the 2012 Summer Olympics due to knee problems, which was of course a time for celebration for other tennis stars that knew Nadal was hard to defeat.
Rafael was back in action in 2013, as he won his eighth French Open and continued to thrive on the court.
2016 started a setback in his career, with mixed-results from his matches and more injuries. He was easier to defeat, but still held numerous titles and won countless tournaments. In 2017, Rafael was defeated by rival Roger Federer but soon rebounded by winning the French Open for the 10th time, setting a record.
His tennis career continues to thrive, with his latest win at the 2020 French Open after defeating Djokovic. He was defeated at the 2021 Australian Open, ending his streak for the record 21 Grand Slam men's singles championship, but he does not seem to be finishing any time soon.
The Tennis Pro's Daily Routine
It is no secret that tennis professionals from all over the world dedicate a large chunk of their day to training and working on their overall wellness. Rafael Nadal, a world champion, knows that his diet, training, and wellness is fundamental to success on the court.
Rafael Nadal maintains a healthy diet, consuming a lot of calories and foods that are rich in nutrients. He has stated that his favorite type of food is seafood, and likes to eat it almost every day, along with some chocolate and olives.
He eats three meals a day, along with recovery snacks and filtered seawater, which supposedly helps the body recover essential nutrients.
Nadal starts training early, usually around 6 am. It consists of a series of workouts on a vibrating platform that is meant to reduce pain and soreness, as well as resistance band workouts and some free weights.
He tries to target all muscle groups, especially his core and lower back. Rafael makes sure to always stretch after his long workouts with the help of his trainer and uncle, Toni.
Rafael wraps up his workout around 1:30 pm before heading out to work on his charity, "Fundacion Rafa Nadal" which is dedicated to giving children with disabilities empowerment through sports.
After working at his charity, he goes on to do his second workout of the day, typically consisting of aerobics, at around 4:30 pm.
By the time he's done with his second workout and discussing tennis with his uncle, it's around 7 pm when he winds down for the day and spends time with his friends and family.
Rafael is a night owl and hates going to bed, so he usually spends time at night watching TV, hanging out with friends, or working.