Rafael Nadal is one of the greatest players that tennis has seen. He is able to really give his opponents a run for their money with his quick movements.
Rafael Nadal's fastest serve ever was 135 mph or 217 kph. While fast, it is not close to the world's fastest serves. Nadal isn't known for having fast serves though, he is known for his technique. Speed in a serve isn't enough to take a tennis player to the top.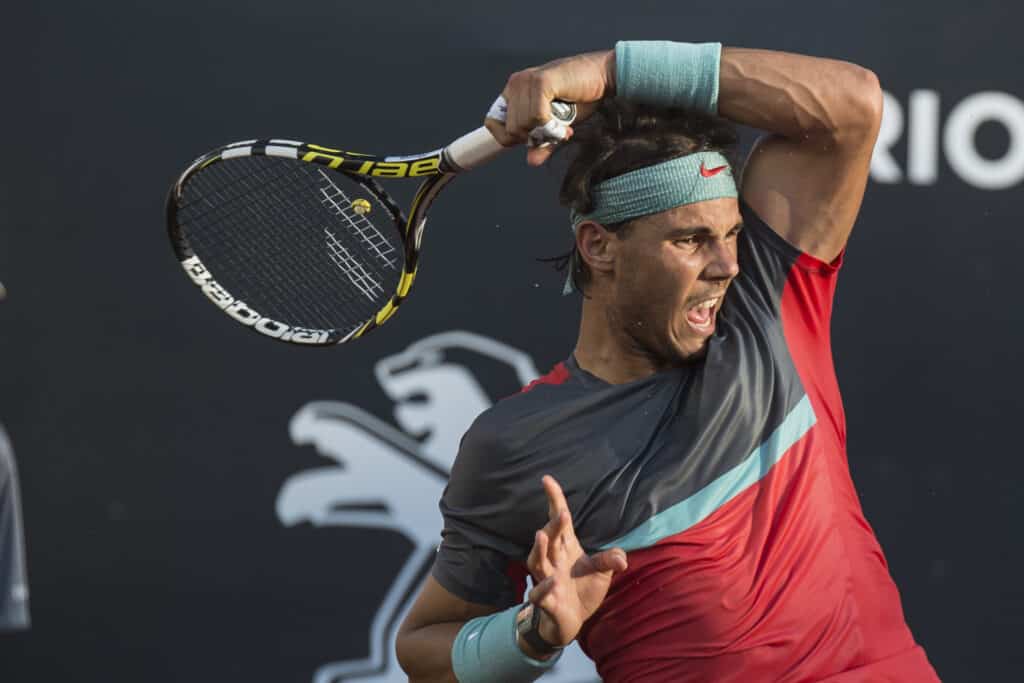 Scroll down to read more below about the fastest recorded serves in tennis and what it is about Rafael Nadal's playing technique that makes him so unstoppable.
Fastest Recorded Tennis Serves
While a 217 kilometer an hour serve is nothing to balk at, there have been some serves that were a lot faster. Rafael Nadal's serve doesn't even make it into the top twenty fastest serves in the league.
The fastest recorded serve in the world of tennis was made by Australian tennis player, Sam Groth. This serve was recorded in 2012 at the Busan Open and it had almost 50 kilometers an hour on Nadal's serve.
Groth's serve clocked in at an astounding 263 kilometers an hour or 163.4 miles per hour. However, the speed of Groth's serve wasn't enough to take him all the way in the tournament that was won by Japanese tennis player Tatsumo Ito.
The second-fastest serve to ever be recorded was hit by French player Albano Olivetti at the 2012 Internazionali Trofeo Lame Perrel–Faip in Bergamo, Italy. While the serve was impressive, it was not enough for Olivetti to even be seeded in the tournament.
At the 2016 Davis Cup, the American player John Isner recorded a serve that went 253 kilometers an hour or 157.2 miles per hour. While the United States did quite well in the tournament and John Isner won three of the four games he played, Croatia still beat the United States in the quarterfinals of the tournament.
As we mentioned above, having a fast serve really has nothing to do with how good a tennis player someone is. While a fast serve can throw off an opponent, it's more the technique and skill of the player that wins out eventually.
Rafael Nadal's Technique
Something amazing is happening in tennis right now, three of the greatest players to ever grace the sport are all playing. Those three greatest tennis players of all time are Roger Federer, Novak Djokovic, and Rafael Nadal.
The thing that makes these three players the best the world has seen is not their ability to hit a fastball but their well-rounded playing styles. Rafael Nadal's techniques are what has led to him having huge success on the courts.
There is one specific technique he uses that many experts agree has led to his massive success as a tennis player. That technique is his forehand topspin.
You can get a full breakdown of Rafael Nadal's forehand technique from Online Tennis Instructor by watching the below YouTube video.
This technique allows him to create more bounce and speed in the ball's movement on courts whose surface tends to slow down the ball. Nadal has stated that it's the combination of power, lag, and snap that give his hits that special spin.
In fact, he has worked for years to develop his unique playing style that revolves around spin in his hits. Nadal has broken it down to a science.
The way that he hits using his forehand creates power in his hits. The second component of lag is best described in this Sportskeeda article.
It says "Rafael Nadal arches back his arm in such a way that a lag is created between the racquet head and his shoulder region. With the head pointing downwards and arm stretched back, there is plenty of room and time for generating acceleration – thus helping the Spaniard impart maximum velocity on the ball."
Finally, the way he snaps his wrist allows him to create that beautiful topspin that can cause big problems for his opponents.
Interestingly, some criticize the way he performs his forehand hits as poor technique. The way he performs his forehand is bizarre but it's not sloppiness, he hits the ball like a champ. After all, he is one of the best.
Even though Rafael Nadal doesn't have the fastest serve in the WTA, he is still one of the best players in the world. Heck, he's one of the best tennis players the world has ever seen.