Rihanna has beautiful basically flawless skin. Not only that, but she has a certain unparalleled beauty that has many people wondering what race the Fenty Beauty founder is.
Rihanna is multiracial; her mother is black and from South America, while her father is half black and half white. Due to her lighter complexion, Rihanna was bullied by other kids growing up in Barbados. Rihanna has become a champion for all skin colours through Fenty Beauty's offering of a variety of foundations.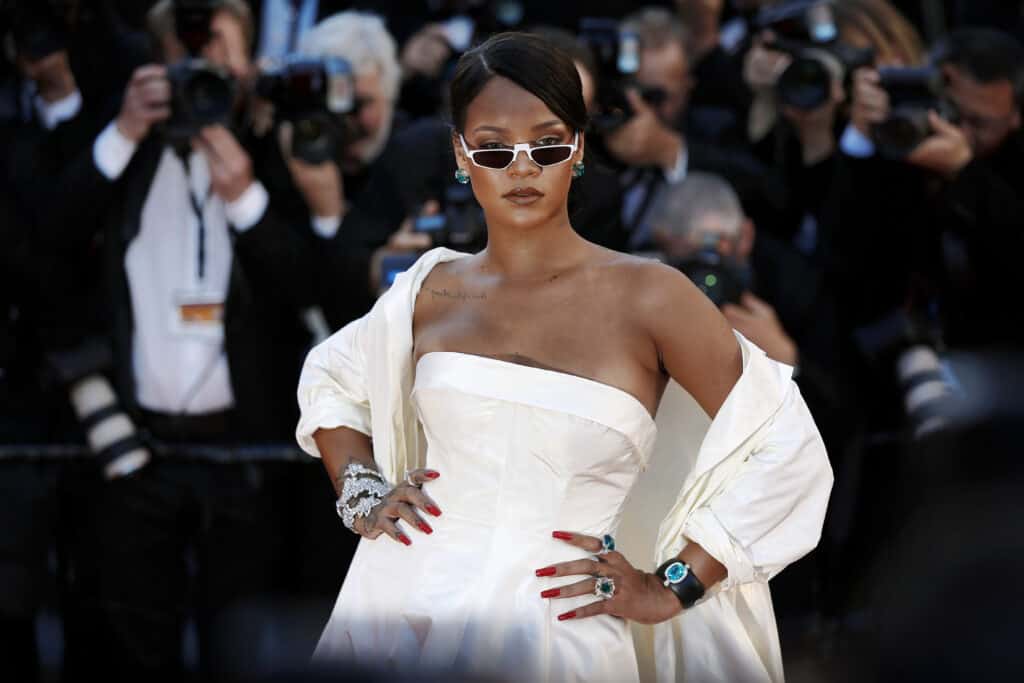 You can read more about Rihanna's ethnicity, her troubles growing up, and her work to create equality in the beauty industry.
Rihanna's and Many Caribbean People's Ethnicity
As mentioned above, Rihanna's mother is from South America and is black. Monica Braithwaite is originally from Guyana and immigrated to Barbados at some point, although when is not known.
Guyana is a country in the north part of South America. It borders Venezuela, Brazil, and Suriname.
The largest ethnic group in Guyana is people of East Indian descent accounting for 39.8% of the population followed by people of African descent accounting for 29.3% of the population.
Rihanna's mother, Monica, would fall within the African descent ethnic group, also known as Afro-Guyanese.
Rihanna's father, Ronald Fenty, is half black and half white and from Barbados. Barbados is also where Rihanna is from and people of mixed-race descent make up only 3.1% of the country's population.
It is the people of African descent that make up the majority of the country's population at 92.4%.
The huge number of people of African descent in the country is due to the slave trade back when the country was an English colony.
Being Bullied for the Color of Her Skin
Since Rihanna has a skin tone that is much lighter than most of the population in Barbados, Rihanna was bullied in school.
In a 2007 interview with Margeaux Watson at Entertainment Weekly, Rihanna recalled what happened in school. She said "People hated me because I'm fair in complexion. I had to develop a thick skin because they would call me white."
Despite the fact that she was bullied for the color of her skin, Rihanna has seen it as a blessing in disguise. In her 2013 cover story with Glamour magazine, Rihanna tells the fashion magazine why:
"I got teased my entire school life. What they were picking on I don't even understand. It was my skin color [which was lighter than her classmates']. Then when I got older, it was about my breasts. But I'm not victimized—I'm grateful. I think those experiences were strategically put together by God for the preparation of being in the music industry. It's so easy for me to deal with the bullsh*t now."
You can watch the YouTube video below that talks about Rihanna's huge success despite her struggle growing up.
Fenty Beauty: A Champion for All Skin Tones
Rihanna has become a champion for women of all races and sizes through her ventures with Fenty Beauty and her fashion brand Fenty. Both brands were created using her last name, Fenty (not to be confused with Fendi).
She worked to launch a foundation line within Fenty Beauty that covered over 40 different skin tones. Up to this point, it had been very difficult for darker-skinned women to find foundations that actually matched their skin tone.
In a 2018 Vogue article by Chioma NNadi, she highlights that "She [Rihanna] had grown up watching her mother apply makeup, so thinking about foundations for darker skin tones came naturally.
'As a black woman, I could not live with myself if I didn't do that,' she says. 'But what I didn't anticipate was the way people would get emotional about finding their complexion on the shelf, that this would be a groundbreaking moment.'
Rihanna's mixed race background has clearly helped her to work towards a more diverse and inclusive fashion and beauty world.