Steve Harvey is an award-winning American television and radio presenter, former standup comedian, actor, author, and businessman who has been impacting people since he got his big break in 1990. He's also been making big money since then, but what is Steve Harvey's net worth?
Steve Harvey has a net worth of USD $200 million, making him one of the richest comedians in the world. His impressive net worth is made up of his salaries, the leasing of his properties, his successful business ventures, and his profitable investments.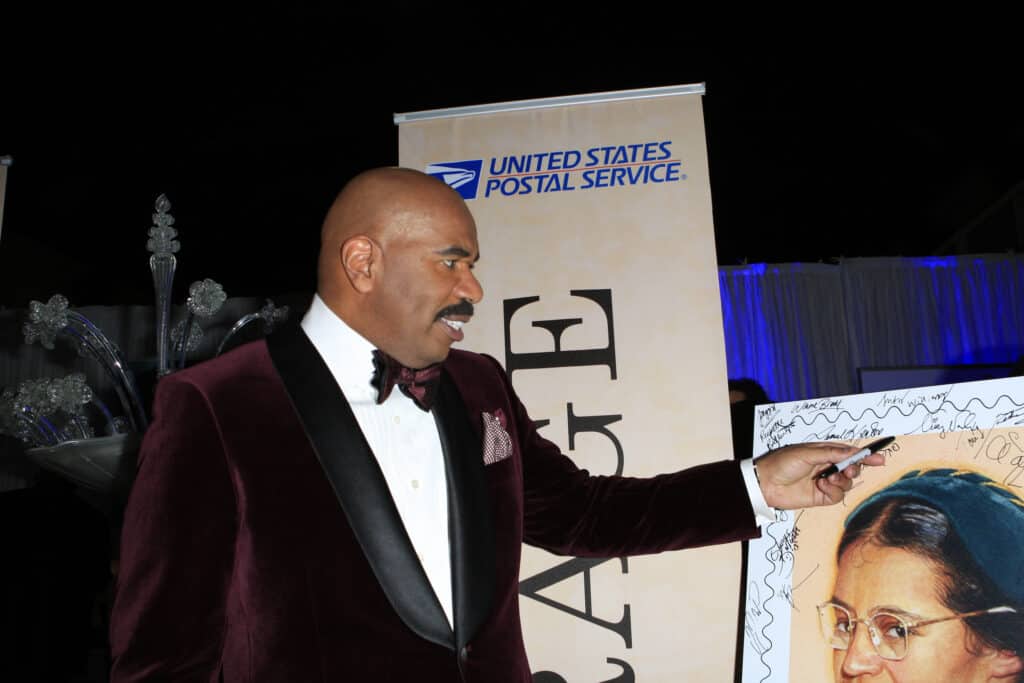 Everyone knows that Steve Harvey is rich — but just how rich is the funnyman, and how does he make and spend his money? For these answers and more, keep reading.
How Does Steve Harvey Make His Money?
Steve's story is a true rag to riches tale that serves as an inspiration to millions of people around the world. He went from being a homeless, unemployed man who lived in his car to one of the richest comedians of all time alongside names like Kevin Hart, Ray Romano, and Seth MacFarlane.
With a reported net worth of USD $200 million, it's only natural that Steve is faced with a lot of questions. Mainly, just how does he make so much money and how profitable are his endeavors?
The bulk of Steve's impressive net worth comes from his annual salary of over USD $45 million. Of this, approximately USD $10 million comes from hosting 'Family Feud', USD $20 million comes from his radio hosting gigs, and the rest is made up of his ad-hoc jobs.
The star is also an accomplished author. He's penned four books, including 'Act Like a Lady, Think Like a Man' which was a bestseller.
Steve is also quite a businessman. In 2017, he founded 'Steve Harvey Global' which is an entertainment company that includes brands such as a production company called 'East 112' and an events company called 'Harvey Events' which is managed by his daughter.
He also invested in the HDNet takeover, launched the African version of 'Family Feud', co-created the show 'Little Big Shots' with Ellen DeGeneres, and developed a dating app called 'Delightful'.
How Does Steve Harvey Spend His Money?
Steve may be great at making money, but he's even better at spending it. Much like he doesn't earn all of his money from one source, he doesn't spend it all in one place either.
Steve has a penchant for purchasing properties. He has owned more than five mansions, including a USD $15 million Atlanta home he bought from Tyler Perry.
The star has a valuable collection of more than 500 designer suits. Steve has an incredible shoe collection that contains shoes made with costly hides of animals such as lizards, alligators, and ostriches.
He also owns more than half a dozen vehicles, including a Rolls Royce Drop Head Coupe, a Rolls Royce Ghost, a Bentley Mulsanne, and a Ferrari California.
Having as much money as Steve does must come with a fair amount of stress and he relieves this stress by smoking cigars. He has five humidors in his home office, five in his Chicago office, and one in his 'man-cave'.
Steve's collection of cigars includes those that cost USD $4,500 per cigar or USD $150,000 per box. When you consider that a 10-cigar box of Steve's favorite cigar, Cohiba Siglo VI, costs USD $395 a pop, it's easy to imagine how much he spends on relieving his stress.
And finally, Steve likes to splurge on luxury vacations for himself and his wife. In 2019 alone it's reported that he spent a cool USD $3 million on holidays.
Does Steve Harvey Do Good With His Money?
There's no denying that Steve makes more many in a year than what most people can imagine earning in their lifetime. There's also no denying that he lives an ultra-luxurious lifestyle.
But Steve also uses his money for good. In addition to publicly supporting NAACP and the United Negro College Fund, Steve established 'The Steve and Majorie Harvey Foundation'.
The foundation "provides youth outreach services that help cultivate the next generation of responsible leaders by providing educational enrichment, mentoring, life transformation skills, and global service initiatives."