Cardi B is an award-winning rapper, songwriter, actress, internet personality, Guinness World Record holder, mother, and all-around influencer hailing from the Bronx. Over the years her makeup looks have transformed from borderline-clownlike to those of sophisticated glamour.
It takes a lot of work to look like Cardi B. The supplies needed to get that typical Cardi B glam include generous helpings of foundation, concealer, contouring products, bronzer, blush, setting powder, eye shadow, eyeliner, mascara, false lashes, lip liner, and lipstick.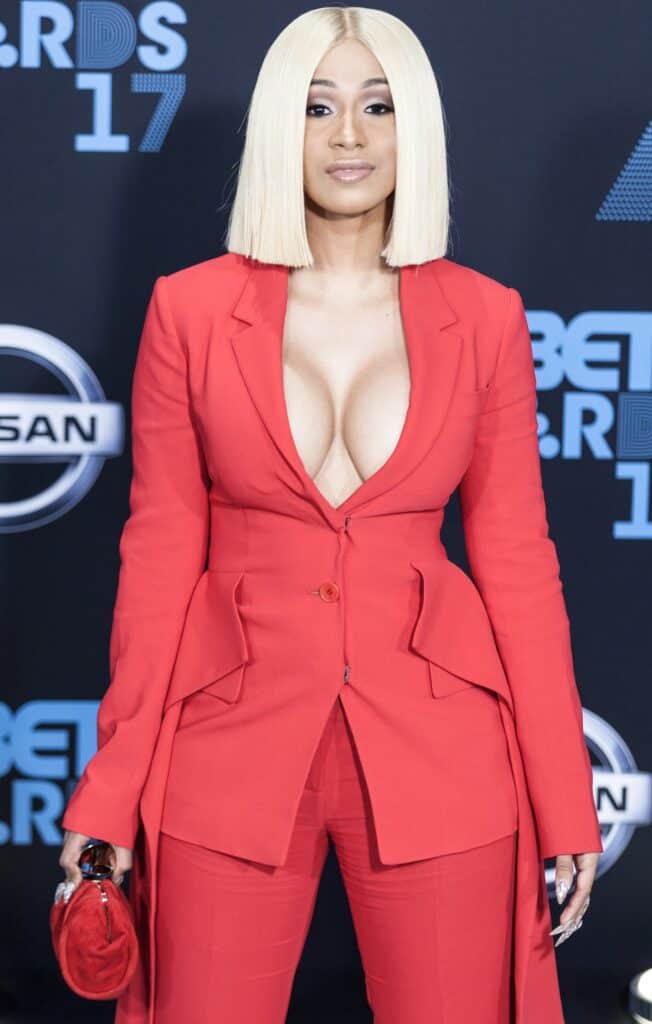 This article will explore the contents of Cardi B's makeup bag that help her achieve her glamorous makeup looks for the red carpet, her award-winning music videos, or just hanging out with her family. As it turns out, Cardi's routine is a lot more intensive than one may have been led to believe.    
Her Face
According to her makeup artist, Erika La Pearl, Cardi uses EX1 Cosmetics Invisiwear Foundation in the shade 8.0 as her ultimate foundation as it is her "perfect match". Other Cardi-approved foundations include Milani Conceal + Perfect 2-In-1 Foundation + Concealer in the shades 06 Sand Beige and 09 Tan, and Pat McGrath Labs' Sublime Perfection Foundation in the shades 16, 17, and 18 Medium.
To hide any pimples or dark circles that easily show on the rapper's lighter skin, either the Delete Fluide Concealer in the shade 4.0, Pat McGrath Labs' Skin Fetish Sublime Perfecting Concealer in shades 15 and 16, or BH Cosmetics Studio Pro Total Coverage Concealer is used.
The Anastasia Beverly Hills Contour Kit in Medium or Tan is used to contour Cardi's face and to sculpt it even more Black Opal True Color Skin Perfecting Stick Foundation in the shade Beautiful Bronze is used. Cardi loves contouring, especially on her nose.
EX1's shade of blusher, Pretty in Peach, is said to be one of Cardi's favorite blush products to keep her cheeks glowing and "poppin". The finishing touch of Cardi B's makeup routine is usually a touch of EX1 Cosmetics Invisiwear Compact Powder to set the look in place for the day.
What is truly great is that Erika La Pearl's Instagram credits all of the products used to create Cardi's looks, every time, so you can always check those out for a product-by-product guide to that day's specific look.
Her Eyes
Surprisingly, Cardi likes to keep her eyes toned down in nature and prefers opting for neutral colors such as those found in the Ofra Contour Eyes Palette and Pat McGrath Labs' Sublime Bronze Ambition Eyeshadow Palette.
On the odd occasion where a little more color is desired, Erika usually reaches for the magenta shade found in Pat McGrath Labs' La Vie en Rose Eyeshadow Palette. Naturally, for red carpet events and certain music video shoots more vibrant colors that will photograph well are selected.
Two pairs of Lilly Lashes' Goddess or Mykonos false lashes are applied and then curled. For mascara, most often Erika uses the Pat McGrath Labs Dark Star Mascara.
A little bit of Rimmel's ScandalEyes Waterproof Gel Eye Liner or Pat McGrath Labs' Perma Precision Liquid Eyeliner are more go-to products to complete Cardi's eye looks.
To frame her eyes and define her brows, Anastasia Beverly Hills Dip Brow Pomade in Dark Brown is used and sealed using the brand's Clear Brow Gel.
Her Lips
Like many celebrities including Kim Kardashian, Ariana Grande, and Demi Lovato, Cardi likes a nude lip. Cardi's favorite lip liners are the Nyx's Slim Lip Pencil in the shade Nutmeg and Pat McGrath Labs' Lip Liner in the shade Buff Pat and she enjoys overlining her lips for a fuller, more pillowy pout.
Her go-to lipsticks include Pat McGrath Labs' LIP FETISH's Sheer Color Balm in the nude shade FLESH 3, 1995, Celestial Divinity Mattrance in the shades Omi, Christy, and Pave Elson, and Luxetrance Lipstick in the shade Exxotica.
For gloss, she sticks to Pat McGrath Labs and opts for Peach Perversion Lust Gloss, Bronze Seductress Lust Gloss, and Flesh Fantasy Lust Gloss.
Her Skin
To make sure her skin doesn't suffer as a result of her makeup, Cardi uses the Makeup Remover Cleansing Towelettes by Neutrogena to remove her makeup and get her face ready for more. Her makeup artist then applies Anastasia Beverly Hills Hydrating Face Oil and Tarte's Poreless Mattifying Primer.
Dr. Lancer's Pro Filter Pore Perfecting Primer, Ole Henriksen's Banana Bright Eye Cream, C-Rush Brightening Gel Creme, and Balancing Force Oil Control Toner also form part of Cardi's pre-makeup routine.