Dolly Parton is one of the most popular country musicians of all time. She is not only known for her hit songs and bright personality but also her sense of style and look.
Dolly Parton has not revealed which brands of makeup she uses but she has said she wears a lot of makeup, more and more over the years. The singer has also revealed she sleeps with her makeup and has partaken in her fair share of Botox too.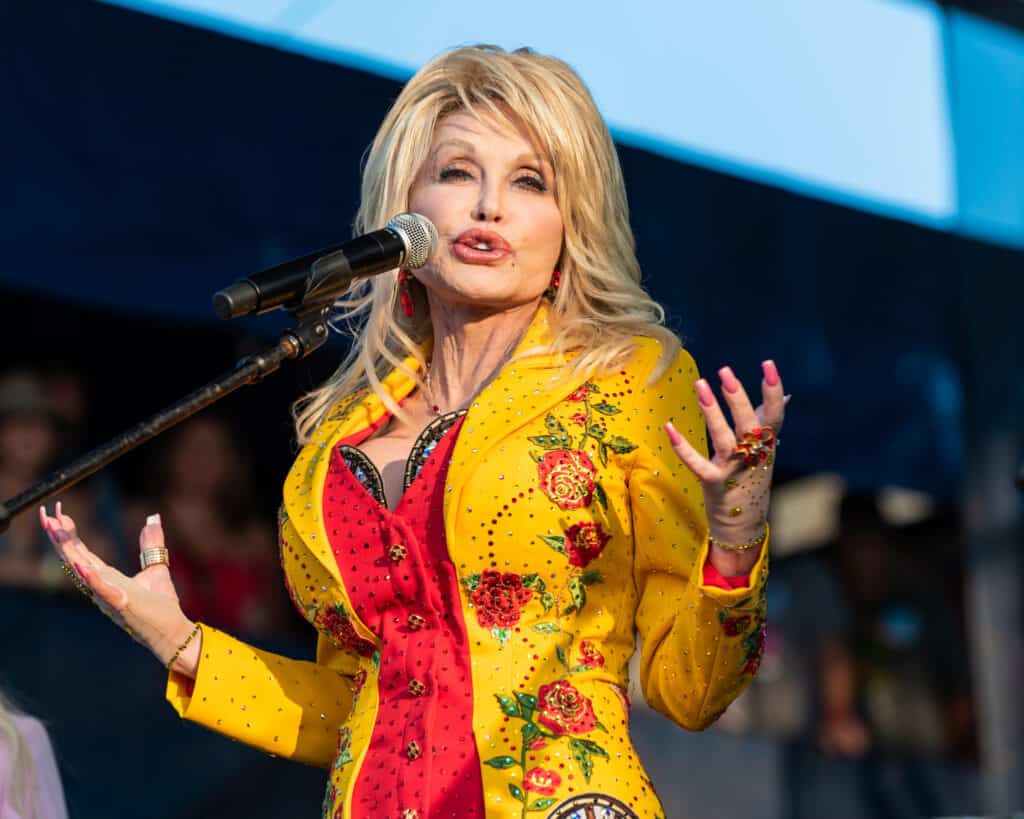 Dolly Parton continues to gain fans with her art and winning personality decades into her career.
Early Life
Dolly Rebecca Parton was born on January 19, 1946, in Pittman Center, Tennessee. She was born to Avie Lee Caroline and Robert Lee Parton Sr.
Dolly was the fourth of twelve children.
Dolly's father worked in the mountains of Tennessee as a sharecropper and then on a tobacco farm. He also worked on construction jobs to make ends meet.
Parton's mother stayed at home and cared for the large family and all the children. She was often ill during Dolly's youth but the singer remembers her mother being cheerful often and teaching her to love music and performing, even at a young age.
Dolly Parton has said that she was "dirt poor" during her early years, with her family living in a one-bedroom home for many years. She still maintains that her family was happy and has many joyful memories from her youth.
As a child, Dolly began performing in church. She would play guitar and sing songs for her congregation.
She began singing on local radio and television programs in Tennessee at a young age too. By ten years old, she was appearing on multiple radio shows and by thirteen she had recorded her first song, "Puppy Love", on the label Goldband Records.
Early Career
Parton went to public school and graduated from Sevier County High School in 1964. After graduation, the young performer moved to Nashville to find her fortune as a singer.
She was initially successful as a songwriter and not a performer and signed with Combine Publishing. She started a working relationship with songwriter Bill Owns and together they penned multiple top 10 hits such as "Fuel to the Flame" and "Put It Off Until Tomorrow".
Dolly recorded and released her songs too but they were never as successful as the ones she wrote for others.
In 1967, one of Parton's recordings hit the charts. The song "Dumb Blonde" was a success and went to number 24 on the country charts. Following that, "Something Fishy" peaked at number 17.
Following those hits, Parton's career began to take off. She would release several hits – including "Joshua", "Coat of Many Colors", and "Touch Your Woman" – over the next few years.
In 1973, Parton released "Jolene", a song considered a country classic by many.
1974 saw her release the song "I Will Always Love You", another classic that would later be covered by Whitney Houston.
Throughout the late 70s and 80s, Parton began to build popularity beyond just country music. She was seen as a country and pop star.
She also began to appear in films and on numerous television shows. Her tours would sell out quickly and her fashion became a hot topic and staple mark of her live shows and appearances.
Fashion and Style
Parton has been long known as someone who embraces an eclectic and often outrageous style. She has said that the secrets to her success are "good lightning, good makeup, and good doctors."
Parton has stated that her look was often inspired by women with "bad reputations" in her youth. She was always intrigued and drawn to women with gaudy makeup and exaggerated outfits.
Parton has always worn a lot of makeup though she has never revealed her favorite brands nor has she signed any merchandising deals with any. She has signed to release her line of fragrances though.
Parton has made no secret of the fact that she has embraced and frequently uses plastic surgery. She says it is important to maintain her look to stay famous and successful.
Parton has also revealed that she frequently uses Botox. She compares herself to a show dog and says that she has to get "clipper and trimmed and in good shape. If I see something sagging, bagging, or dragging, I'll get it nipped, tucked, or sucked."
Parton's look comes from a combination of strong makeup, unique fashion, and frequent plastic surgery but her talent is completely all-natural.