Though her legendary sisters are trailblazers and trendsetters in the world of fashion, Elizabeth Olsen sure holds her own as a style icon. Elizabeth is open about which products she uses, so let's sniff out what perfume she reaches for most often.
Elizabeth Olsen only uses oil-based rollerball perfumes because regular Eau de Parfum gives her a headache. Her favorite perfumes are Diptyque Philosykos Perfume Oil Roll-On and — somewhat unsurprisingly — Nirvana Black and White by Elizabeth and James, from her sisters' brand.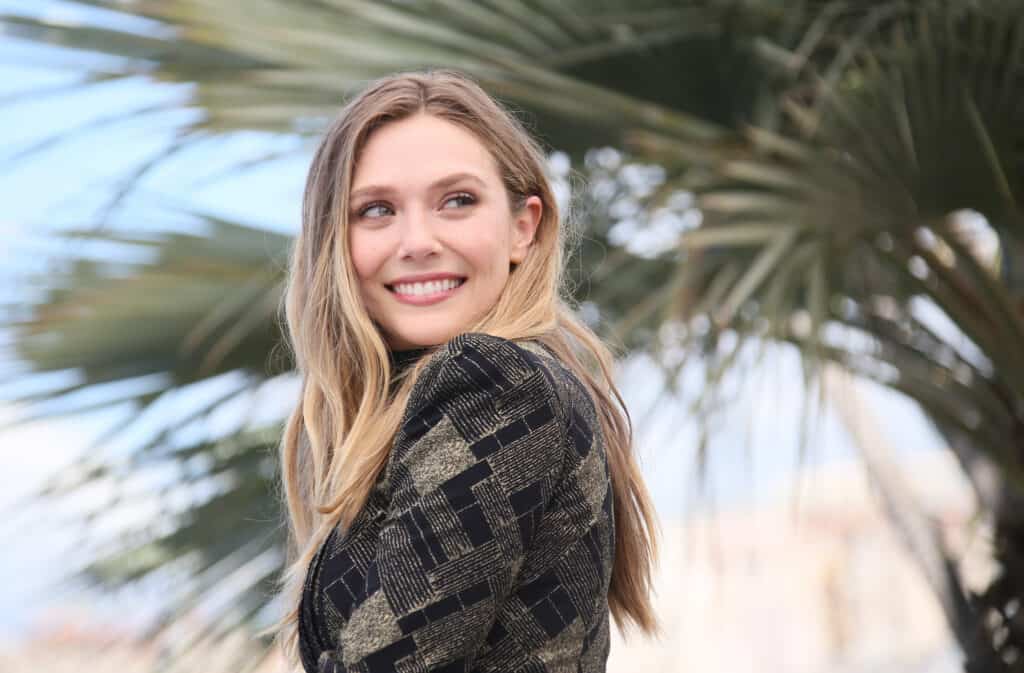 Have you ever wondered what Elizabeth Olsen smells like or what type of perfume she gravitates towards? Or maybe you're interested to find out if her perfume preferences are more like Mary-Kate's than they are Ashley's? Either way, you're in the right place as this article will cover all of this and more.
Who is Elizabeth Olsen?
Elizabeth Olsen is an American actress who rose to fame by bringing Marvel's beloved 'Scarlet Witch' character to life. Thanks to her nabbing the role of Wanda, Elizabeth has appeared in numerous films that make up the Marvel Cinematic Universe franchise and is set to appear in many more.
Marvel movies aside, you may recognize Elizabeth from 'Martha Marcy May Marlene', 'Silent House', 'Liberal Arts', 'Oldboy, or 'Ingrid Goes West'.
But Elizabeth doesn't just grace movie screens with her acting talent. She's also appeared in television shows including 'Drunk History', 'HarmonQuest', and 'Sorry for Your Loss'.
Elizabeth is a talented actress and, as a result, she has won many awards. These awards include Best Leading Actress, Rising Star, the Pauline Kael Breakout Award, Best Breakthrough Performance, and Most Promising Performer.
Of course, like most people of a certain age, you may also know her as the younger sister of Mary-Kate and Ashely Olsen. Her big sisters are so close to her that they even named their lifestyle brand 'Elizabeth and James' after Elizabeth and their brother, James.
Elizabeth Olsen's Go-To Perfume
Elizabeth's favorite perfumes are 'Nirvana Black and White' by Elizabeth and James and Diptyque Philosykos Perfume Oil Roll-On. Speaking of the Diptyque Philosykos perfume, she said "I bought one years ago after smelling it on a friend, and I've stuck with it for six years."
The budding starlet opts for oil-based perfumes over regular spritzing perfumes because she doesn't "wear a lot of fragrance" because they tend to give her a headache. Elizabeth says "I like to use the rollerballs because they're not as potent."
Diptyque Philosykos perfume is classed as a 'woody' perfume and has a fig-like scent and deep bark undernotes. This alcohol-free perfume is made up of fig leaves, milky fig tree sap, fig tree bark, black pepper, coconut, limonene, and cedar.
Nirvana Black is also a 'woody' perfume with sandalwood, violet, and vanilla while Nirvana White is a 'floral' perfume that has notes of musk, muguet, peony, and citrus. While it's claimed that she likes both, based on her other favorite perfume, one can assume she prefers Black to White.
What Perfumes Do the Other Olsen Sisters Wear?
Mary-Kate and Ashley Olsen haven't been on screen together since 2004 when they starred in 'New York Minute', but they're still household names.
While Mary-Kate still appears in the odd film or TV show, the famous twins are pioneers in the fashion industry.
The twins spent years developing the Nirvana fragrances. When it comes to their own brand of perfume, Mary-Kate prefers Nirvana Black while Ashley — much like her little sister Elizabeth — is a fan of both scents.
Nirvana collection aside, Mary-Kate is known to love an assortment of expensive perfumes that range in scent from crisp and citrusy to sweet and fruity. Mary-Kate's favorite perfumes include Tom Ford Black Orchid, Christian Dior Bois D'Argent, Prada Tendre Eau De Parfum, and Grapefruit Splash by Marc Jacobs.
Ashley, on the other hand, tends to stick to fresh florals and exotic, heady, musky, woody scents with her favorite notes being pure rose and sandalwood. Ashley's favorite perfumes are Calvin Klein Euphoria and L'Artisan Parfumeur Mûre et Musc Perfume.
While Ashley loves perfume, she doesn't rely on it alone to ensure that she always smells nice. She pays special attention to the fragrance in her deodorant, oils, face lotion, shampoo, and conditioner.
She told WWD "People would always say I smell good, but it was really a combination of things rather than a specific fragrance."