Eva Mendes is a former model, actress, and businesswoman who retired in 2014 to focus on being a mother and wife. Eva Mendes is a woman of many talents, this much is a well-known fact, but she's also a woman of many perfumes!
Eva Mendes has been wearing Estée Lauder 'Knowing' since she was 12 years old and thinks it smells like what a woman should smell like. Her spritzing style has evolved over the years and today her favorite fragrances include 'Chanel No.5', 'Romance by Ralph Lauren', and Thierry Mugler's 'Angel for Women'.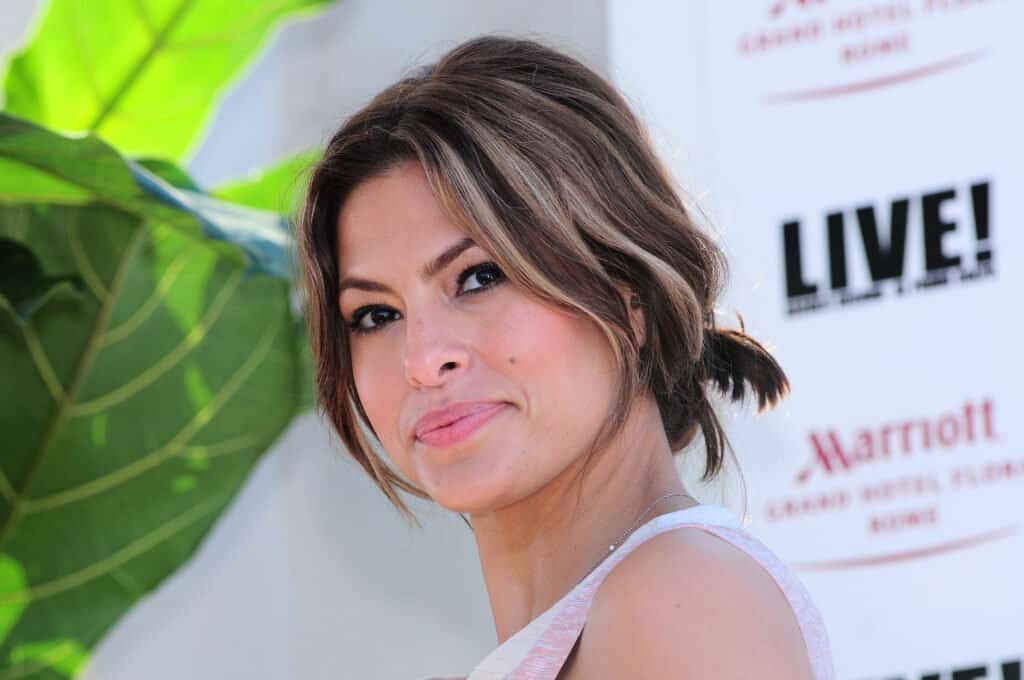 As it turns out, Eva Mendes is a bit of a fragrance fanatic and has been for quite some time. Let's sniff out her favorite fragrances, her perfume preferences, what perfume means to the star, and whether she has a fragrance of her own.
Eva Mendes' Signature Scent
Eva has loved fragrance for most of her life. When she was just 12 years old, she discovered a sample of Estée Lauder's 'Knowing' while out at her local mall, Glendale Galleria.
She told Saudi Beauty Blog, "I grew up right by Glendale Galleria in Los Angeles and I love the women who spritzed perfume at the makeup counters. When I was in seventh grade, I went to an Estée Lauder counter and the woman asked if I would like a sample — she gave me 'Knowing'."
Eva continues, "I've loved it and have been wearing it ever since because, in my mind, it smells exactly like a woman should smell. My mother still gives it to me every year for Christmas."
'Knowing' is classified as a Chypre Floral fragrance for women, which means it has floral notes but is more subtle than a typical floral fragrance. This perfume has woody base notes of oakmoss, civet, sandalwood, patchouli, vetiver, amber, and musk.
The perfume has top notes of rose, plum, coriander, mimosa, tuberose, melon, and Aldehydes. Its middle notes include cardamom, bay leaf, orris root, orange blossom, and Lily-of-the-Valley.
Eva Mendes' Other Favorite Fragrances
While 'Knowing' has a special place in Eva's life, it's by no means the only perfume she wears. According to Celebrity Fragrance Guide, the A-lister bounces between 'Knowing' and three other perfumes often.
These other favorites include 'Chanel No.5', 'Romance by Ralph Lauren', and Thierry Mugler's 'Angel for Women'. Each of these fragrances has contrasting olfactory profiles, but each is distinctly feminine.
When asked whether she prefers Thierry Mugler Angel for Women in Eau De Parfum or Eau De Toilette format, Eva responded, "Both, so I can wear Angel all day long. The lighter concentration in the mornings, the more intense in the evenings. I love to spray it on my wrists, but also the back of my neck and in my hair, I find it very feminine."
Eva Mendes' Perfume Preferences
By now it should be evident that Eva has a passion for perfumes. She has a large perfume collection and describes herself as "very occasion-based when it comes to fragrances".
The star told Glamour Magazine, "With so many ever-changing facets that make up who we are, why be defined by just one perfume? I love to adapt according to the moment I want to experience. I love to spray my favorite fragrance on my wrists and on the back of my neck."
Eva generally wears one fragrance at a time, but not always. She explains, "I usually wear one fragrance a day, but it depends on my schedule. If I have a meeting and a party the same day, I wear a more delicate, luminous fragrance in the morning and a more sensual and alluring one at night."
When speaking to Red Book Mag, Eva revealed that sometimes her scent is cultural, "My family is Cuban, and we have a tradition where we douse ourselves and our babies in violetas, a type of cologne that smells like violets. I have a bottle in every room in the house."
Eva told Avon, "Fragrances have the power to reflect how you're feeling and not to dictate it. It is a form of expression. I wear perfume to express and enhance my mood. I think it's a way to show confidence, elegance, sensuality and strength."
Speaking of Avon…
Does Eva Mendes Have Her Own Perfume?
Eva loves perfume so much that she created her own lines of perfumes with the multinational multi-level marketing company, Avon. In 2021, she had collaborated with the company to create three lines.
According to Eva, Eve DISCOVERY, Eve Alluring, and AVON Eve Duet are lines that contain scents that "reflect each aspect of me."
She goes on to say, "Eve Discovery fragrances are so long-lasting, the scents remain all day long. I want women who wear them to feel powerful, confident in their femininity, independent, and self-assured."