With no sense of smell, Perrie Edwards lives a life that lacks enthusiasm for scent. This could mean that she doesn't even bother with perfumes.
Perrie Edwards wears Christina Aguilera by Christina Aguilera. Since she has a condition known as congenital anosmia, she actually can't smell the perfume. Instead, she had her Little Mix mates pick out a fragrance for her that everyone says smells great.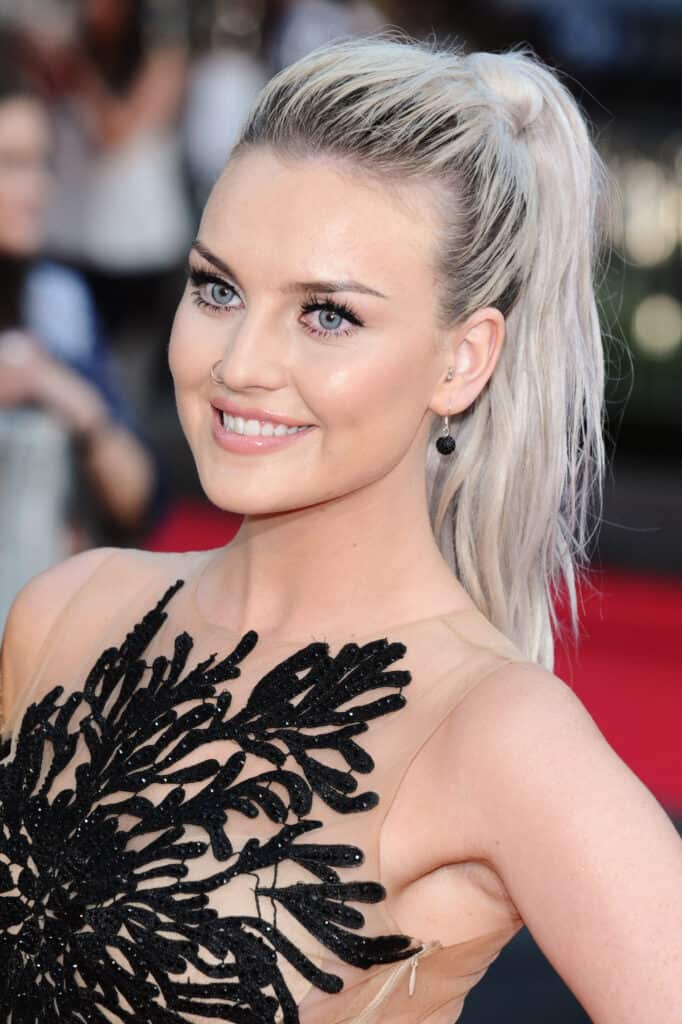 You can learn more below about congenital anosmia, Perrie Edward's lack of smell, and why she wears Christina Aguilera by Christina Aguilera.
What Is Congenital Anosmia?
The inability to smell anything is called anosmia. It can be caused by different diseases in the nasal passages or by a brain injury. In the case of Perrie Edwards, her anosmia is congenital which means that it is genetic and she was born with it.
When you have congenital anosmia it can be either isolated meaning that it was not caused by any other condition, or it can be linked to an additional disease like Kallman's Syndrome. Perrie Edward's anosmia is isolated and she has said that she has never been able to smell.
There isn't a lot known about what causes congenital anosmia and while doctors have been able to link it to genetics, there is no pattern in how it is passed down through generations. The people who end up with it in a family seem to be sporadic.
On top of that, there is no cure for congenital anosmia so if you are born without a sense of smell you'll stay without one for the rest of your life.
There are a few different ways that congenital anosmia is diagnosed. It can be diagnosed through smell tests, brain imaging using an MRI or CT scanner to look for issues in the part of the brain that senses smell, nasal endoscopy, and olfactory nerve testing.
Through these methods, it is easier for doctors to determine if someone is suffering from congenital anosmia.
Perrie Edwards Lack of Smell
Since she has congenital anosmia, Perrie Edwards has never been able to smell ever. She has even said, "I have never smelt anything, but I think I smelt coffee once."
Her lack of smell means that she can't smell the flowers blooming, the delicious scents that a freshly cooked meal gives off, or even the smell of the perfume that she wears. Some may feel sorry for her, however, she doesn't seem to care that she can't smell.
She told BBC Newsbeat (reported by Nicki Swift) "People are always like, 'Oh, isn't that really horrible?' and I'm like, 'No,' because I've never known what it's like to smell. If I'd had it and then it disappeared I'd be like, 'Argh.'"
You can learn more about Perrie Edwards in the below interview with Vevo Lift and video from the Little Mix YouTube channel.
So it is that this rare condition has allowed her to ask for help from her friends when she wants to pick a good perfume. Ever since she became a member of Little Mix, she has asked her group mates for help with smelling great.
It was through their help that she picked out her go-to fragrance.
Edwards Wears Christina Aguilera
After trial and error, Perrie Edwards finally came up with the decision to stick with one perfume. As she told Cosmopolitan, this decision came about because everyone kept telling her that the perfume smelled great on her.
That perfume is Christina Aguilera by Christina Aguilera. It's a perfume that was created by the pop star in 2007 and Perrie Edwards has said that it keeps her smelling nice and fresh even if she can't smell it herself.
The curvy bottle for the fragrance almost looks like it has been modeled after the shape of a woman's body. It is covered by black lace and has a black bow around the bottle cap.
The fragrance is an amber floral perfume for women. It has top notes of mandarin, blueberry, and peach. At this perfume's heart are the notes of lily of the valley, peony, jasmine, and ripe plum accords. Finally, the base of the fragrance consists of amber, vanilla, musk, and sandalwood.
On the website Fragrantica, this perfume holds up with a 3.79 out of 5 rating from over 2,000 users. So Perrie Edwards is definitely using a well-liked fragrance, even if she can't smell it.