As a beauty queen and one of Hollywood's most beloved celebrities, Reese Witherspoon has her beauty routine down to a tee. That includes her perfume.
Reese Witherspoon wears Kai Perfume, Calypso Mimosa, Estee Lauder Intuition, and Elizabeth Arden White Tea fragrance. Reese has also partnered with Avon in the past to create her own perfumes. Today she is the Storyteller-in-Chief with Elizabeth Arden.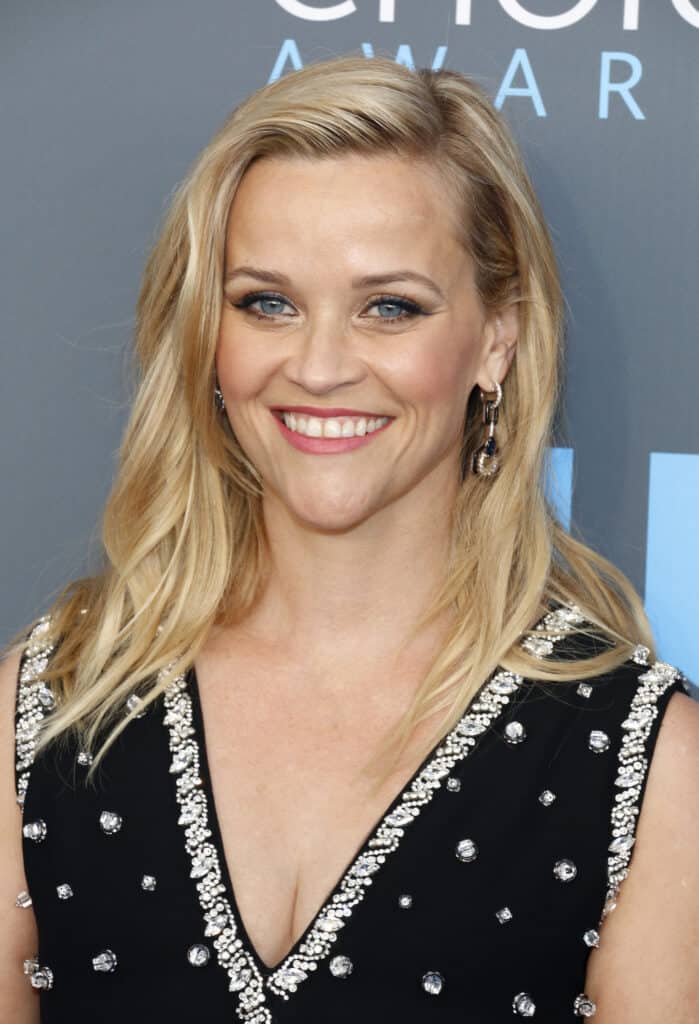 Scroll down to read more about Reese Witherspoon's favorite perfumes and her work with Elizabeth Arden.
Reese Witherspoon's Favorite Perfumes
As mentioned above, Reese Witherspoon has quite a few favorite fragrances and they're all from different companies. There is also someone who could have been a big influence on her when it comes to diversifying her fragrance selections.
Although she doesn't use it today, the very first perfume that she ever bought was Betsey Johnson. She says this is a clear indicator that she grew up in the 90s.
When she was growing up, her grandmother used a wide variety of perfumes. In a 2019 interview with Popsugar, Reese said that perfumes remind her of her grandmother who wore a lot of floral fragrances.
She also said her grandmother and mother both used lots of fragrances that smelled of roses and gardenia. Specifically recalling that "I remember all the bottles lined up on her dresser and just thinking she was so feminine and gorgeous."
So now, Reese has her own variety of fragrances to choose from. One at the top of the list is Kai perfume.
Kai perfume was originally released in 1999. It is a tropical floral fragrance with a strong base of gardenia. It was created by Gaye Straza Rappaport.
Calypso Mimosa by Calypso Christiane Celle has top notes of bergamot, neroli, and almond. Again this is another floral scent so it seems that Reese Witherspoon has taken more than just the diverse perfume collection from her grandmother.
Estee Lauder's Intuition perfume is another fragrance that is floral but it also has a top citrus note. It has notes of orange, gardenia, freesia, rose, grapefruit, and bergamot.
On top of this, in 2009, she worked with the company Avon to release a floral green fragrance called In Bloom by Reese Witherspoon. In 2011, she worked with Avon again to release an oriental floral fragrance called Expressions by Reese Witherspoon.
Witherspoon: Elizabeth Arden's Storyteller-in-Chief
As the Storyteller-in-Chief at Elizabeth Arden, it comes as no shock that one of Reese's favorite perfumes is Elizabeth Arden's White Tea fragrance. Reese has also said that she really looks up to Elizabeth Arden as a pioneer in the beauty industry and a voice for women.
Both are champions of women's rights. Reese Witherspoon has backed Time's Up, worked with UN Women, and even has a production company dedicated to making women-led films. Elizabeth Arden was a supporter of the suffragettes and helped women get the right to vote.
You can watch Reese Witherspoon speaking about beauty with Access Hollywood at the Elizabeth Arden Garden Party in the below video.
White Tea by Elizabeth Arden also falls right in with the scents that Reese grew up with. It is a heavily aromatic scent with green scents following closely behind. Its top notes are clary sage, fern, sea notes, and mandarin orange. At its core, the fragrance uses white tea, white iris, and mate.
While this fragrance is not one used by the company for its philanthropic campaign to support women in the UN. There is a lipstick that they released along with Reese Witherspoon to raise funds to support the UN Women.
That lipstick was Pink Punch and it came with Reese's signature on the packaging. The release of the lipstick was part of Elizabeth Arden's "March On" campaign.
Reese Witherspoon Knows Perfume
As the beauty icon that she has become, it's clear that Reese Witherspoon knows what she likes and doesn't like in perfume. After all, you can't play Elle Woods and not have confidence in the fragrances you choose to wear.
She even knows one of the best ways to put on her perfume. She says she likes to spritz it in the air walkthrough it three or four times.
From her early days wearing the fruity-floral scents of Betsey Johnson to working with Avon to create her own floral fragrances to now partnering with Elizabeth Arden to tell the story of yet another perfume, Witherspoon knows floral perfumes.
It will be interesting to see what fresh floral scents she will use next.