George Lucas is an American entrepreneur, film director, producer, and screenwriter who has been a household name for many decades. Because of the incredible fantasy worlds he conjures up and the complex systemic themes his work touches on, many people find themselves wondering what religion — if any — George follows.
George Lucas has complex religious beliefs, but he himself has best summed up that his denomination is "Methodist Buddist". At the core of George's unique religious belief is a deep spirituality, a complicated definition of God, and an enormous focus on the simple idea of good vs. evil.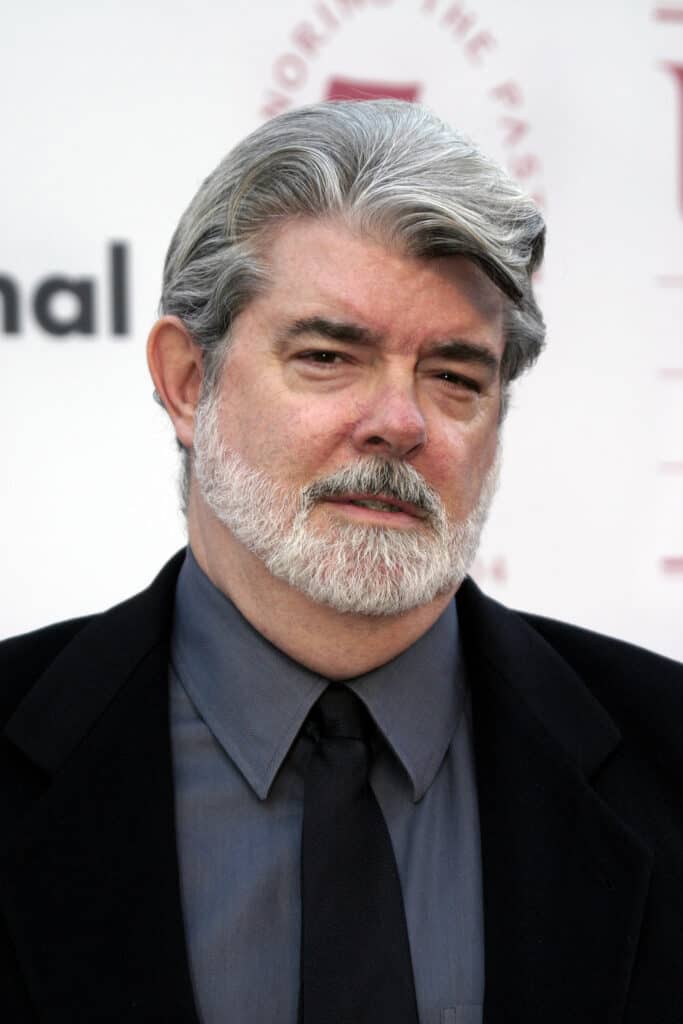 To many people, 'Star Wars' tells a deeply spiritual tale — but was this accidental or done on purpose as a reflection of George's own beliefs? Let's find this out as well as discover more about George Lucas' religion, whether he believes in God, and how religion forged the Force — if at all.
George Lucas's Religion
George was born in Modesto, California, to parents Dorothy Ellinore Lucas and George Walton Lucas Sr. in a household best described as devout. His parents were Methodist and so was George throughout his childhood.
Early on in life, at the tender age of six, George had a profound experience. He said he found himself questioning and pondering, "What is God? What is reality? What is this? It's as if you reach a point and you say, 'Wait a second — what is the world?'"
Despite his questioning nature, together with his family, George attended a Methodist church and even went to Sunday School for many years before he began refusing to go. He said, "When I got to be old enough — twelve or thirteen — I rebelled against it."
Later in life, George would say "I have strong feelings about God and the nature of life, but I'm not devoted to one particular faith." Eventually, he would begin to refer to himself as a Methodist Buddist.
In an attempt to explain his beliefs George told Orville Schell, "I was raised Methodist. Now let's say I'm spiritual. It's Marin County. We're all Buddhists up here."
Does George Lucas Believe in God?
Despite his relatively complex religious belief, one thing is certain. And that is that George does indeed believe in God.
Though he continues to believe in the God of his childhood, it appears as though his definition of God has evolved over the years. It's evolved into something complicated and unique that — to many people — makes a lot of sense.
After stating that "God gave us a brain, and that's the only thing we have to survive", he told Boston Arts & Entertainment, "There's absolutely no conflict between Darwinism and God's design for the universe — if you believe that it's God's design. The problem for me is that I see a very big difference between the Bible and God."
When prompted by Bill Moyers, George said "Well, I think there is a God. No question. What that God is, or what we know about God I'm not sure."
How Religion is Seen in Star Wars
To any person who follows any kind of religion, 'Star Wars' has some religious or spiritual connotation to it. From the Central Isopter who worshipped death to the references of sacred Jedi texts, many themes and even characters in the films can be tied to religion in some form or another.
Of course, the nature of the 'Star Wars' films lead many to believe that they are in some way referencing religion. The delicate balancing act of good vs. evil is a prominent theme throughout all of the films.
To create the character of Darth Maul in 'Phantom Menace', George and his team had to dive deep "into representations of evil."
George told Bill Moyers, "Not only the Christian, but also Hindu and Greek mythology and other religious icons, and, obviously, then designed our own character out of that."
In this interview, George revealed "I don't see 'Star Wars' as profoundly religious. I see 'Star Wars' as taking all of the issues that religion represents and trying to distill them down… the conclusion I've come to is that all the religions are true, they just see a different part of the elephant"
When referring to his placing 'the Force' in the franchise he said his aim was "to try to awaken a certain kind of spirituality in young people. More a belief in God than a belief in any particular, you know, religious system."